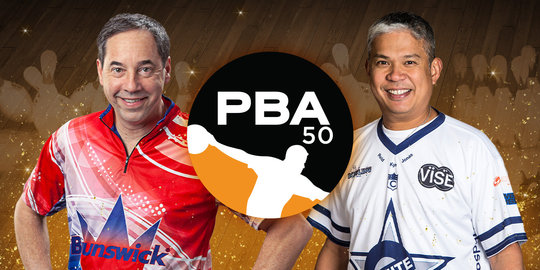 Four Titles Power Bohn III to PBA50 Player of the Year; Castillo Nabs Rookie of the Year Honors
August 24, 2022
Jill Winters
Major championship wins and unforgettable performances earned Parker Bohn III and Dino Castillo the biggest awards of the 2022 PBA50 Tour season. Each player constantly bowled their way to top 10 finishes, resulting in Bohn III being named PBA50 Player of the Year and Castillo the PBA50 Rookie of the Year.
Both came out of the gate swinging. Castillo made the title match at his first PBA50 tournament, while Bohn III won two out of the first four. They each bowled in 12 events and finished in the top-10 nine times.
After winning a major title at the 2022 Florida Blue Medicare PBA50 National Championship in April, Bohn III said "to win this early in the season, hopefully it will propel me to go on and win two or three more times before the season is done."
Looking back now, it's as if he saw into the future. He won again less than two weeks later at the PBA50 Mooresville Open — tying his bowling idol Johnny Petraglia with eight PBA50 titles — and just kept winning.
The second major of the year, the PBA50 Cup, coincided with the 2022 Junior Gold Championships, where all three of Bohn III's kids were competing. Between his own tournament schedule, Bohn III would drive over an hour to watch Justin, Brandon and Sydney bowl.
After watching Justin win the U20 Boys division title, the dedicated dad was motivated to win his second major and third overall title of the year. That was followed up by Brandon winning the Boys U18 division championship in back-to-back years.
While driving to his tournament, Bohn III would think about what he needed to do to overcome any potential challenges and if all of his equipment was ready to go. As soon as he was done bowling, he'd flip the switch back to dad mode.
"As much as this is the PBA50 Player of the Year, a big part of me has to say this is a family Player of the Year after what has gone on with our entire family this year," Bohn III said about the overwhelming honor. "Our kids have pushed me into trying to become better than I was. It's really heartwarming knowing how much my wife and kids stand behind me."
In just over a week's time, Parker, Justin and Brandon each won national titles.
During his victory over Chris Barnes in the PBA50 Cup championship match, Bohn III knew Player of the Year implications were on the line.
"That match that we bowled very possibly was a one game match for PBA50 Player of the Year," he said after the win. "If I lose that game, he wins and becomes victorious, I get third place points and he gets first place points. The fact that I won that game and then walked away with the crown, I felt pretty good about the fact PBA50 Player of the Year was almost secure."
Two weeks after that win, he won for the fourth time of 2022 at the PBA50 Spectrum Lanes Open, earning his 10th career PBA50 title. That was the icing on the cake for the lefty who admits, "this is the best I have physically felt in quite a while."
Barnes went on to win the final two tournaments of the season and came in second in the Player of the Year race.
Bohn III cashed in every tournament he entered. Over the course of 361 games, he averaged 225.06 and won $62,435. He was named PBA Player of the Year in 1999 and the 2001-02 season on the national tour.
"My phone has blown up," Bohn III said about the Player of the Year announcement. "It's really cool how many people actually pay attention and appreciate what you have accomplished. Our company is allowing me to get better and that is a tough one to say when I am 59."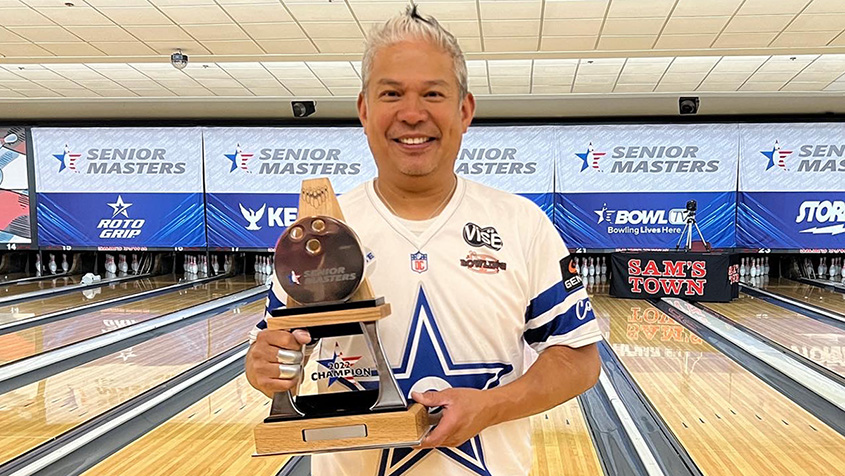 Dino Castillo fired 300 en route to climbing the ladder and winning the 2022 Senior Masters.
Castillo's own remarkable season got off to a quick start at the 2022 Lightning Strikes Lanes Open. He made his presence felt immediately and his love of bowling returned. He earned the No. 2 seed to make his first stepladder finals. He defeated fellow Texan Barnes 279-245 then held an early lead over Brad Angelo in the championship match.
Castillo struck on his first three shots before leaving the 3-4-6-7, which Angelo admitted was "the turning point in the match" after Castillo hit a friction spot that developed in the previous match, in Angelo's opinion. Angelo went on to win his first PBA50 title 258-203.
"That one still really sinks deep in me because of the loss," Castillo said. "That one shot, I had no idea what happened. But for me I was feeling really good to start the season off that way."
Two months later, Castillo had one of the most dominant performances of the season at the USBC Senior Masters in Las Vegas. He fought his way from the elimination bracket back to make his second stepladder appearance.
In the opening match, Castillo shot 300 against Barnes' 222. From there, he defeated Jack Jurek 257-196, Bohn III 255-219 and then took down Chris Warren, who pushed Castillo into the elimination bracket.
Castillo defeated his bowling idol 253-201 and 216-169. His first PBA50 Tour victory was a major championship completed in incredible fashion.
He followed that up with a fifth-place finish at the Senior U.S. Open. But it was the next tournament, a 10th place finish at the Odessa Open, that he felt was a key moment in his season.
"I struggled for many years in that building and I made to the top 10," he said. "That was a big leap forward in my progress in bowling well."
Castillo finished the year fifth in points, averaged 223.86 across 318 games and earned $37,250. He cashed in 10 out of his 12 tournaments on his way to being named 2022 PBA50 Rookie of the Year.
"The guys out there are who I thank the most because they welcomed me with open arms," he said. "Jeff Johnson and Tom Carter, my two ball reps, are ultimately the main reason for my success this year. My love for bowling is on full resurgence not because of the success but because the experience of the PBA50 Tour is much more enjoyable."
Castillo guesses that he received about 100 congratulatory text messages when the bowling world learned he was named PBA50 Rookie of the Year. He hasn't had much time to let that sink in as he is in the process of building his sixth pro shop in Texas. But on August 19, he and his wife, Stacy, went out to dinner to celebrate their seventh wedding anniversary and his latest achievement.
He said the defining moment of his season was winning the Senior Masters because his wife and his best friends were there. The only thing that would have made it better, he said was if his five kids were there too.
"I am still on cloud nine with winning the Senior Masters, and now I add this," he said about the surreal feeling. "Now PBA50 Player of the Year I feel is within my sights, which never was a thought in my head bowling on the regular tour. But now, I am going to try to make it a reality."
2022 PBA50 Points Leaders
Parker Bohn III — 39,745 | $62,435
Chris Barnes — 37,385 | $49,400
Brad Angelo — 28,465 | $35,300
Tom Hess — 25,995 | $31,675
Dino Castillo — 24,250 | $37,250