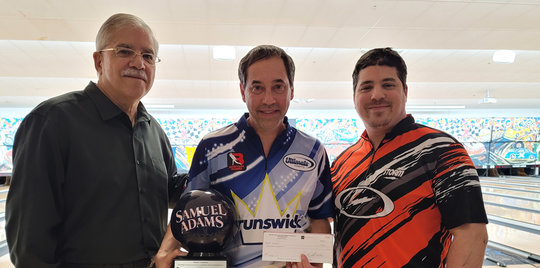 Bohn III wins eighth PBA50 Tour title at Mooresville Open
May 10, 2022
Jill Winters
Mooresville, North Carolina – In the great sport of bowling, lefties are the minority, and they definitely share a special bond. On Tuesday, one of the most decorated left-handed bowlers, Parker Bohn III tied one of his bowling idols, Johnny Petraglia with eight PBA50 Tour titles after winning the 2022 PBA50 Mooresville Open.
Bohn III credits Petraglia, Mark Roth and Dave Davis for all helping him achieve the Hall of Fame career he continues to build on today.
"(Petraglia) has meant the world to me," Bohn III said. "As a young man growing up these three people gave me the opportunity of a lifetime to try to become a great bowler."
In the title match, top-seeded Bohn III went head-to-head with his good friend and fellow lefty, Jason Couch. They each had two spares and a strike through the first three frames, before Bohn III reeled off a five-bagger using his Hammer Black Widow 2.0.
"I made sure it was firm going up lane and that was my plan of attack because I didn't want to give anything away," Bohn III said. "There is a characteristic about this place that my ball definitely reads the lane, and it suits me really well."
Both players took their allotted two re-racks on the left lane between the third and seventh frames, which Bohn III said was "more subconscious on the rack" which "plays a little mind game on you."
Couch had three single-pin spares on the left lane striking five times, while Bohn picked up three spares and had two strikes on the left lane. After Bohn III went through the nose in the ninth frame leaving a 2-pin again on the tricky left lane, Couch was begging for a break.
"When I hit it, it hooked dead early and I thought, 'uh oh, this isn't good,'" Bohn III admitted. "I deserved what he said, 'does the guy ever leave a split?' As happy as I feel for me, I feel deeply hurt for my friend, because he is bowling really well right now."
Bohn III won 239-226 to earn his second PBA50 title of the season to put himself in the forefront of the PBA50 Bowler of the Year conversation. He also has a seventh and 10th place finish through four tournaments.
"If you would have told me when I left my house a couple of weeks ago that I was going to have two titles in the first four tournaments that we bowled, I would have looked at you and laughed," he said about his early success. "There are 10 or 15 guys at any given time that can be the guy in that winner's circle. The fact that I am standing victorious twice is really special. I feel like I am bowling really well, and lady luck has certainly been on my side."
Couch, whose lowest finish so far this year is 22nd place, was the No. 5 seed in the stepladder finals. He defeated Stoney Baker 235-217 in match one, Amleto Monacelli 265-234 in match two, and then got past Brad Angelo 210-199.
Next stop for the PBA50 Tour is the Bud Moore Classic beginning at 9 a.m. ET Saturday in Sterling, VA. Bohn III won't be there as he will be teaming up with his son, Brandon in the new PBA King of the Lanes: Royal Family Edition, featuring prominent professional stars bowling with their children. Chris Barnes and his son, Ryan will also be competing.
"As a bowler and a fan of bowling, I am happy for all of the other families that are involved," Bohn III said. "Each kid, they have been away from their parent for an endless amount of time because their parent is supporting them by traveling around the world throwing a bowling ball. Now they are going to have an opportunity to bowl with their mom or dads and hopefully live that life of glory under the big lights and the cameras."
View the full PBA50 Mooresville Open standings at PBA50 Mooresville Open | PBA
2022 PBA50 MOORESVILLE OPEN FINAL STANDINGS:
1. Parker Bohn III $7,500
2. Jason Couch $4,500
3. Brad Angelo $3,000
4. Amleto Monacelli $2,500
5. Stoney Baker $2,000
MATCH SCORES
Match 1 – Couch def. Baker 235-217
Match 2 – Couch def. Monacelli 265-234
Match 3 – Couch def. Angelo 210-199
Championship match – Bohn III def. Couch 239-226