The Bohn Family Rewrites History
August 4, 2022
Jill Winters
For the first time in the history of bowling, three members of the same family won major tournaments in less than 10 days. For Parker Bohn III's family, it was a historic week.
Nearly 3,300 United States Bowling Congress youth members competed at 2022 Junior Gold Championships in Michigan. On July 15, Justin Bohn won three matches in the U20 Boys finals to win the title and earn a spot on 2023 Junior Team USA.
"I think Justin's win fueled the entire 10 days," said Justin's mom, Leslie Bohn.
Six days later, Parker Bohn III, with a big assist from his daughter, Sydney, won his second PBA50 major title of the year at the PBA50 Cup in Westland, Michigan. Sydney encouraged her dad to switch to a Brunswick Purple Hammer in qualifying and his scores soared. The ball change powered him to his third title in 2022, putting him as the frontrunner in the PBA50 Player of the Year conversation.
Two days later, Sydney earned a sixth-place finish in U18 Girls at Junior Gold, which follows up her third-place finish in U15 at last year's Junior Gold.
Then it was Brandon's turn in U18 Boys. The family is used to seeing the tall lefty succeed, having won at Junior Gold in 2017 and 2021, so they were not surprised he became a back-to-back Junior Gold champion. He also earned himself a spot on 2023 Junior Team USA.
"These are dreams come true," Leslie said, "and to have it all happen in one week is beyond believable."
Justin prevails
From beginning with a traditional one-handed style to fully committing to a two-handed delivery in September 2020, Justin has come a long way. In 2017, the righty won the Teen Master JV Division for his first individual win. Two weeks later, Brandon won the U12 Boys division at Junior Gold.
"He was always overshadowed by Brandon because he was the lefty and winning everything left and right," Sydney said about Justin. "To see his finish at Junior Gold, I was like, 'he is finally there. He is number one in the country.' Knowing that he is finally satisfied and having Dad teary-eyed is so fun to see, too."
"I've felt like I have been really close for a long time but never quite there," Justin admitted. "That week though, I had full confidence in myself that I could get it done if I committed to my process and I did. It means everything."
While Justin was competing on the lanes, Brandon was holding a camera, recording almost every single shot for Justin to use in his YouTube vlogs. He was able to see Justin shine on the biggest stage and admitted that did fuel him even more to win, too.
"In the title match, I was more nervous than I have ever been stepping up on the TV show the three times I have been there," Brandon said. "I couldn't wrap my head around everything going on. He proved a lot of people wrong that week and I could not be happier for him."
"That was unbelievable," Parker said. "For anybody you have to be patient and be in the right place at the right time. For Justin that is exactly what it was. Try to capitalize when you see that opportunity and fortunately for him, he was able to do that."
For the title, Justin defeated Ryan Barnes, son of PBA Hall of Famer Chris Barnes, while also using the Purple Hammer. With his win, he made Junior Team USA for 2023.
"There is only a select group of people every year that qualifies for Team USA," he said. "If you make this team, you earn it and I feel like I definitely did that."
Parker's major win
Parker missed the practice squad and pro-am at the PBA50 Cup because he wanted to be there to support his kids at Junior Gold. Prior to his first day of qualifying, he watched Sydney bowl early in the morning. When she was done, they drove less than 100 miles so he could bowl his first day of qualifying.
As it turns out, Sydney was the ticket to her dad's success.
"He had bowled mediocre, and I was like, 'Dad, try your Purple Hammer,'" she recalled. "You always tell Brandon to use it, why aren't you using it?"
"Low-and-behold, I shoot nearly 200-over the last 3 1/2 games," Parker said. "I looked back and go, 'OK, now my daughter is my new ball rep.'"
Parker continued that week to drive back-and-forth between his tournament to whichever location his kids were bowling at.
He went on to earn a first-round bye in match play then shot 771 and 772 against his opponents to earn the top overall seed in the stepladder finals. He stuck with the 2020 Purple Hammer in his title match, which again featured Bohn versus Barnes. This time Chris was on the losing end, and Parker won his ninth PBA50 title.
"Me and Brandon watched the stepladder in the hotel and every shot we are jumping and screaming," Sydney said. "Justin just won, Dad just won, and I was like, 'Brandon, me and you have to do something.'"
Less than an hour after Parker won, he hopped in his car to support Sydney and Brandon back at Junior Gold.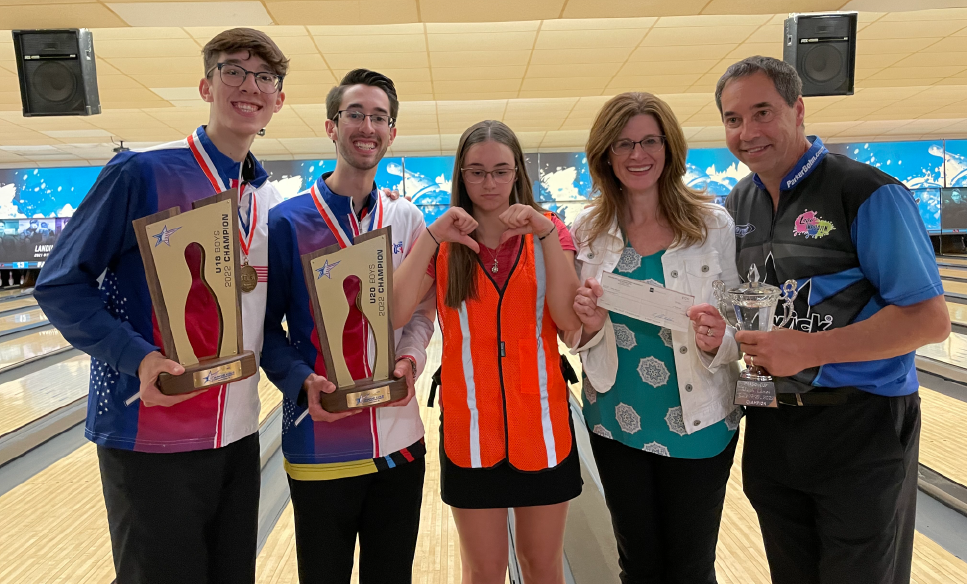 Sydney may have been the lone Bohn sibling not to win Junior Gold, but she still had an excellent week on the lanes. Photo courtesy of Brandon Bohn.
Growth by Sydney
Having only been bowling for the past five years, Sydney is already a force to be reckoned with. She said her strong mental game helps her get further than most competitors.
For her first year in a new division, she battled the ups-and-downs bowling on six different lanes patterns before making it to match play. She beat Victoria Varano by one pin, before losing to PWBA champion Jillian Martin and Annalise O'Bryant – who both earned spots on Junior Team USA.
"This year, I saw myself grow as a bowler," she said. "I was on my 'A' game with spare shooting and got up there confidently."
In previous years, all three Bohn kids would be competing at Junior Gold at the same time. With a different schedule this year, they were able to support each other. Justin enjoyed watching the tournament unfold for Sydney and made sure to share what he had experienced on the lanes with her.
"Being able to give her advice and get her mind in the right place," Justin said. "After that, all I did was get her lined up; she was the one that made the shots."
"I got fifth place my first year in U18 at Junior Gold and wow — both of my brothers have to win their divisions and my dad has to go win a tournament," she said laughing. "I jokingly tell them it is so hard for me to get my name out there because I am just overshadowed by the three of them all the time. I am so happy for them. It is honestly just an honor to be a part of this family and know the legacy we have in bowling."
"Sydney making a show would have been the icing on the cake, but we are so proud of how hard she worked through her matches," Leslie said. "She bowled three of the top girls in the country and did everything we have instilled in her."
Brandon goes back-to-back
Once again, one-handed Brandon earned the No. 1 seed. Brandon was beyond confident and motivated to win his third Junior Gold Championship, as a member of Junior Teams USA.
"After Justin won, I told him you have one week of fame because next week it is over," Brandon said. "When I win, that is it for you."
The entire family again sat in the front row again watching Brandon compete using his reliable Purple Hammer.
"He does so well under pressure," Sydney said. "I was so much more nervous watching Justin's match. In this one, I just sat there and watched everything unfold."
In August, Brandon will be attending Mount Mercy University in Iowa while competing on the men's bowling team.
"The feeling is absolutely surreal," Brandon said about his family's incredible run. "The best week of my life."
Leslie, a former collegiate bowler at Wichita State and PWBA Tour player, fondly recalls having incredible experiences bowling with her siblings as a kid and wishes that for her kids.
"I have this hashtag of making memories," Leslie said. "This game has been so good to Parker and myself, my sister and my family. I hope these kids can cherish some of those same things that we have."
"You almost can't write the story any better," Justin said. "I was the first one that walked up to (Brandon) after he won. I looked at him and said, 'Rewriting history, that is what we just did.'"