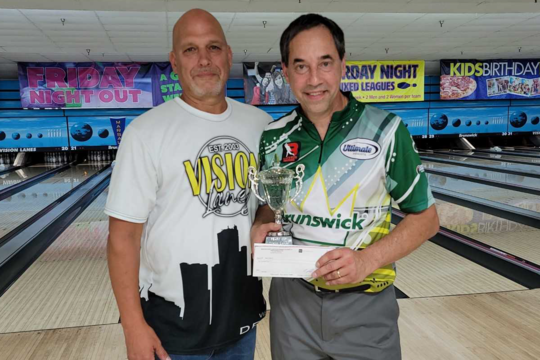 Parker Bohn III gets another major win at PBA50 Cup
July 21, 2022
Jill Winters
Westland, Michigan – Last Friday, Parker Bohn III watched his oldest son, Justin, win three stepladder finals matches at the 2022 Junior Gold Championships to win the boys 20-and-under division title over Ryan Barnes. On Thursday, Bohn III won three matches to win his third PBA50 title this year, two being majors.
In match play, Bohn III averaged 257.16 to earn the top seed in the stepladder finals at the PBA50 Cup. In the championship match, he would face PBA50 Cup defending champion Chris Barnes.
Bohn III doesn't use urethane very often, but he chose to throw a 2020 Purple Hammer made by Brunswick. He buried his first shot leaving a solid 8-pin followed by a lazy 7-pin, converting both. Barnes started off with three straight strikes as Bohn III responded with a double.
"You have got to stay patient with that ball," Bohn III said. "You have got to roll it and give it as heavy of a roll as you possibly can."
The lefty would leave one more 7-pin in the fifth frame and from that point on he was nothing but perfect.
"In the 9th, probably a pinch firm and gave it the loft again," he said. "It was the weak-7 but the 4-pin nudged up enough to knock over the 7. I have touch on the left side of the lane and when you are throwing urethane, you better have touch if you are going to get it to shape right and go through the pins."
Heading into the 10th frame, Bohn III thought about what he and his wife, Leslie had told Justin just last week during his run at Junior Gold, "stay in the moment, be patient and go through your process."
Finishing first, Bohn III admits his adrenaline was flying but "all of those things certainly came into play bowling that match against Chris."
"If I don't throw the first strike in the 10th, I know Chris can get up and strike out and shut me out or beat me," he said. "I threw it good; it ripped the rack and at that point, how can anybody not be excited."
Bohn III earned the major victory as he ended the match with a seven-bagger for the 258-226 victory.
After the match was over, Bohn III packed up his car and hit the road for about a couple hour drive to Grand Rapids to watch his daughter, Sydney and other son, Brandon, who are currently competing at Junior Gold. Brandon won Junior Gold titles in 2017 and 2021.
"I tried to squeeze this tournament in and being in the hunt for Player of the Year, I wanted to at least give myself a chance," Bohn III said. "I would like to hope that I can't make the next PBA50 tournament because both or one of my kids are in the stepladder finals at Junior Gold."
Barnes earned his way to the title match after throwing eight straight strikes to beat Jason Couch 255-204. Couch stayed clean against Tom Hess for the 227-220 win. In the opening match, Hess defeated John Marsala 245-201.
View the full PBA50 Cup results at PBA50 Cup | PBA.
2022 PBA50 Cup FINAL STANDINGS:
Parker Bohn III $10,000
Chris Barnes $5,500
Jason Couch $3,500
Tom Hess $3,000
John Marsala $2,500
MATCH SCORES
Match 1 – Hess def. Marsala 245-201
Match 2 – Couch def. Hess 227-220
Match 3 – Barnes def. Couch 255-204
Championship match – Bohn III def. Barnes 258-226