After Prophetic Comeback, Jason Belmonte Has Nothing Left To Prove
March 21, 2023
Nolan Hughes
It's one thing for an athlete to say they believe they can still win after a bad start. Lots of them say that.
It's another thing for one to truly believe it when they say it. Only a few have the requisite conviction and resolve.
It's a whole other thing to actually do it.
Jason Belmonte just did it at the 2023 PBA Tournament of Champions.
Jason Belmonte wins the 2023 PBA Tournament of Champions 🏆

4⃣ TOCs
1⃣5⃣ majors
3⃣1⃣ titles

A comeback for the ages. pic.twitter.com/UiQna9KJcq

— PBA Tour (@PBATour) March 19, 2023
Belmonte won his 15th career major and a record fourth TOC title on Sunday afternoon. He did that after finishing the first six-game block of the tournament in 58th place of 64 players.
"If I make good shots and use the right bowling ball, I'm going to win this tournament," Belmonte said after the first round on his YouTube channel. "I've looked back through my career and there are plenty of times where I've won tournaments, where most people would think, 'He's not going to win from here.' This is just another story to add to that list."
Belmonte surged into the match-play field after a monumental third round. After making another leap in match play, he earned the No. 6 seed for the 17-player, four-telecast stepladder finals.
Late Saturday night, he defeated Andrew Anderson and Kyle Troup — the only two players since 2017 who have won a Player of the Year award other than Belmonte — to reach Sunday's championship round.
"Look at any of the greatest champions of all time and ask them: Do you think you're gonna win today?" Belmonte said after winning the third play-in round. "Their answer is the same everywhere. Every person. Any sport. Yeah, I'm going to win today. Of course I'm going to win today.
"That's probably something that I've come to learn to accept. You have to believe it. You have to know it. And then you've got to let everyone else know that you know. I think anyone that reaches the very top has to have that mentality."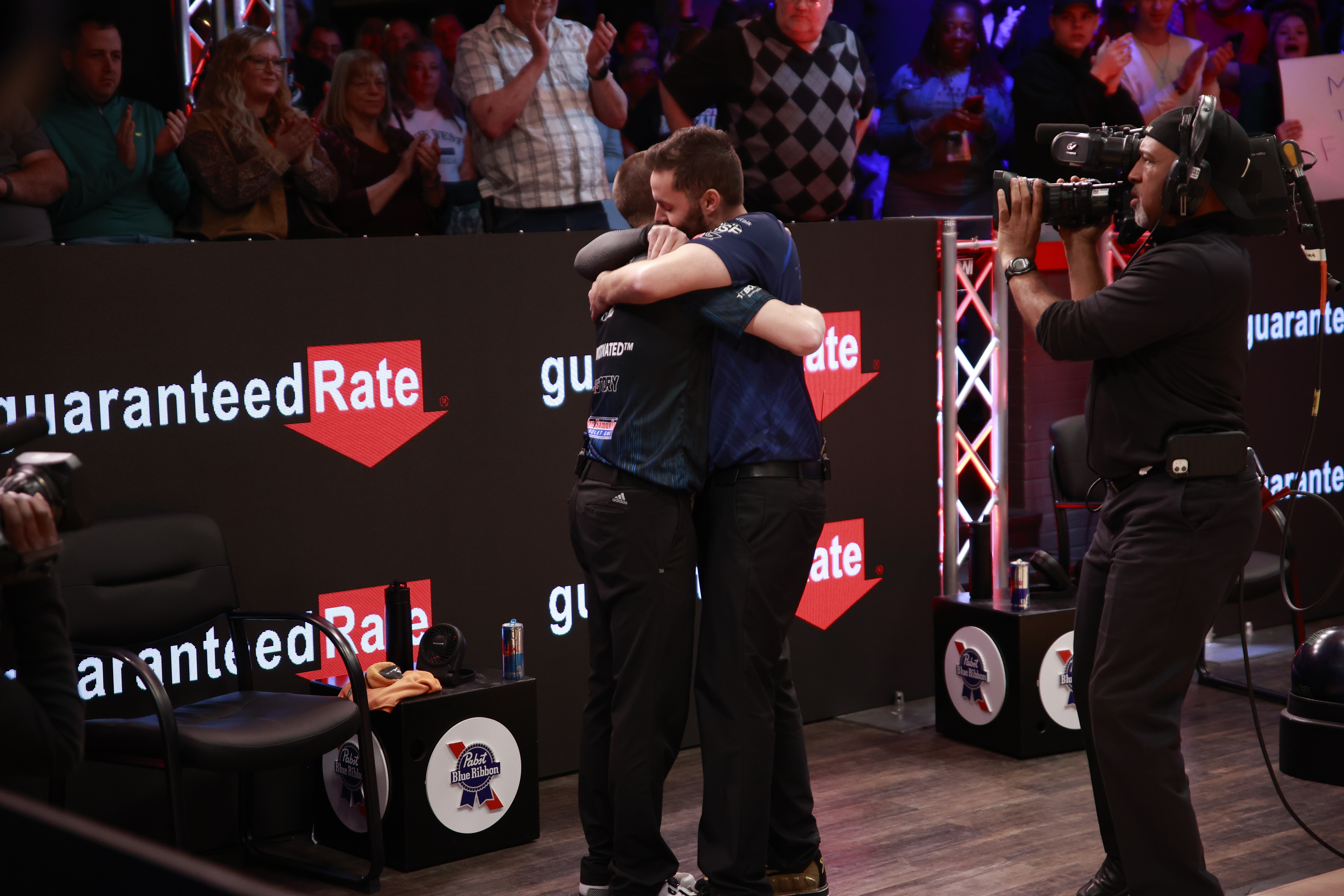 EJ Tackett, who Belmonte defeated in the title match, was on the verge of perhaps the greatest start to a season in PBA Tour history. With one major title, two standard titles and now one runner-up finish at a major in six events, Belmonte said Tackett has that same mentality right now.
"What he's doing this season is ridiculous and remarkable," Belmonte said. "I actually don't know if it's hit him quite (as hard) as it's probably hit the rest of us."
Ditto for Anthony Simonsen, who Belmonte beat in the TOC semifinal. Simonsen has finished top 10 in all six events and no lower than fourth in the majors.
"These two boys right now, they're setting the bar really high," Belmonte said, "which for me is great because that means I'm going to work harder. I don't like to be the third best player in the world. I want to be the best player."
Despite the ferocity of their on-lane rivalry, a deep level of mutual respect exists between them, particularly Tackett and Belmonte.
Sunday marked the second time Belmonte defeated Tackett on AMF Riviera Lanes' iconic lanes 27-28. Their admiration for one another was apparent as the two embraced after each match.
"Jason's maybe the greatest ever to do it. Obviously in major championships, he's by leaps and bounds the greatest and cemented himself even further into it today," Tackett said on Sunday afternoon. "When greatness is happening in front of you, you have to acknowledge it. That's how I feel about just being around and watching him do what he has done for 10 years."
Over the years, a friendship has developed between the game's elite talents.
"It's not easy to be friends with your fiercest rival. Because everything that I do to beat him, and what he does to beat me, is something that lessens your own career," Belmonte said. "But somehow with EJ, it's just a mutual respect and love. We really do value each other.
"He wants to take my crown. He wants it and he's worked so hard for it. And I look at him as I don't want to give it to him. That relationship on the lanes is so fierce, but then as soon as we walk off it's hugs, it's 'you're amazing'"
Belmonte's veneration for Tackett and Simonsen is part of the calculus behind his goal of winning 20 majors. While his 15 titles are 1.5 times more than the previous record holders, Earl Anthony and Pete Weber, he still feels he has to raise the bar even higher.
He calls 20 majors his "out-of-your-mind" goal. The way he phrases that is particularly interesting: His goals are out of your mind — not his.
"Anyone who thinks that 20 is out of reach, talk to me 14 years ago. Tell me I won't get to 14. It's certainly a very, very realistic goal," he said after advancing to the championship round on Saturday night. "What was more realistic: me getting to 14 or now that I'm at 14, getting to 20?"
Fourteen hours later, Belmonte won No. 15. He's drawn many comparisons to Tiger Woods throughout the latter half of his career, and those parallels won't stop after tying the golf titan in major victories.
After Woods won his 14th major at the 2008 U.S. Open, a series of injuries derailed his career. Belmonte, though five years older at the time of his 14th win, appears poised to extend his prime much longer.
Since winning his first major at the 2011-12 Players Championship, Belmonte has won 15 of 50 majors. He's also earned five runner-up finishes, 32 top-five finishes and 37 top-10 finishes.
Despite a decade and a half of dominance, the 31-time titleist still has skeptics.
"I didn't do this for (the doubters) per se," Belmonte said. "This was really more about telling myself I can, and in doing so, sending a message to the ones that were writing me off earlier in the week."
As much as Belmonte relishes proving people wrong, he feels it may be time to shift his focus to his supporters.
"I think it is important for me to probably start to let that go," Belmonte said. "I think if I attach myself to that narrative, it takes away from the other side, which is all of these people that are really supportive and believe I can still make it. 
"I think I need to let (the doubters) chirp away and turn to those that are in my corner."