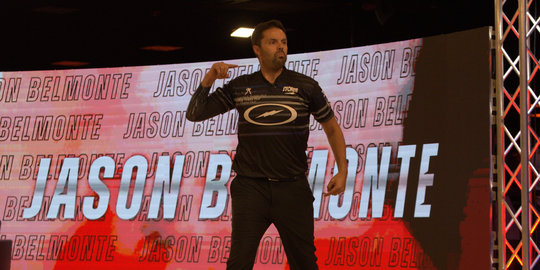 Jason Belmonte Advances to Championship Round, Will Bowl for Record-Fourth TOC Title
March 19, 2023
Nolan Hughes
The unprecedented 17-player stepladder finals at the 2023 PBA Tournament of Champions has been whittled down to five finalists.
Jason Belmonte, a three-time TOC champion and 14-time major champion, both PBA records, joins top seeded EJ Tackett, as well as Anthony Simonsen, Matt Ogle and Jason Sterner in Sunday's championship round. The finals will air live at 12 p.m. ET on FOX.
In the finale to Saturday night's four hours of live television coverage, Belmonte defeated Kyle Troup in a battle of the past two PBA Player of the Year award winners.
Troup opened the match throwing urethane, a type of equipment none of the previous 12 competitors utilized, at least on TV, on the 40-foot Don Johnson oil pattern.
"That's pretty much what I did through each block of match play on the fresh," Troup said. "I had a pretty good look and a bunch of confidence with that. I felt pretty good about it because there wasn't that much traffic, just Marshall (Kent) playing to the right.
"I just didn't execute very well," continued Troup, who tallied two six-counts and a pocket 7-10 in the first five frames. "But I was prepared to switch if need be."
Troup made the switch to reactive in the sixth frame, a ball change that flipped the momentum of the match. After leaving a stone-9, Troup fired three straight strikes to put pressure back on Belmonte.
"Kyle is a momentum player," Belmonte said. "When things aren't going well, you really need to just jump all over him. Because if he senses an opportunity with a momentum shift… that plays into his personality, which I actually think makes him focus more and relaxes him."
Belmonte threw a double of his own in the ninth and 10th frames, but could not generate the nail-in-the-coffin third strike he needed to shut out Troup. The 7-pin stood on his 11th shot, opening the door for Troup to steal the match.
Troup, looking to advance to the championship round from the No. 5 seed just as he did at the U.S. Open last month, needed a double to defeat Belmonte. The bowling gods offered him a fortuitous Brooklyn strike on the first one, but rescinded their gift as he left a ringing-10 on the second.
A match this good could only come down to the final shot...

Jason Belmonte will bowl for a record-fourth Tournament of Champions title tomorrow.

📺 Sunday, 12 p.m. ET on FOX | FOX Sports app pic.twitter.com/2j8CbFARlC

— PBA Tour (@PBATour) March 19, 2023
In the previous match, Belmonte dispatched Andrew Anderson in another battle between former Player of the Years. After starting off on fire against Marshall Kent in his previous match, Anderson hit a wall against Belmonte.
Kent was the first player among the stepladder finalists to test playing straighter angles on the legendary championship pair of Lanes 27-28. That strategy worked as Kent defeated Chris Via in the first match of the Round 3 stepladder.
Via emerged victorious from the second play-in round, where he defeated Jake Peters, Stu Williams and Wes Malott, but struggled after the lanes were re-oiled between shows.
Chris Via is moving on, but what a gutsy performance from Wes Malott 👏 👏 👏

Via vs. Stu Williams (aka Beef Stu) up next!

📺 Tune in on FS2 | FOX App | https://t.co/8ygJPpfCFX pic.twitter.com/hdc0VQeTO8

— PBA Tour (@PBATour) March 19, 2023
Saturday night continued a long comeback for Belmonte, who sat near the bottom of the leaderboard after the first round of qualifying.
"I walked out of his building in 58th at one point," Belmonte said. "Mathematically, as long as there's enough games and I think I can get there — I'm going to get there. There's not a doubt in my mind.
"That's the kind of journey through a tournament that I pride myself on," he continued. "I love it when the guys talking, 'Oh, he's gonna miss it.' I love it. You guys have no idea how fired up I am; you have no idea. And I'd love to be able to prove them wrong."
Belmonte will have that opportunity on Sunday. He'll pursue a record-setting fourth Tournament of Champions crown and chase a record-extending 15th major title.
In order to do that, he'll have to first get past Sterner and Ogle. Then, he'll need to take down the two hottest bowlers on the planet and his two fiercest rivals: Simonsen and Tackett.
Only one player has been able to defeat Simonsen and Tackett in the same tournament this season. That man, Sam Cooley, also hails from the land down under.
"I'm on a TV show which historically I shouldn't be on," Belmonte said. "For me, that means I've got nothing to lose; I've got everything to gain. Everyone that I'll be playing has a position to lose."
Round 3 Scores
No. 6 Jason Belmonte def. No. 5 Kyle Troup, 216-210
No. 6 Jason Belmonte def. No. 7 Andrew Anderson, 214-146
No. 7 Andrew Anderson def. No. 8 Marshall Kent, 216-181
No. 8 Marshall Kent def. No. 11 Chris Via, 225-172
Round 2 Scores
No. 11 Chris Via def. No. 9 Jake Peters, 211-180
No. 11 Chris Via def. No. 10 Stu Williams, 193-176
No. 11 Chris Via def. No. 14 Wes Malott, 247-172
No. 14 Wes Malott def. No. 12 Tom Smallwood, 196-156
Tournament Schedule
Sunday, March 19 | 12 p.m. ET on FOX
No. 5 Jason Belmonte vs. No. 4 Jason Sterner
Winner vs. No. 3 Matt Ogle
Winner vs. No. 2 Anthony Simonsen
Winner vs. No. 1 EJ Tackett
Sold out.
More information on the tournament is available here.