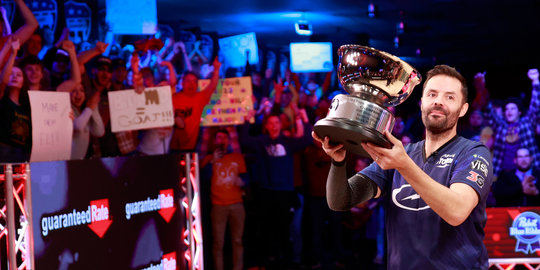 Jason Belmonte Wins Record-Setting Fourth Tournament of Champions Title
March 19, 2023
Nolan Hughes
On the most iconic pair in bowling, lanes 27-28 at AMF Riviera Lanes in Fairlawn, Ohio, Jason Belmonte further cemented his place in PBA history.
Belmonte defeated top seed EJ Tackett to claim his fourth career Tournament of Champions title — surpassing Mike Durbin and Jason Couch for the most ever — and the 15th major championship of his career.
The 39-year-old prevailed in six consecutive matches on TV, defeating three former Players of the Year, two hungry veterans pursuing their first major title and the most accomplished under-26 player of all time.
Jason Belmonte wins the 2023 PBA Tournament of Champions 🏆

4⃣ TOCs
1⃣5⃣ majors
3⃣1⃣ titles

A comeback for the ages. pic.twitter.com/UiQna9KJcq

— PBA Tour (@PBATour) March 19, 2023
His brilliance on TV highlighted perhaps the greatest comeback of his 15-year career.
Belmonte sat in 58th after the tournament's first round and crept up to 51st after the second. With six games left of qualifying, the two-handed sensation sat 154 pins outside of the cut.
Over the final round of qualifying and three rounds of match play, Belmonte steadily rose up the leaderboard. By tournament's end, the trophy belonged to him.
"This will be one that I will remember," Belmonte said. "At any other event moving forward where I have a slow start, I can call on this event as a reminder: Wherever you are on the leaderboard, that doesn't matter anymore.
"Now it's all about how are you going to make a shot? Just you. Don't worry about everyone else. How are you going to make the shot? And if I do that, no matter how low (in the standings), if I make enough good ones, I can make a run back."
Belmonte threw urethane on the very first shot of the afternoon, which resulted in a 4-10 split. He said the 40-foot Don Johnson oil pattern broke down quickly during the few minutes between practice and competition.
"As soon as I saw that (split), I'm like 'you're going to have to start fishing and it's not going to be pretty,'" Belmonte said.
Belmonte switched to reactive equipment the next frame. He never looked back, rattling off wins against Jason Sterner and Matt Ogle.
Those wins ensured the podium of the 2023 TOC would be Belmonte, Anthony Simonsen and EJ Tackett. Norm Duke, calling the tournament in the broadcast booth, described the trio as the world's three best players.
"You'd have to go back a long way to find a major championship show without one of us on the show," Belmonte said.
At least one member of the trio has made the championship round in 32 of 40 majors since 2015 (Simonsen's first full season on Tour).
Simonsen, who many people on Tour describe as the most creative player on the planet, opted to about two arrows right of Belmonte in the semifinal; he was one of the few brave enough to play that zone across all four shows. While the 26-year-old made quality shots, the pins did not cooperate.
The title match set up a rematch of the 2019 TOC championship between Belmonte and Tackett. The latter took the opposite path to the title match, leading the tournament wire to wire.
Tackett missed a pair of 3-6-10 spares, which he had been perfect on all week, in the first and sixth frames.
"If I make both of those, I don't know if the match changes a bunch, but it definitely puts a little bit more pressure on Jason," Tackett said. "It's been a great year so far. I had another opportunity to win another major championship. I threw some good shots, just failed a little bit at spare shooting and I have to chalk the loss up to that."
While Belmonte avoided the early friction that doomed Tackett's comeback attempt, he said he could feel the transition coming his way.
"I think he saw what I was going to see if the match went just a little longer," Belmonte said. "He was a little further right than I was, but I knew that my ball was going to do what he's doing. I just had to hope I can get through nine frames."
Four years after Belmonte defeated Tackett to win his record-tying 10th career major, Belmonte won No. 15 on the very same pair of lanes.
"You walk into (Riviera) and you get that 'Field of Dreams' feeling," Belmonte said. "You just gotta close your eyes for a second and think about who's walked through those doors and take that in.
"I don't know how I can truly describe how proud of myself I am and how excited I am."
Championship Round Scores
Match 1: No. 6 Jason Belmonte def. No. 4 Jason Sterner, 231-217
Match 2: No. 6 Jason Belmonte def. No. 3 Matt Ogle, 237-170
Match 3: No. 6 Jason Belmonte def. No. 2 Anthony Simonsen, 219-200
Championship: No. 6 Jason Belmonte def. No. 1 EJ Tackett, 246-179
Final Standings
Jason Belmonte, $101,000
EJ Tackett, $55,000
Anthony Simonsen, $30,000
Matt Ogle, $20,000
Jason Sterner, $15,000
Kyle Troup, $10,500
Andrew Anderson, $9,000
Marshall Kent, $8,500
Chris Via, $8,000
Jake Peters, $7,500
Stu Williams, $7,000
Wes Malott, $6,500
Tom Smallwood, $6,000
Kris Prather, $5,500
Tim Gruendler, $5,000
François Lavoie, $4,500
Packy Hanrahan, $4,000
More information on the PBA Tournament of Champions is available here.