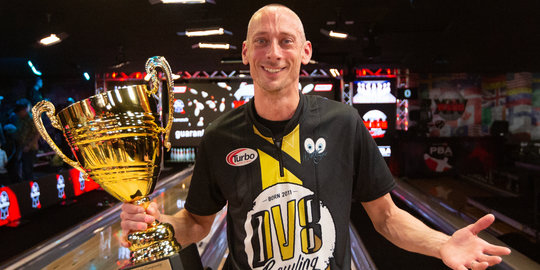 Matt Ogle Achieves Lifelong Dream at 2023 PBA Shark Championship
April 19, 2023
Nolan Hughes
On Wednesday night, Matt Ogle's lifelong dream came to fruition. The 38-year-old Louisville native captured his first career PBA Tour singles title at the PBA Shark Championship.
Top-seeded Ogle defeated Sam Cooley, 204-191, in the title match at Bowlero Wauwatosa to win his second career title.
"This was a dream," Ogle said. "This is what I wanted. This is it. I did it."
MATT OGLE DOES IT!

Ogle wins the PBA Shark Championship, his second PBA title, and first PBA singles title. pic.twitter.com/3qo3QWc2U3

— PBA Tour (@PBATour) April 20, 2023
Ogle's victory was reminiscent of Kyle Sherman's title at the 2022 PBA Cheetah Championship. Both players boasted a doubles title — Ogle won the 2019 Roth-Holman PBA Doubles Championship with Sean Rash — but a singles title fulfills the dream every kid grows up having.
"It's totally two different things," Ogle said. "(Rash) was there for me, set me up, made it all about me. But this — this is totally different. It's amazing. This is something I wanted my whole life."
After years of grinding on Tour, mostly as a part-time player, Ogle developed a newfound confidence following last season's PBA League — between being drafted to the Dallas Strikers by Norm Duke, leading qualifying and anchoring the team. That conviction and the help of two sponsors helped him commit to competing full-time this season.
After posting top-20 finishes in each of his first three tournaments this season, Ogle has tallied three championship round appearances in the past six events. He ranks fifth on Tour in points, behind only EJ Tackett, Anthony Simonsen, Jason Belmonte and Jakob Butturff.
"That's crazy," Ogle said. "The dream was to be with those guys and I'm finally there. It hasn't really sunk in yet, that part hasn't gotten to me."
In the title match, Ogle ended Cooley's climb of the stepladder. Cooley snuck into the show with a 247 to close qualifying last week, then tallied wins over Santtu Tahvanainen, Simonsen and Packy Hanrahan to reach the title match.
Cooley sought to win his second title of the season on the season's longest pattern used for a full tournament: 48-foot Shark. His first win came on the season's shortest pattern — 32-foot Wolf — at the PBA Springfield Classic.
Cooley said his work in the offseason has started to pay dividends, but a more recent change in his mindset led to this performance.
"I'm standing here now dumbfounded at just how powerful a couple of words you tell yourself — 'wait on it' — can be," Cooley said. "If you told me I was going to be here, I would've laughed. Obviously you want to come away with a win, but even though that didn't happen, it feels like a win."
In the opening match, Cooley downed Tahvanainen, 247-212. The Finnish star performed much better than he did during the PBA Scorpion Championship on Tuesday, but a 3-6-10 spare in the second frame and a pocket 7-10 in the 10th cost him the match.
Cooley faced a tighter match against Simonsen, also seeking to redeem himself after a rough go on Scorpion. After acing a strike in the ninth frame, Cooley needed a double and nine pins to shut out the two-handed virtuoso. He made an adjustment left and aced all three shots to advance.
Hanrahan's poor ball reaction made the semifinal the least competitive match of the night. The lone left-hander said the he executed well and his ball reaction reminded him of qualifying.
"I had two really good blocks and two blocks where I bowled very well for like +50. A lot of those games looked like (tonight)," Hanrahan said. "It was one of those nights with a lot of good shots and trying to figure out a way to get the 7-pin down. That isn't always the best when you're watching Sam Cooley and his ball is striking."
For a moment early in the title match, however, the striking stopped for Cooley. After averaging over 242 in his three wins, he opened twice in the first three frames against Ogle.
"I was a bit hesitant and stubborn on making the move, and it cost me those couple of frames," Cooley said. "Once I saw the ball hook too much, that was like my cue: 'You have to move, you can't make this work.' I made a 2-2 move left and I found my ball reaction again to make it a lot closer down the stretch."
Ogle capitalized on Cooley's error, striking on each of his next two shots, which he said gave him a lot of relief. However, Ogle made a gaffe of his own two frames later. He missed a 10-pin in the sixth frame, which combined with Cooley's own double, drew the match to a near tie.
Both players could max out at 225 as Cooley stepped up for his ninth frame. He missed left and slow, leaving a 3-6-9-10 that cost him significant pin count as well.
"I could not have grabbed that anymore with any slower ball speed if I wanted to," Cooley said.
Ogle responded with a strike in the ninth frame and left another 10-pin in the 10th frame. After an initial balk, Ogle reset and made the spare.
The emotions began to pour out, though Ogle still needed seven pins on his fill ball. He recollected just enough to knock over nine pins and clinch the victory.
He could not hold back the tears any longer.
"I feel like I belong for sure," Ogle said. "I got my first singles title. I'm here. I'm not gonna look back."
Championship Round Scores
Match 1: No. 5 Sam Cooley def. No. 4 Santtu Tahvanainen, 247-212
Match 2: No. 5 Sam Cooley def. No. 3 Anthony Simonsen, 238-221
Match 3: No. 5 Sam Cooley def. No. 2 Packy Hanrahan, 242-203
Championship: No. 1 Matt Ogle def. No. 5 Sam Cooley, 204-191
PBA Shark Championship Final Standings
Matt Ogle, $20,000
Sam Cooley, $12,000
Packy Hanrahan, $10,000
Anthony Simonsen, $8,500
Santtu Tahvanainen, $7,500
Full PBA Shark Championship standings are available here.
WSOB XIV Schedule
All times listed in Eastern.
Thursday, April 20
10 a.m. — PBA World Championship Match Play Round 1 (six games)
2:30 p.m. — PBA World Championship Match Play Round 2 (six games)
Sunday, April 23
Noon on FOX — PBA World Championship Finals
Tickets are available here.