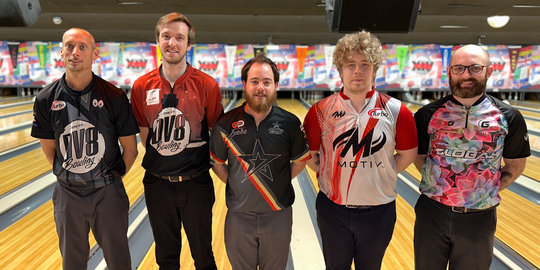 Ogle Earns Top Seed at PBA Shark Championship, Simonsen and Tahvanainen Make Second Straight Show
April 14, 2023
Nolan Hughes
Matt Ogle shot 300 in the opening game of PBA Shark Championship qualifying and parlayed his perfect start into the No. 1 seed.
Ogle will be joined by Packy Hanrahan, Anthony Simonsen, Santtu Tahvanainen and Sam Cooley in the PBA Shark Championship finals on Wednesday, April 19 at 7 p.m. ET on FS1.
The top 12 players across the PBA Cheetah, Scorpion and Shark Championships advanced to match play for the PBA World Championship, which will take place Thursday, April 20.
Jakob Butturff edged EJ Tackett by six pins for the top spot, followed by Tahvanainen, Simonsen, Hanrahan, Chris Via, Bill O'Neill, Ogle, Marshall Kent, Nathan Bohr, Jesper Svensson and Jason Belmonte.
The PBA World Championship is the fourth major of the 2023 season and will close out the Guaranteed Rate World Series of Bowling XIV on Sunday, April 23 at noon ET on FOX.
---
Ogle averaged nearly 232 for his 20 games at Bowlero Wauwatosa, totaling 4,639 (+639). He said the first 40 games of the WSOB helped sharpen his game and joked that as his body wore down, it made it easier to throw the ball slowly.
This marks Ogle's third championship round in the last six events and he entered the WSOB fourth in points on Tour, behind only Simonsen, Tackett and Belmonte.
"I feel like I've arrived," Ogle said. "Dominating the Shark pattern against the greatest players in the world means something. And then to be eighth in the World Championship as well definitely gives me confidence going into the show."
While Ogle slowly separated himself from Hanrahan, the two-handed southpaw put some distance between the rest of the field as well. Hanrahan eclipsed Simonsen by 100 pins and Jakob Butturff, the next-highest lefty, by nearly 200.
"I think being the only lefty on the show is really going to be the key for me, trying to set (the lanes) up and make them as nice as possible for myself," Hanrahan said.
Maintaining perspective was pivotal for Hanrahan throughout the tournament. He said reminding himself how cool it is to bowl for a living helped to keep focused.
"The only reason I make a bad shot is either lack of focus or not believing in what I'm trying to accomplish," Hanrahan said. "When I'm trying to throw a certain ball on a certain line, if I think it's gonna strike and I stay focused, I'm not gonna make a bad shot. It's just a matter of believing and focusing on top of it."
Simonsen, the No. 3 seed, earned his second consecutive championship round appearance and seventh of the season. With his eighth place finish at the PBA Cheetah Championship, he has finished inside the top 10 in all 11 events this season.
Similar to how he won the PBA Wichita Classic, Simonsen threw a urethane ball the opening game of Round 4 on the 48-foot Shark pattern. He shot 278 to climb from 11th place into fourth, then fired 258 and 246 his final two games to move into third.
"It was an adventure to say the least today," Simonsen said. "A lot of up and down games, a lot of not really understanding what I was supposed to do. They felt drastically different today than they were yesterday."
Tahvanainen, the reigning PBA Rookie of the Year, also earned back-to-back championship round appearances.
The 26-year-old from Finland has excelled on the Scorpion and Shark patterns as players were forced farther left. He said he learned how to be better playing farther left last season on Tour.
"I always like to hook the ball," Tahvanainen said. "It's definitely my strength to be more left than anyone else because then I can see a clear picture on the ball. So it's not hooking too early, it's hooking on a spot I want the ball to."
With two games left in the PBA Shark Championship, Tahvanainen sat in 10th place. He said he saw Chris Via, who was bowling on his pair, shoot 279 earlier in the day by lofting the ball while maintaining higher ball speed.
Tahvanainen tried that himself during the final round, and that adjustment helped him shoot 290 in Game 19 and leap into the top five.
Cooley saved his surge into the top five for the final game.
Knowing he needed a strong finish, Cooley started with the front-six. He said he heard a few whispers that his magic number was around 232, which he said may have caused a little complacency. But Cooley stayed clean and fired 247 to sneak past his World teammate, Dom Barrett.
Cooley said part of his motivation this season is to bowl his way back into the PBA League after not being selected last season.
"After bowling pretty well in 2021 and that not being any kind of factor going into the 2022 draft, it was very frustrating," he said. "That gave me a lot of fire and, funny enough, after saying that I started bowling a lot better."
Cooley returns to the lanes with Barrett on Saturday afternoon for the first day of the televised USA vs. The World event. Saturday's competition will feature singles matches between the American and international stars.
Cooley will face Tommy Jones, the U.S. captain, in the opening match at 2:30 p.m. ET on FOX. The subsequent matches will be Kyle Troup vs. Jesper Svensson, Simonsen vs. Jason Belmonte and EJ Tackett vs. Barrett.
PBA Shark Championship Leaders
Matt Ogle, 4,639 (+639)
Packy Hanrahan, 4,559 (+559)
Anthony Simonsen, 4,459 (+459)
Santtu Tahvanainen, 4,440 (+440)
Sam Cooley, 4,416 (+416)
Dom Barrett, 4,404 (+404)
Marshall Kent, 4,400 (+400)
Jakob Butturff, 4,365 (+365)
EJ Tackett, 4,359 (+359)
Kyle Troup, 4,359 (+359)
Full PBA Shark Championship standings are available here.
PBA World Championship Leaders
Cumulative scores from PBA Cheetah, Scorpion and Shark Championships
Jakob Butturff, 13,707 (+1,707)
EJ Tackett, 13,701 (+1,701)
Santtu Tahvanainen, 13,645 (+1,645)
Anthony Simonsen, 13,566 (+1,566)
Packy Hanrahan, 13,459 (+1,459)
Chris Via, 13,277 (+1,277)
Bill O'Neill, 13,221 (+1,221)
Matt Ogle, 13,211 (+1,211)
Marshall Kent, 13,203 (+1,203)
Nathan Bohr, 13,145 (+1,145)
Jesper Svensson, 13,137 (+1,137)
Jason Belmonte, 13,135 (+1,135)
Full PBA World Championship standings are available here.
WSOB XIV Schedule
All times listed in Eastern.
Saturday, April 15
2:30 p.m. on FOX — USA vs. The World Day 1
Tickets are available here.
Sunday, April 16
Noon on FS1 — USA vs. The World Finals
Tickets are available here.
Monday, April 17
7 p.m. on FS1 — PBA Cheetah Championship Finals
Tickets are available here.
Tuesday, April 18
7 p.m. on FS1 — PBA Scorpion Championship Finals
Tickets are available here.
Wednesday, April 19
7 p.m. on FS1 — PBA Shark Championship Finals
Tickets are available here.
Thursday, April 20
10 a.m. — PBA World Championship Match Play Round 1 (six games)
2:30 p.m. — PBA World Championship Match Play Round 2 (six games)
Sunday, April 23
Noon on FOX — PBA World Championship Finals
Tickets are available here.