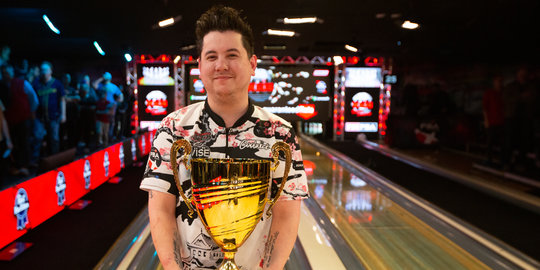 Jakob Butturff Ends Title Drought at 2023 PBA Scorpion Championship
April 18, 2023
Nolan Hughes
Butturff dedicates first title since 2019 to his late mother.
On Tuesday night at Bowlero Wauwatosa, Jakob Butturff put an end to his near-four-year title drought.
The 28-year-old defeated EJ Tackett, who won the PBA Cheetah Championship on Monday, in the title match to claim his eighth career title.
"It's my first Tour win since my mom passed away back in November 2020," Butturff said. "I know she was looking down on me and made sure I made my 7-pins in that match."
"She's the reason I am where I'm at in my life right now," Butturff continued. "She motivated me. She took me to every event in juniors. Without her, I wouldn't be where I'm at in life."
JAKOB BUTTURFF DOES IT!@JButturff claims his first PBA title since 2019, taking home the PBA Scorpion Championship! pic.twitter.com/NXVElvkdcc

— PBA Tour (@PBATour) April 19, 2023
Tackett struggled to project the ball to the right throughout his two matches. He said that if he missed to the right, the ball was not going to hook, which caused him to miss left several times.
Tackett appeared to have overcome that issue in the title match, firing strikes on seven of the first eight frames. But he missed left again in the ninth frame, leaving a 3-4-6-7-10 split.
The open frame gave Butturff a chance to shut out the Player of the Year frontrunner. After tripping the 6-pin forward in the 10th frame, Butturff needed just nine pins on the next shot to clinch the win.
The left-hander made a slight adjustment to the right, but said he threw the ball fast and left the bucket. The missed opportunity cracked the door back open for Tackett, and Butturff said he fully expected him to seize it.
Needing a double and nine pins to secure his fifth title of the season, Tackett said he threw an okay shot — "close enough it could have struck" — but left a 10-pin, ending his bid for back-to-back titles.
Butturff also competed in the PBA Cheetah Championship finals last night, fouling twice while wearing new shoes to lose the opening match. He brought back his old shoes and tested the approaches tonight, but said the mistake from yesterday lingered as a demon in his mind.
"The best way to overcome the past is to focus on the present," he said.
Jesper Svensson, the No. 5 seed, defeated Anthony Simonsen in the opening match. Lane transition hit Simonsen early in the match, but he fought back with a hambone in the seventh through 10th frames. But a split on Simonsen's 11th shot ended the 26-year-old's bid for a third title of the season.
The next match pitted Svensson against Finland's Santtu Tahvanainen, the reigning PBA Rookie of the Year. The intense hockey rivalry between Swedes and Finns did not translate to this match as Svensson routed Tahvanainen, 228-186.
Tahvanainen, known for his effortless power and rev rate, played almost three arrows farther left than Simonsen. He said that strategy worked throughout qualifying and even in practice before the show, but it did not work tonight.
"It was my comfort zone," Tahvanainen said. "It was a little bit tighter (on the TV pair), but I felt like it's still manageable. I don't see myself doing any better if I was more right."
"It's definitely a good experience," he said of his first career singles telecast. "But at the same time, I hope this concludes my bad bowling and tomorrow we can see my good bowling."
Svennson's ascent of the stepladder came to a screeching halt against Tackett in the semifinal. The two-hander's look with urethane started to fade, leaving two buckets in the first four frames, and his attempts to switch to reactive led to disastrous splits.
"I knew (transition) was coming," Svensson said. "I was just hoping that the look I had after wasn't as bad as it was."
Svensson exhausted his option to no avail, falling to Tackett 184-158.
"You feel like the tiniest little thing in the world standing on that approach when things are not going too hot," Svensson said. "If I would have known that EJ would've shot 180, I probably would've done what I did the first few frames (throwing urethane) and just tried to hit the pocket and make whatever spares are left. But I figured that he's probably going to have a very good game so I had to be aggressive.
"With a little bit of time, I think I'm going to be pretty proud about the performance," Svensson added. "But obviously, that last game stings a little bit."
Simonsen and Tahvanainen also advanced to the PBA Shark Championship finals, which will be held Wednesday night at 7 p.m. ET on FS1.
Butturff and Tackett narrowly missed the championship round on the 48-foot Shark pattern, but hold the top two positions in the PBA World Championship. Match play for the fourth major championship of the season will take place Thursday.
Butturff said while he is disappointed about missing tomorrow's show — he shot 175 the final game, needing 226 to make the show — he is glad to take a day off and enjoy tonight's victory.
"This was an all star, future Hall of Famer lineup of a TV show," Butturff said. "I definitely had to think that I was the top seed for a reason. I had to feel like the best bowler in the building. Thankfully enough, I was able to come out on top."
Championship Round Scores
Match 1: No. 5 Jesper Svensson def. No. 4 Anthony Simonsen, 248-225
Match 2: No. 5 Jesper Svensson def. No. 3 Santtu Tahvanainen, 228-186
Match 3: No. 2 EJ Tackett def. No. 5 Jesper Svensson, 184-158
Championship: No. 1 Jakob Butturff def. No. 2 EJ Tackett, 225-217
PBA Scorpion Championship Final Standings
Jakob Butturff, $20,000
EJ Tackett, $13,000
Anthony Simonsen, $10,000
Santtu Tahvanainen, $8,500
Anthony Simonsen, $7,500
Full PBA Scorpion Championship standings are available here.
WSOB XIV Schedule
All times listed in Eastern.
Wednesday, April 19
7 p.m. on FS1 — PBA Shark Championship Finals
Tickets are available here.
Thursday, April 20
10 a.m. — PBA World Championship Match Play Round 1 (six games)
2:30 p.m. — PBA World Championship Match Play Round 2 (six games)
Sunday, April 23
Noon on FOX — PBA World Championship Finals
Tickets are available here.