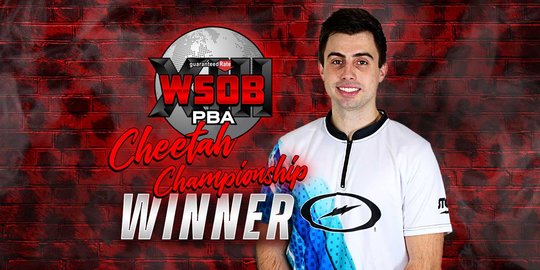 The Stars Align for Kyle Sherman at the PBA Cheetah Championship
March 14, 2022
Nolan Hughes
To win on the PBA Tour, everything has to fall into place: You have to match up with the pattern, you have to bowl your absolute best and you have to hope your opponent gives you a chance.
The stars aligned for Kyle Sherman at the PBA Cheetah Championship. He captured his second career PBA title and first singles title. The jokes of his "half-title" will live only in the archives of the Brad and Kyle YouTube channel.
As Sherman paraded around the set, the raucous crowd at Bowlero Wauwatosa poured in support for the co-star of their favorite channel. Though this was Sherman's first singles title, the chants of "Let's go, Kyle!" almost drowned out the post-game interview.
He has earned a passionate fan base by chronicallying his life as a pro bowler with his best friend, Brad Miller. "When we first came out here, we thought it was the greatest sport in the world," Miller said. "We still think that. All you need to do is have a camera around."
"It's unbelievable," Sherman said. "You work so hard to try to win, and out here people forget there's just so much losing. You've gotta learn to lose first. Winning this doesn't seem real yet."
Sherman joked the title match between himself and Azcona was "The rubber match to decide the best bowler to come out of Lindenwood." The two won the 2014 Intercollegiate Team Championship together, but only Sherman hoisted the trophy this time. Sherman captured the title with a 214-184 victory.
Azcona's demise came on the right lane, where he left the 2-10 or 2-4-8 on each of his final four shots. Sherman avoided the carrydown by playing straighter. "I knew my ball was going to hook if I got outside of five quick, and staying up the lane," Sherman said. "I saw that early, made the decision to get away from it and it worked out."
In the semifinal, Sherman defeated Kris Koeltzow 216-212. Koeltzow, chasing his first career PBA title, needed a double in the 10th frame, but could not deliver on the second attempt.
Koeltzow escaped from his previous match against Jakob Butturff in a dramatic thriller. After they tied at 183, Koeltzow outlasted the left-hander through three legs of a sudden death roll-off.
Butturff looked more comfortable during his 235-200 win over Andrew Anderson in the opening match. This marked his third TV finals appearance in as many events at the World Series of Bowling XIII. Over the next two days of match play, he'll look to match Sean Rash's WSOB III performance by reaching all five telecasts.
PBA CHEETAH CHAMPIONSHIP FINAL STANDINGS
Kyle Sherman $20,000
Cristian Azcona $11,000
Kris Koeltzow $9,000
Jakob Butturff $7,000
Andrew Anderson $5,000
MATCH SCORES
Match 1: No. 5 Butturff def. No. 4 Anderson, 235-200
Match 2: No. 3 Koeltzow def. No. 5 Butturff, 183-183 (30-28)
Match 3: No. 2 Sherman def. No. 3 Koeltzow, 216-212
Match 4: No. 2 Sherman def. No. 1 Azcona, 214-184
GUARANTEED RATE PBA WORLD SERIES OF BOWLING XIII TV SCHEDULE
PBA Scorpion Championship – Mar. 15, 8 p.m. ET on FS1
PBA Shark Championship – Mar. 16, 8 p.m. ET on FS1
PBA Collegiate Invitational presented by Storm – Mar. 20, 2:30 p.m. ET on FS1
About the PBA
The Professional Bowlers Association (PBA) is the world's preeminent organization dedicated to the sport of bowling and its professional competition, with thousands of members and millions of fans throughout the world. The PBA plays host to bowling's biggest tournaments from the PBA Tour, PBA Regional Tour, and PBA50 Tour. In 2020, the PBA launched PBA Jr., a club for elite youth bowlers under the age of 17 and the PBA Pinsiders, a membership for fans of the sport. For more information, please visit PBA.com.