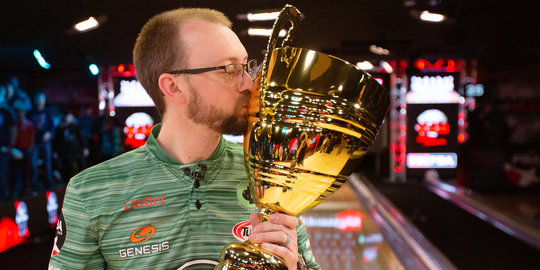 EJ Tackett Wins 20th Career Title at 2023 PBA Cheetah Championship
April 17, 2023
Nolan Hughes
Tackett defeats BJ Moore to claim his fourth title of the season.
Ten years ago in Milwaukee, EJ Tackett made his PBA Tour television debut. Tonight, on the same pair of lanes at Bowlero Wauwatosa, the 30-year-old claimed the 20th title of his career and fourth of the season at the PBA Cheetah Championship.
Tackett defeated top seed BJ Moore, 259-178, in the first title match of the Guaranteed Rate World Series of Bowling XIV.
Career Title #20
2023 PBA season title #4

EJ Tackett continues his dominance, as he wins the PBA Cheetah Championship at the #WSOBXIV pic.twitter.com/4MPHiswr5C

— PBA Tour (@PBATour) April 18, 2023
With four titles in nine events this season, plus a runner-up finish at the PBA Tournament of Champions, Tackett has bowled in more than half of 2023 title matches.
"I've just bowled well," Tackett said. "I've given myself a lot of opportunities and I've been able to capitalize on them, where in the past I really haven't done a great job of doing that. This year, for some reason, has been a little bit different. Everything is coming together and things are full steam ahead."
Tackett said confidence has been a driving force behind his dominance this season. Winning the season opener at the U.S. Open presented by Go Bowling!, the title he coveted more than any other, kick-started perhaps one of the more dominant season's in recent memory.
With a 20th career title, Tackett surpassed Chris Barnes and tied Amleto Monacelli, Dick Ritger, Wayne Webb and Tommy Jones — all PBA Hall of Famers.
"It's crazy to etch your name next to guys that are iconic in the sport, people that I grew up watching," Tackett said. "Tommy's definitely one. I watched him from the first time he came on tour. It's an incredible feeling."
Tackett's decisiveness in the title match proved too much for Moore, who sought to win a second career title. After averaging more than 236 throughout 20 games of gutter-free qualifying, Moore threw the first shot in the gutter and rallied to finish with 178.
"BJ was seeing a lot of over-under and a lot of times — and I've been through it 100 times myself — where there's a little bit of nerves and you just roll it a little bit differently than we did all week," Tackett said. "I did that a couple of times in the first game and got away with them. I think being able to bowl that game and go into that title match with a little confidence in what my ball was doing on the lane really, really helped in the shot making."
In the semifinal, Tackett defeated Joseph Grondin, 233-225. Grondin, a 24-year-old graduate of Wichita State University, kept pace with Tackett through five frames despite battling immense lane transition.
However, Grondin's missed 3-6-10 conversion in the sixth frame created what proved to be an insurmountable deficit.
"It was a change in the lanes," Grondin said. "I didn't think to move because I went flush the last shot, and then obviously it went high."
In the previous match, Grondin won the first match on television of his career against AJ Johnson. Grondin took an early lead when Johnson missed the 2-8 in the second frame, but the veteran quickly retook the lead.
Johnson needed all three strikes in the 10th frame to shut out Grondin, but missed the 2-8 yet again.
"I was trying to be a little nicer to (the ball) and let it do its thing. I didn't expect it to (leave a) 2-8," Johnson said. "It hurts. I had ball in hand and could've wrapped it up there, but it is what it is. We're going to learn from it and keep getting better."
The opening match between Johnson and Jakob Butturff was one of the strangest in PBA history. The 35-foot Cheetah pattern forces players to throw the ball near the gutter, often to the very last board, and does not leave much margin for error.
Johnson kicked the match off with a gutter, then guttered again in the fourth and fifth frames; Butturff fouled in the second frame — which he said was only the second of his entire career — then fouled again in the 10th frame.
"I tried out new shoes for the show," Butturff said. "That's my mistake, a rookie mistake, and I made it. I was very fortunate to even be in this position. I'm just going to take my lumps with this one."
Johnson, who delivered in the clutch during the final game of qualifying and a roll-off to make tonight's show, bounced back from the gutter balls with a five-bagger to steal the match.
"I knew if it stayed on the lane, it would do the right thing," joked Johnson, adding he adjusted his depth of target to help keep the ball on line.
Tackett, who did not advance to the PBA Shark Championship finals on Wednesday night, can theoretically win seven of the remaining eight titles on the 2023 PBA docket — which means Mark Roth's 1978 single-season record of eight titles is within reach.
"It's incredible to win that many times in a season," Tackett said. "In 2017, I won four times and finished second three times. That's one of the best seasons I've ever had in my career, up to this year.
"So is it possible? Yes. Probable? Probably not. But I'm going to give it my all and give it my best and try to catch it."
Tackett will have yet another title opportunity Tuesday night as the No. 2 seed for the PBA Scorpion Championship.
Butturff will return as well, this time as the top seed, while No. 4 seed Anthony Simonsen looks to keep up with Tackett in a heated PBA Player of the Year race.
Championship Round Scores
Match 1: No. 5 AJ Johnson def. No. 4 Jakob Butturff, 208-203
Match 2: No. 3 Joseph Grondin def. No. 5 AJ Johnson, 205-194
Match 3: No. 2 EJ Tackett def. No. 3 Joseph Grondin, 233-225
Championship: No. 2 EJ Tackett def. No. 1 BJ Moore, 259-178
PBA Cheetah Championship Final Standings
EJ Tackett, $20,000
BJ Moore, $12,000
Joseph Grondin, $11,000
AJ Johnson, $8,500
Jakob Butturff, $7,500
More information on the PBA Cheetah Championship is available here.
WSOB XIV Schedule
All times listed in Eastern.
Tuesday, April 18
7 p.m. on FS1 — PBA Scorpion Championship Finals
Tickets are available here.
Wednesday, April 19
7 p.m. on FS1 — PBA Shark Championship Finals
Tickets are available here.
Thursday, April 20
10 a.m. — PBA World Championship Match Play Round 1 (six games)
2:30 p.m. — PBA World Championship Match Play Round 2 (six games)
Sunday, April 23
Noon on FOX — PBA World Championship Finals
Tickets are available here.