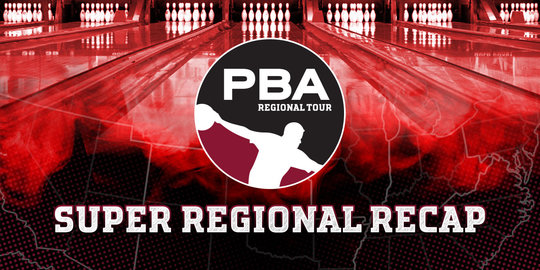 2022 PBA Super Regional Recap
September 2, 2022
Nolan Hughes
Four cities. Four PBA super regionals. Four champions. Four $10,000 checks. Sounds like a pretty good summer to me.
The super regional circuit bestowed titles to an assortment of athletes: a PBA major titleist, a one-time PBA champ and former Rookie of the Year, and two high caliber regional players who have tasted national tour success.
Now, you're probably wondering, who are these guys? How did they do it? Well then, let me tell ya about the super regional summer of '22.
PBA Lubbock Sports Shootout presented by South Plains Lanes and Storm 2022
South Plains Lanes
Lubbock, Texas
Winner: Ildemaro Ruiz Jr.
The summer swing began in the world famous birthplace of Buddy Holly. For those unaware of the rock 'n' roll icon — like me until I Googled the city — that's Lubbock, Texas.
Nathan Bohr paced the field in qualifying before another native Texan usurped him in the advancer round. Once four-time PBA major champion Anthony Simonsen took control, it looked like he would cruise along to the title.
That is until Ildemaro Ruiz Jr. caught fire down the stretch. The Venezuelan trimmed a 200-pin deficit to less than 50 entering the final game. 
Powered by his "lady lucky," Ruiz Jr. raced past Simonsen to claim the title and $10,000.
Full story: Ildemaro Ruiz Jr. Snags Comeback Win at Lubbock Super Regional
PBA Jonesboro Super Southwest Open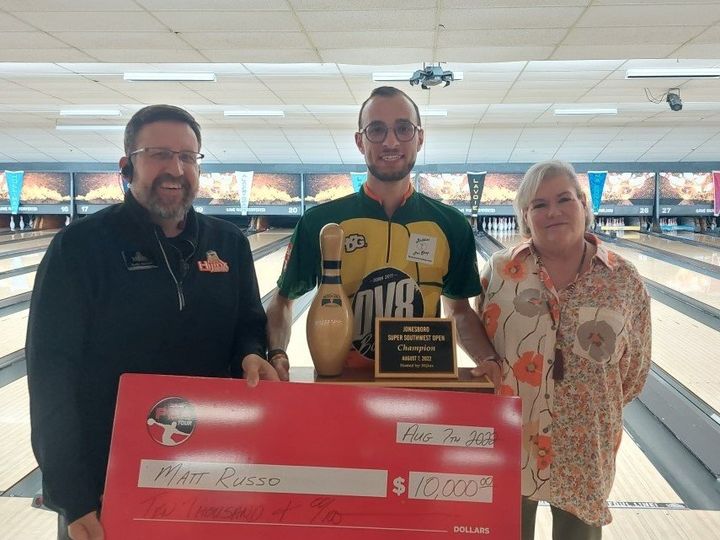 Hijinx Entertainment
Jonesboro, Ark.
Winner: Matt Russo
Returning to the building where you won your first career PBA Tour national title must be a surreal feeling. While the rush of nostalgia serves as a massive confidence boost, so does the target on your back.
The latter didn't faze Matt Russo, who walked into Hijinx Entertainment riding a tsunami of conviction. He rode that wave all the way to the title, never relinquishing the lead once.
His lead grew so large that boredom almost set in: "At one point, I was just like, are we done? Can we just go to the stepladder?"
Full story: Matt Russo Dominates in Wire-To-Wire Jonesboro Super Regional Win
PBA Bowlerstore.com Classic Presented By Moxy's Xtra Pair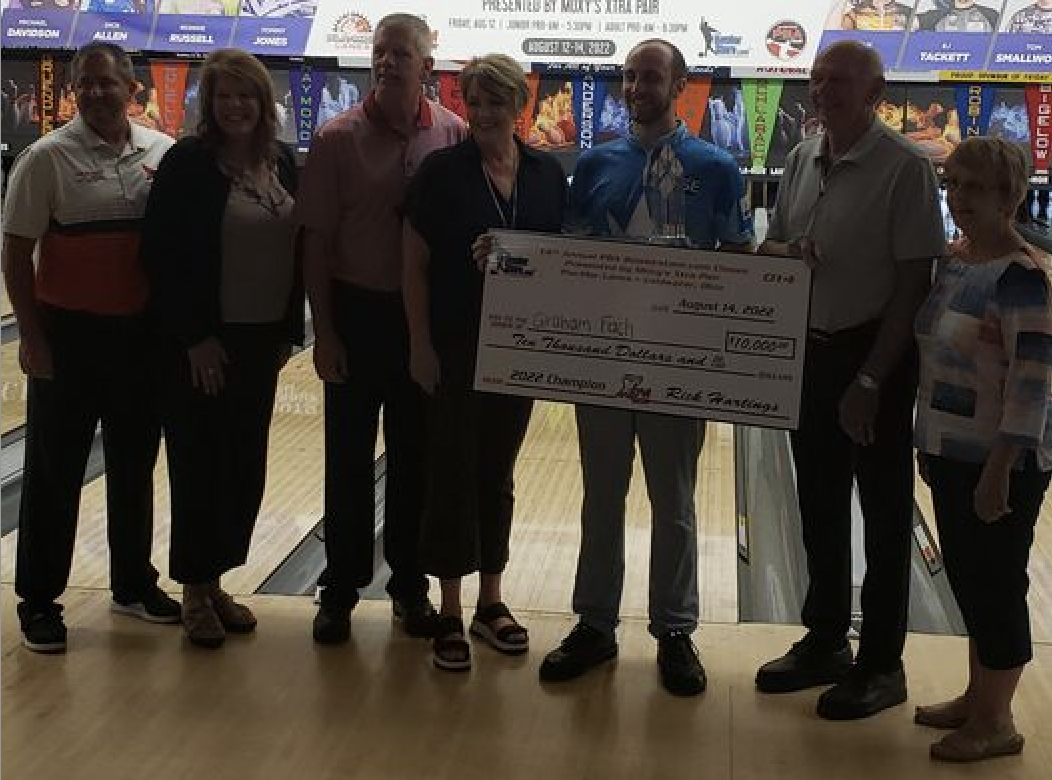 Pla-Mor Lanes
Coldwater, Ohio
Winner: Graham Fach
A P.S.A. to the bowling community: Do not enter a western Ohio tournament with Graham Fach or Sam Cooley in the field. Unless your goal is to finish third, you do not stand a chance.
Cooley defeated Fach in the PBA Kremer Roofing Central Classic, the midweek appetizer to the Coldwater super regional. Zac Tackett took third.
At the super regional, Cooley led for the first few rounds before Fach caught him to earn the No. 1 seed for the stepladder. After Cooley dispatched EJ Tackett in the semifinals, the rematch was set.
(So even if you're only aiming for a bronze medal, you'll have to get past the Tackett family. Good luck with that.)
Fach and Cooley started striking early, then exchanged opens in the fifth frame. Cooley held a slight lead, but Fach's double in the 10th frame forced Cooley to throw a strike of his own. The Australian's ball blew past the fiction spot and left the bucket, handing the title to Fach.
As of now, there are no available details regarding a potential rubber match.
I guess you can say: Revenge is a dish best served… Cooley? Cold-water? Why are there many terrible puns to choose from?
Full story: Coldwater Super Regional Final Results: Fach Takes Down Cooley
PBA Booster Club of Hampton Roads Open
AMF Western Branch
Chesapeake, Va.
Winner: Tim Foy Jr.
The grand finale to the summer of super regionals transpired just south of eastern Virginia's spectacular bays.
In the house that TD built, or at least where he led the PBA Tour stop last summer, Tom Daugherty took the early lead during A-squad qualifying. A trio surged past Daugherty during B-squad, and he never figured out how to get around them again.
Tim Foy Jr. tailed that group of three on Saturday. It turns out he was drafting behind them, plotting his trajectory to the No. 1 seed.
Anthony Neuer defeated Daugherty in the opening match, but Eric Jones slayed the Ginger Assassin in the semifinals.
Foy Jr. avenged his fictitious son's demise with a dominant 266-232 victory in the title match. A nagging neck injury made the Delaware native consider withdrawing before the tournament, but a fortunate visit with a chiropractor put him on the path to $10k.
Full story: Chesapeake Super Regional Results: Tim Foy Jr. Claims Third Career PBA Regional Title
Top Performers
Just four players competed in all four events: Tackett, Ruiz Jr., Shawn Maldonado, and Joseph Grondin. Tackett averaged a finish of 10th place, beginning with 25th in Lubbock, then adding second, third and 11th place finishes.
Despite the fact you hadn't read Maldonado's name yet, assuming you actually read the previous paragraphs, he wasn't far behind. With four top-20 finishes, his average finish was 10.67. He also finished just outside the show in Jonesboro in fifth.
Ruiz Jr.'s summer tailed off after his win in Texas, posting results of 26th, 52nd and 54th. He might need to look into making his lady lucky, his 5-year-old daughter, a full-time travel partner.
Grondin, a former starter at Wichita State University, joined the PBA in 2020. His best showing came in Coldwater, a 27th place finish.
Tom Daugherty did not compete in Lubbock, but racked up three straight top-10 finishes afterwards, tallying seventh in Jonesboro and 10th in Coldwater.
What's that I hear? An onslaught of various NFL soundtracks? Well, that's our cue to leave. 
A recap of the 2022 Guaranteed Rate PBA Tour season is also available.