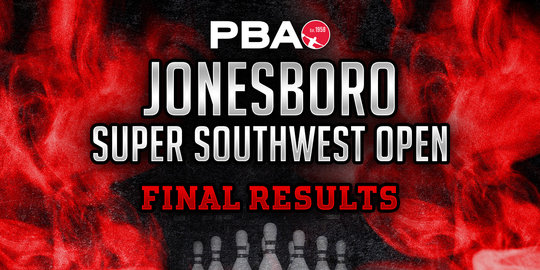 Matt Russo Dominates in Wire-to-Wire Jonesboro Super Regional Win
August 7, 2022
Nolan Hughes
When Matt Russo won his first PBA Tour title in Jonesboro last summer, he found something nobody else could see. At the PBA Jonesboro Super Southwest Open, he found the same look and rode his secret sauce to a dominant, wire-to-wire victory.
"Of everybody that I watched, nobody was throwing it slow," he said. "Last year at that center, it worked the same way, where nobody was throwing it that slow and I was able just to let my ball do the work."
On top of his slower ball speed, Russo believed his emphasis on rolling the ball was the difference.
"That's something that I've noticed just watching so many other guys is their ball roll is what helps them along the block," he added. "I've had stretches where I felt good for three or four games because my game matches up, but could I do it consistently over X-amount of games? That's really what I focused on from the first game."
Russo led the eight game qualifying round on Saturday by 53 pins. He said he knew the next round would be his best chance to push his lead on the 42' Mark Roth oil pattern.
After five games Sunday morning, he extended his lead to 188 and the gap over sixth place ballooned to 337. Russo ultimately finished at +937 after 21 games, 176 pins ahead of second place and 433 ahead of sixth.
"It definitely helps when you feel like you don't have to worry so much about making the show," Russo said of bowling with a huge lead. "On the flip side, I lead by so many that there's more pressure in the title match.
"You can bowl qualifying, but now can you finish it off when they give it to you?"
Spencer Robarge trailed Russo in second place all weekend, but he put considerable distance between himself and the field as well. After the first advancer round, he bested third place by 114 pins and eventually extended his cushion to 178 pins.
Fresh off his 16th PBA Tour title at the SABC Mixed Double Tournament, EJ Tackett qualified Saturday in 10th place.
After the second advancer round, just 71 pins separated Tackett in fourth from 12th place — but he had his eyes on third place Shawn Maldonado, who sat 89 pins ahead. Tackett climbed within three pins of the Texan with one game to go, and jumped ahead of him in the final game before the stepladder.
Maldonado and Mykel Holliman, who finished runner-up to Russo last summer, rounded out the stepladder finals.
Holliman's quest for redemption started strong as he defeated Maldonado in the opening match of the stepladder 266-226. Then Holliman ran into a runaway freight train.
Celebrating his 30th birthday, Tackett fired a 10-strike 279 to take down the one-handed southpaw. Tackett stayed hot to defeat Robarge in the next match 244-209.
In a winner-take-all title match, Russo's monumental lead meant nothing. After leading the U.S. Open by 505 pins this year and coming up short in the title match, no one understood that better than Tackett. "I'm definitely living proof of that," he said.
Another quick start for Tackett, who began with three of four strikes, quickly dissipated. A pair of nine-count spares preceded a 4-6-7 split in the seventh frame.
"Every time I got into that spot the whole day, I had to do something different," he added. "I tried lofting the ball a little bit, then my ball 10-pin'd twice. I split because I tried to make it strike. I have nothing to complain about or be upset with. I bowled well and hung in there pretty good today."
With Russo riding a four-bagger and striking at-will all weekend, he kept his foot on the gas. He came away with the 244-192 victory, capping off an assertive wire-to-wire win.
"Anytime you get to bowl one of the hottest players on tour, arguably one of the best in the world, is a challenge in itself," Russo said. "I was able to beat EJ on TV at the beginning of the year and to come out on top and beat him again, it just gives me more confidence ultimately, and that's what I've been looking for."
Russo netted $10,000 for his win. More information on the tournament is available here.
The summer super regional tour continues next weekend in Coldwater, Ohio. The PBA Bowlerstore.com Classic Presented By Moxy's Xtra Pair begins Friday, Aug. 12. More information on that tournament is available here.
PBA Jonesboro Super Southwest Open Final Standings
Matt Russo, $10,000
EJ Tackett, $6,000
Spencer Robarge (n), $4,000
Mykel Holliman, $3,000
Shawn Maldonado, $2,500
Deo Benard, $1,650
Tom Daugherty, $1,600
Mike Bailey (s), $1,550
Gary Faulkner Jr., $1,500
François Lavoie, $1,450
Full standings are available here.