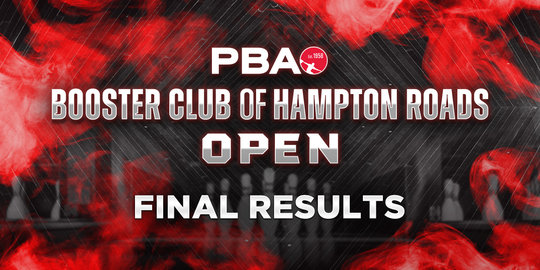 Chesapeake Super Regional Results: Tim Foy Jr. Claims Third Career PBA Regional Title
August 21, 2022
Nolan Hughes
Tim Foy Jr. struggled to find the words. All he could muster was "unreal, surprised and happy."
He said he withdrew from a tournament a couple of weeks ago with pain in his neck, and wasn't sure if he'd be able to bowl this weekend until a chiropractor alleviated the pain in his neck on Friday night.
Foy Jr. had low expectations heading into the PBA Booster Club of Hampton Roads Open, but he walked away with the third PBA regional title of his career and $10,000.
"It hasn't sank in yet," he said. "It's gonna sink in, but not for a while."
Tim Foy Jr. wins the @PBATour Booster Club of Hamptons Road Open.

He defeats Eric Jones 266-232. pic.twitter.com/0Onb6aGtW6

— Nolan Hughes (@nolan_hughes24) August 21, 2022
The 35-year-old Delaware native said low expectations loosened up his swing on Saturday. His block of +280 put him in third place after the qualifying round, then he kept that same mentality on Sunday.
He surged into the lead during the morning advancer round. He opened with 782 in his first three games, and held onto the lead through both advancer rounds.
While Foy Jr. lit up the scoreboard, Eric Jones was never far behind. Since the 17-year-old got his PBA card earlier this year, he has tallied two official PBA regional titles and now adds a runner-up to his résumé.
Anthony Neuer earned the No. 3 seed qualified in ninth place on Saturday at +207. He climbed into fourth during the six games on Sunday morning, before settling into third after the second advancer round.
Matt Taylor, who led Saturday's qualifying at +336, grinded to a +23 six game block on Sunday morning and dropped to sixth place.
Entering the 17th and final game, Taylor and Ryan Ciminelli sat just 40 and 50 pins behind Tom Daugherty, who hovered around fourth place the entire weekend. Daugherty couldn't catch Foy Jr. or Jones, but stayed ahead of the remaining competitors.
Neither Taylor nor Ciminelli could put much pressure on Daugherty, who grinded out 201 to hold onto the final spot on the stepladder.
Taylor made an aggressive change from urethane to reactive equipment during the final game, but two errant shots sunk his comeback bid. For Ciminelli, a pair of 6-8 splits served as the nail in his proverbial coffin.
In the stepladder, Neuer built an early lead over Daugherty. Right as Daugherty figured out the pesky left lane, he left a 2-8-10 on the right. Five of six strikes to open the match propelled Neuer to a clean 224-193 win.
The next match pitted the young southpaws against one another, where Neuer found himself in a unique position as the elder statesman.
After an opening three-bagger, Neuer lost the pocket. He switched from urethane to reactive after two spares, but subsequently lost the pocket. While he stayed clean, he couldn't keep up with Jones' strikes.
"I haven't bowled more than one game on one pair all week," Neuer said. "I know my trouble from previous shows is that I get a lot of early friction, so I'm still trying to figure out how to combat that."
Neuer said once the front part of the lane went, he knew he would have to make an aggressive adjustment.
"I knew his look was good enough that I needed a three- or four-bagger," Neuer said. "I think I made the right move, but it didn't help when I made a really bad shot when I made the ball change."
He hoped that Jones would see the same transition, but the two-hander managed to stave off any major adjustments. Jones said his higher tilt and lower ball speed allow him to play farther right and avoid that early hook that Neuer saw.
After Neuer lost to Jones 234-210, he didn't go far. He sat right behind the championship pair to support Foy Jr., one of his closest friends and tour roommate.
"I wouldn't leave him like that, that's just what friends do," Neuer said.
"Our goal every week is to bowl each other in the title match," Foy Jr. said "We tried, it almost happened today."
In the title match, Jones missed a 4-7 spare that quickly put him in a hole. He threw seven of nine strikes to close the game, but Foy Jr. gave him zero opportunity to get back into the match.
"I figured out my ticks basically, how to calm myself down and get myself in the right mental state," said Foy Jr., referencing two key moments from the 2021 Masters. He said he threw three strikes to beat Jason Belmonte, then struck to beat Chris Via in the next round.
After sparing a 10-pin, Foy Jr. threw nine strikes in his next 10 shots to send the high schooler packing. He struck or spared in 69 of 70 frames on the day.
Match Scores
Match 1: Neuer defeated Daugherty 224-193
Match 2: Jones defeated Neuer 234-210
Title match: Foy Jr. defeated Jones 266-232
Final Standings
Tim Foy Jr., $10,000
Eric Jones, $5,565
Anthony Neuer $4,000
Tom Daugherty $3,000
Matt Taylor, $2,000
Matthew Woodall, $1,750
Ryan Ciminelli, $1,500
Colin Champion, $1,250
Dwight Adams, $975
Jason Cornog, $950
Full standings are available here.
More information on the PBA Booster Club of Hampton Roads Open is available here.