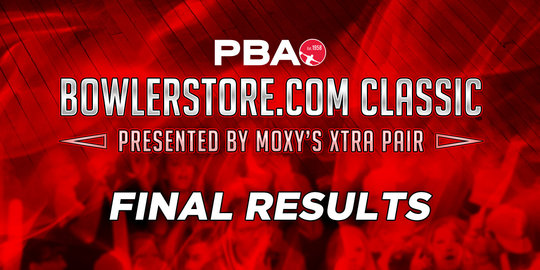 Coldwater Super Regional Final Results: Fach Takes Down Cooley
August 14, 2022
Nolan Hughes
They may have been competing in Coldwater, Ohio, but Graham Fach and Sam Cooley are on fire. For the second time this week, Fach bowled Cooley for a PBA regional title in the Buckeye State.
Cooley took the first meeting at the PBA Kremer Roofing Central Classic in Minster, Ohio last Thursday.
"Cooley and I have been against each other a lot this last month," Fach said. "In the World Games, he won gold in singles [and Fach won bronze], of course Minster, then here."
This weekend at Pla-Mor Lanes, which players have called one of the hardest centers in the country, Fach's stellar 2022 campaign rolled on. He earned $10,000 and his fifth victory of the PBA Central Region season.
Fach said the driving force behind his dominance has been "feeling comfortable," which has been aided by a switch from Motiv to Brunswick this season.
"I've just been trying to build on the success that I've been having," he said of his season. "When you're having success, your swing's looser, you're making decisions faster, you're more confident with the decisions you make. When it all comes together, you're able to continue that success."
In the title match, Fach used a Hammer Black Widow Urethane Pink Pearl. He said he hadn't used that ball all weekend until that match.
"Justin (Knowles) and I were discussing how we wanted to break down that TV pair where we could have the most successful on the left side," Fach said. "We tried to break it down a little easier than what we had in qualifying, and I just thought that the Pink Widow Urethane gave me the best look to the pocket."
If Fach and Cooley are the hottest players in the Midwest, EJ Tackett isn't far behind.
Tackett earned his second straight top-three finish in a super regional, falling to Cooley in the semifinal, 255-223. A late seven-bagger propelled the Australian to the win, as Tackett missed the head-pin in the seventh and ninth frames.
Tackett defeated Justin Knowles in the opening match 213-211. Knowles had an opportunity to shut out Tackett, but chopped the 4-7 in the 10th frame. Tackett spared a 4-7 of his own, then aced his fill ball to secure the win.
Cooley led Saturday's eight games of qualifying, averaging over 223 to finish +188. Brent Boho, Dick Allen, Arturo Quintero and Knowles rounded out the day's top five.
Those same five remained in front after the four-game first advancer round on Sunday morning, though Knowles surged into second place.
Fach and Tackett moved into the top five during the second advancer round, a three game block.
During the two-game final advancer round, Fach surpassed Cooley for the top seed for the stepladder finals. Fach shot 482 to finish at +291 and make up the 54-pin deficit; Cooley finished second at +273.
Tackett earned the No. 3 seed at +228, while Knowles and Brent Boho tied for the final spot on the stepladder with +212. Knowles won the rolloff 210-184.
Andrew Anderson, who finished sixth on the weekend, shot the tournament's only 300 game during qualifying on Saturday. Allen and Quintero also finished inside the top eight.
Next weekend, the PBA summer regional swing concludes in Chesapeake, V.A. at the PBA Booster Club of Hampton Roads Open. Competition begins Saturday, Aug. 20 at AMF Western Branch Lanes.
More information on the Chesapeake super regional is available here.
Final Standings
Graham Fach, $10,000
Sam Cooley, $5,000
EJ Tackett, $2,500
Justin Knowles, $2,200
Brent Boho, $2,000
Andrew Anderson, $1,800
Dick Allen, $1,600
Arturo Quintero, $1,400
Trevor Roberts, $1,375
Tom Daugherty, $1,350
Full standings are available here.
More information on the PBA Bowlerstore.com Classic presented by Moxy's Xtra Pair is available here.