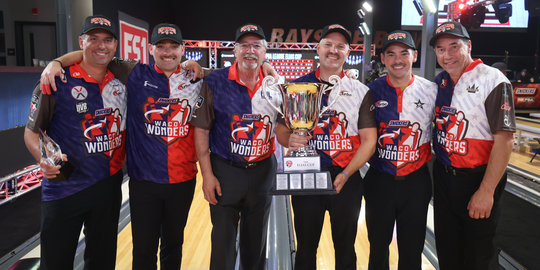 Wonders Sweep Lumberjacks to Win 2023 PBA Elias Cup
September 27, 2023
Nolan Hughes
The Portland Lumberjacks selected Kris Prather with the first pick of the 2019 PBA League draft. They had not lost since — until tonight.
The Snickers Waco Wonders, led by Ryan Ciminelli and Parker Bohn III, spoiled the Lumberjacks' bid for a fourth straight Elias Cup title, sweeping the hometown team to win the 2023 PBA League Elias Cup presented by Pabst Blue Ribbon.
BREAK OUT THE BROOMS 🧹🧹🧹

The @SNICKERS Waco Wonders deliver the Snickers Satisfying Moment of the Match and sweep the Portland Lumberjacks to win the 2023 PBA League Elias Cup presented by Pabst Blue Ribbon. pic.twitter.com/lKlHuxhgv8

— PBA Tour (@PBATour) September 28, 2023
The Wonders — who include Ciminelli, Bohn, Jason Sterner, BJ Moore, Frank Snodgrass and manager Johnny Petraglia — traveled a long road to claim the franchise's first-ever Elias Cup.
Waco qualified in seventh during Saturday's seeding round, escaped the play-in stepladder with wins over Milwaukee and Motown on Sunday, beat NYC in the quarterfinals on Monday, and out-struck Dallas in a three-round roll-off on Tuesday.
Tonight — with all four non-Bohn players rocking a vintage Parker Bohn mustache — Waco defeated Portland 247-204, 247-231 and 267-252 to sweep the best-of-five championship match.
Ryan Ciminelli was named the Mark Roth PBA League MVP by PBA Commissioner Tom Clark. Ciminelli struck on 70% of his shots (23/33) during the Wonders' nine televised games, which included multiple strike-or-go-home 10th frames.
"I might have the MVP trophy, but today that's a team effort," Ciminelli said. "We had a strategy that worked almost flawlessly."
Ciminelli eliminated the team he played for in 2022, the Pabst Blue Ribbon Milwaukee Pounders, in the play-in round, then took out another former team in Portland tonight.
"I had a chip on my shoulder, and honestly it just kept getting bigger," he added after tonight's victory. "I just wanted to keep proving myself — I don't feel like I should have to any more, before this week even, it gets frustrating — but I think I did it again.
"I'm an asset to any team," Ciminelli said on Sunday. "The fact that I keep getting dropped from teams and put back into that draft pool. It's really starting to piss me off. I'm not old yet. I still got it in me. Anyone's a fool to get rid of me."
Beyond Ciminelli, the entirety of the Wonders embraced the role of the underdog. The team averaged a finish of 52nd on the 2023 points list and ranked last in the PBA's stat-based power rankings before the league.
Regardless of any outside noise, the Wonders built their team with intent and conviction.
"We picked this squad because everyone bowls with a chip on their shoulder," Moore said. "We wanted a dog in every fight. We didn't want someone that came out with some talent and threw a pretty ball. We wanted some dogs that were ready to get down in the dirt."
"We didn't have a star studded team, but we had heart and soul," Bohn said. "We had five guys with Johnny behind us that were digging in every shot."
Bohn, who made the semifinals of the USBC Masters earlier this year and turned 60 years old in July, has achieved almost every conceivable accolade in professional bowling. But he hadn't etched his name on the Elias Cup until tonight.
"I've been very fortunate in the bowling world," Bohn said. "But when you can go out and win an event like this and share it with five guys, I'll remember this literally for the rest of my life."
Elias Cup Finals Scores
Snickers Waco Wonders def. Portland Lumberjacks, 3-0
Game 1: Wonders def. Lumberjacks, 247-204
Game 2: Wonders def. Lumberjacks, 247-231
Game 3: Wonders def. Lumberjacks, 267-252
Final Standings
Snickers Waco Wonders ($20,000 per player)
Portland Lumberjacks ($15,000 per player)
Go Bowling! Dallas Strikers ($10,000 per player)
Las Vegas High Rollers ($10,000 per player)
NYC KingPins ($8,000 per player)
Silver Lake Atom Splitters ($8,000 per player)
Motown Muscle ($7,000 per player)
Pabst Blue Ribbon Milwaukee Pounders ($6,500 per player)
Bowlero L.A. X ($6,000 per player)
Guaranteed Rate Chicago Breeze ($5,500 per player)
More information on the PBA League Elias Cup is available here.