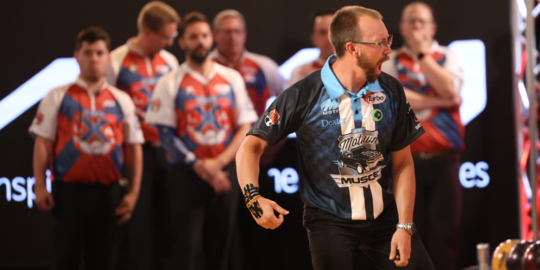 Motown Tops 2023 PBA League Power Rankings
September 22, 2023
Nolan Hughes
There is a PBA League team with a Player of the Year candidate who won three titles and finished top 10 in all 17 title events this season.
They also have a player who, by most measurements, had an even better season, winning five titles and setting a record with four No. 1 seeds in major championships.
Those decorated players are, of course, Anthony Simonsen and EJ Tackett. And therefore, it should be no surprise that the Simonsen and Tackett-led Motown Muscle top our power rankings heading into the PBA League Elias Cup presented by Pabst Blue Ribbon.
These rankings were based on statistics from the 2023 Guaranteed Rate PBA Tour season and, admittedly, the superstar duo's dominance warped the data in some regards.
Tackett and Simonsen have more collective top-10 finishes (29) than any other team. L.A. X combined for 21 top-10 finishes as a team.
If you assessed Simonsen and Tackett as individuals compared to the other nine teams, here's how the rankings for top-five finishes would stack up: Simonsen (13), L.A. (12), Tackett (11), Silver Lake (9), Dallas (8).
Of course, a single-season sample size has its flaws, discounting players who competed through injury, missed events during the season, or fall on either side of the age curve.
Furthermore, individual statistics are only indicative of team strength to a certain extent, particularly in the baker format, which the PBA League will use exclusively this year. There is no statistic for team chemistry.
Ultimately, these rankings aim to parse through the numbers and determine who should be among the top contenders for the Elias Cup.
Teams were sorted by the average of their ranking in the following statistics: total competition points, points rank, earnings, team average, top-five finishes, top-10 finishes and top-25 finishes.
10. Snickers Waco Wonders
Roster: Parker Bohn III, Jason Sterner, BJ Moore, Ryan Ciminelli, Frank Snodgrass
Ranks: 10th in total points, points rank, earnings, team average, top-five finishes, top-10 finishes and top-25 finishes
On paper, the Wonders simply do not have the firepower to match up with the other nine teams as they rank last in each category. Having two part-time veterans hurts their power rankings position immensely.
Ciminelli may have struggled this season, but he has a strong track record at Bayside Bowl. He helped Portland win their first title in 2019 and he anchored the PBR Milwaukee Pounders to the Elias Cup semifinals a year ago.
A similar resurgence is the recipe for Waco, who ranked similarly poor in last year's power rankings yet nearly made the Carter Division finals.
X-Factor: The lefties. No other team has two left-handers. If Bohn and Ciminelli get hot, Waco could be tough to beat in the ninth and 10th frames.
9. PBR Milwaukee Pounders
Roster: Sean Lavery-Spahr, AJ Chapman, Sean Rash, Dick Allen, Anthony Lavery-Spahr
Ranks: Seventh in points rank and total points; ninth in earnings, team average, top-five finishes, top-10 finishes and top-25 finishes
The injury bug hurts the Pounders perhaps more than any other team in terms of these rankings. Rash has been candid about his struggles with a back injury, but Anthony Lavery-Spahr kept an inner-ear issue that affected his balance low-key.
But this team thrives in a team environment. Allen has won two Elias Cups and was named MVP in 2015, while Rash has a spectacular collegiate and national team résumé.
X-Factor: Chemistry. The Lavery-Spahr brothers and Chapman may not have any PBA Tour titles, but few, if any, trios know each other's games better than these tour roommates.
8. Portland Lumberjacks
Roster: Kyle Troup, Kris Prather, Graham Fach, Arturo Quintero, Wes Malott
Ranks: Fifth in top-five finishes and earnings; seventh in top-10 finishes; eighth in team average and top-25 finishes; ninth in points rank and total points
Surely there's a typo here, right? The three-time defending champs rank eighth?
If the Lumberjacks had kept Packy Hanrahan, who ranked sixth in points and won two titles this season, or if Fach had been healthy at the start of the season, they'd likely rank as a top-five team — but Portland manager Tim Mack doesn't care about what the spreadsheets say.
Following their somewhat controversial decision to keep Malott over Hanrahan, Mack has reiterated that Malott is their franchise player. The two-time Mark Roth PBA League MVP is who Portland wants on the approach with the title on the line.
X-Factor: Fach. The Lumberjacks' core and Quintero have risen to the occasion on this stage; we haven't seen Fach do it — yet.
7. Las Vegas High Rollers
Roster: AJ Johnson, Matt Russo, Andrew Anderson, François Lavoie, Ildemaro Ruiz Jr.
Ranks: Fifth in top-10 and top-25 finishes; seventh in team average; eighth in points rank, total points, earnings and top-five finishes
Las Vegas brought back their entire 2022 roster. In terms of these rankings, perhaps they should have found an upgrade in the draft. In terms of what this group has actually accomplished, finishing second in 2020 and tied-third in 2022, it was likely a shrewd decision.
Johnson, Russo, Anderson and Lavoie all ranked between 23rd and 37th in points, all below what they expect of themselves. But all four players are champions and threats to dominate on any given week.
X-Factor: Lineup selection. The strength of the High Rollers is their balance, which only makes selecting the correct order to maximize score and chemistry more difficult.
6. NYC KingPins
Roster: Packy Hanrahan, Marshall Kent, Kyle Sherman, Darren Tang, Michael Tang
Ranks: Fifth in top-five, top-10 and top-25 finishes, sixth in points rank, total points and team average; seventh in earnings
While the KingPins have struggled in the past few PBA League events, earning the No. 1 pick in consecutive years, this team is littered with collegiate standouts and success in team formats.
Kent, Sherman and the Tangs were all named First or Second Team All-Americans. Hanrahan, an admitted late bloomer, struggled to crack a loaded Wichita State rotation, but the lanky lefty does bring two Elias Cup titles with him from Portland.
The KingPins, perhaps more than any other team, would benefit from a strong seeding round performance to avoid the play-in stepladder altogether.
X-Factor: Health. Sherman has battled a multitude of injuries in recent years — one of which cost him the 2022 PBA League — and the elder Tang has been dealing with a right arm injury for most of 2023. The team format creates more time in between shots and more time for their ailing muscles to stiffen up.
5. Go Bowling! Dallas Strikers
Roster: Matt Ogle, Tommy Jones, Shawn Maldonado, Chris Barnes, DJ Archer (replacing an injured Bill O'Neill)
Ranks: Fourth in top-five finishes; fifth in points rank, total points, team average and top-25 finishes; sixth in earnings; eighth in top-10 finishes
It's fair to wonder if Norm Duke has access to a time machine after he hand-selected Ogle to be his successor a year ago. Ogle went on to have the quintessential breakout season in 2023, finishing fifth in points and winning his first singles and second career title.
Last year, Duke took a pair of under-the-radar fliers in the draft in Tahvanainen and Ogle. This year, he made perhaps the most on-radar selections possible in Maldonado and Barnes. It's a win-now move for a squad hungry for a third Elias Cup title.
Note: Replacing Bill O'Neill with DJ Archer dropped the Strikers from fourth to fifth.
X-Factor: Runner-up hangover. After their disappointing finish in last year's championship, the Strikers will certainly be out for revenge. To do that, they'll have to avoid looking too far ahead.
4. Guaranteed Rate Chicago Breeze
Roster: Dom Barrett, Keven Williams, Tomas Käyhkö, Jake Peters, Tom Smallwood
Ranks: Fourth in points rank, total points, earnings, team average, top-10 and top-25 finishes; seventh in top-five finishes
Similar to Las Vegas, Chicago's balance is their strength. Their entire team may have ranked inside the top 25 in points if not for Smallwood's foot injury at the World Series of Bowling.
Additionally, the Breeze may have found a steal in Käyhkö. A grand total of eight players beat the reserved Finn in the U.S. Open and Players Championship, yet 16 players were selected ahead of him during the draft.
X-Factor: Energy. The Breeze, aside from Keven Williams, are an even-keeled bunch. But if there's one thing the Bayside Bowl crowd is going to do, it's spike adrenaline levels.
3. Silver Lake Atom Splitters
Roster: Chris Via, Jesper Svensson, Santtu Tahvanainen, Tom Daugherty, Richie Teece
Ranks: Third in total points, points rank, earnings, team average, top-five finishes, top-10 finishes and top-25 finishes
A core of Via, Svensson and Daugherty means Mark Baker's squads rarely draft high enough to land a talent like Tahvanainen, who excelled in his TV debut during last year's PBA League.
Then in the second round, the Atom Splitters found a much-needed spark plug — or, perhaps more accurately, a particle accelerator — in Teece. The Silver Lake core, while uber-talented, airs on the quiet side.
This is a team whose strength is clear: They throw lots of really loud strikes.
X-Factor: Possible diminishing returns. With the immense power and rev rates of Tahvanainen, Via and Daugherty, the Atom Splitters are going to influence lane transition faster than almost any team. How they handle the quicker transition will dictate their finish.
2. Bowlero L.A. X
Roster: Jason Belmonte, Jakob Butturff, Stu Williams, Kevin McCune, Thomas Larsen
Ranks: Second in total points, points rank, earnings, team average, top-five finishes, top-10 finishes and top-25 finishes
A team with four major champions, including the major champion, is a force to be reckoned with full stop.
If any duo can argue its superiority to Motown's two-headed monster, the duo of Belmonte and Butturff would be the one. They finished third and fourth, respectively, in points and Butturff's left-handedness could provide an edge.
Williams said on the "Beef and Barnzy" show that Larsen wasn't on their list of possible draft selections, but only because they didn't expect him to be available in the second round. Larsen competed in just four events this season, but he would have ranked as a top-15 player if he continued his 980 points per event pace.
X-Factor: Taming McCune's rocket launcher. It's not McCune's fault that his DNA doesn't allow him to let go of the R2 button. But when his adrenaline is pumping in front of the raucous Bayside crowd, he'll need to avoid pressing the gas and leaving a 2-8-10.
1. Motown Muscle
Roster: EJ Tackett, Anthony Simonsen, Mitch Hupé, Sam Cooley, Nathan Bohr
Ranks: First in total points, points rank, earnings, team average, top-five finishes, top-10 finishes and top-25 finishes
Breaking news: Tackett and Simonsen are really good. Motown manager Del Ballard Jr. has a potentially challenging decision to make as far as who anchors the team, but that's a challenge every manager would love to have.
Add in Mitch Hupé, who led Anthony division qualifying last year on the same 42-foot Mark Roth pattern that will be used this year; Sam Cooley, who earned a title, a runner-up finish and a 10th-place points finish this year; and Nathan Bohr, perhaps the ultimate glue guy coming off his best season in years.
That's a strong team (pun absolutely intended).
X-Factor: Lane play. The Muscle have five righties, four of which possess tremendous power — sorry, Nathan — and all of whom have different preferences in attacking the lanes. If they can play to their strengths without stepping on each other's toes… good night, Portland.
PBA League Schedule
Saturday, Sept. 23 | BowlTV
11 a.m. — Seeding Round
Sunday, Sept. 24 | FS1
5 p.m. — PBA League Play-in Stepladder
Monday, Sept. 25 | FS1
7 p.m. — PBA League Quarterfinals presented by Pabst Blue Ribbon
Tuesday, Sept. 26 | FS1
8 p.m. | PBA League Semifinals presented by Pabst Blue Ribbon
For in-person attendees, this will be taped at 4 p.m.
Wednesday, Sept. 27 | FS1
8 p.m. | PBA League Elias Cup Finals presented by Pabst Blue Ribbon
While supplies last, tickets are available here.