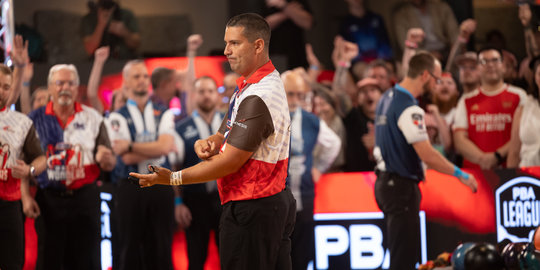 Ryan Ciminelli Sends Waco to the Quarterfinals
September 24, 2023
Nolan Hughes
For two months, Ryan Ciminelli said he has been waiting for an opportunity to prove to the world something he believes he has already demonstrated.
The moment arrived during Sunday's play-in stepladder of the PBA League Elias Cup presented by Pabst Blue Ribbon.
The boisterous veteran twice stepped onto lanes 2-3 of Portland, Maine's Bayside Bowl in a deciding moment, and delivered nothing but strikes.
Ciminelli first sent his former team packing, then advanced his Snickers Waco Wonders to Monday's quarterfinals.
"I think that I have proven time and time again," Ciminelli said, "that I love this atmosphere, that I love team bowling, that I have the clutch gene, and that I thrive off of all of it."
ALL ABOARD THE RYAN EXPRESS 🚂

Ryan Ciminelli strikes out in the 10th frame to send the @SNICKERS Waco Wonders to the next round! pic.twitter.com/136ScHkAby

— PBA Tour (@PBATour) September 24, 2023
In the penultimate match of the night, Ciminelli doubled to eliminate the Pabst Blue Ribbon Milwaukee Pounders.
Ciminelli anchored the Pounders in 2022, striking to put them in the Carter Division finals. But after a poor 2023 season, the Pounders dropped the left-hander in July.
"I'm an asset to any team," Ciminelli said. "The fact that I keep getting dropped from teams and put back into that draft pool. It's really starting to piss me off.
"I'm not old yet. I still got it in me. Anyone's a fool to get rid of me."
In July, the Pounders elected not to keep Ryan Ciminelli. The Wonders selected the left-handed veteran with their first draft pick.

Tonight, Ciminelli eliminated his former team with this clutch double.

📺: FS1 | FOX Sports app pic.twitter.com/nzsUCkc73K

— PBA Tour (@PBATour) September 24, 2023
In the opening match, the Pounders took down the Guaranteed Rate Chicago Breeze.
Chicago's Tomas Käyhkö, making his PBA League debut, fired a clutch messenger in his first shot of the 10th frame, but left a devastating stone-8 on his second shot. Though the brutal break may not have mattered, as Milwaukee's Sean Rash aced three strikes of his own to secure the 245-233 win.
The Pounders continued their climb, defeating the Bowlero L.A. X in the second match, 256-196. Milwaukee's domination ensured L.A.'s anchor Jason Belmonte would not have an opportunity to swing the match.
The third match of the night pitted Ciminelli's current and former teams — a matchup he said he always believed would occur.
"I knew it when we were both in the ladder," Ciminelli recalled. "I remember telling BJ (Moore), 'You know we're bowling (Milwaukee). You don't even have to watch, like the narrator has already done his job. This is going to happen.'
"It unfolded exactly the way you would expect it to unfold in a movie."
In the final match, Ciminelli needed all three strikes to force Motown's anchor, the Player of the Year favorite EJ Tackett, to throw three strikes of his own.
"I really believed I needed all three," Ciminelli said. "I thought we were going to a roll-off. I got hyped — I wanted to give them a little bit to think about — but I try not to get too high. I expected EJ to strike out, so that wasn't as much jubilation as the first one because I was still anticipating needing to throw another one."
However, Tackett left a 4-pin on his first shot and ended the Muscle's Elias Cup pursuit.
With the Wonders' victory on Sunday night, they advance to face the Packy Hanrahan's NYC KingPins in Monday's quarterfinals, airing at 7 p.m. Eastern on FS1.
Chris Via's Silver Lake Atom Splitters will take on the Las Vegas High Rollers and their balanced core of François Lavoie, Andrew Anderson and AJ Johnson, the latest PBA Tour champion.
The three-time defending champion Portland Lumberjacks and reigning runners-up Go Bowling! Dallas Strikers await in the semifinals, which will be held on Tuesday at 8 p.m ET on FS1.
Quarterfinal and semifinal matches will feature a Race-to-Two format, while the Elias Cup Finals will be a best-of-five-games match.
Play-in Stepladder Scores
Match 1: PBR Milwaukee Pounders def. Guaranteed Rate Chicago Breeze, 245-233
Match 2: PBR Milwaukee Pounders def. Bowlero L.A. X, 256-196
Match 3: Snickers Waco Wonders def. PBR Milwaukee Pounders, 216-204
Match 4: Snickers Waco Wonders def. Motown Muscle, 216-194
Quarterfinals | Monday, Sept. 25 at 7 p.m. ET on FS1
NYC KingPins vs. Snickers Waco Wonders
Las Vegas High Rollers vs. Silver Lake Atom Splitters
Semifinals | Tuesday, Sept. 26 at 8 p.m ET on FS1
Portland Lumberjacks vs. winner of Las Vegas/Silver Lake
Go Bowling! Dallas Strikers vs. winner of NYC/Waco
More information on the PBA League Elias Cup is available here.