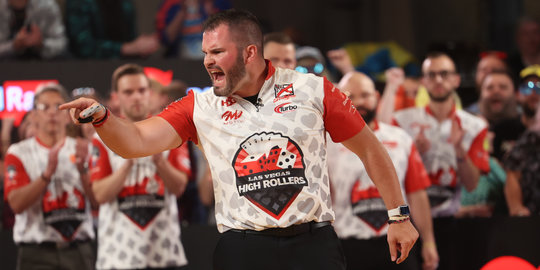 High Rollers, Wonders Advance to Semifinals
September 25, 2023
Nolan Hughes
AJ Johnson found his inner Kirk Cousins and the Las Vegas High Rollers are back in the PBA League Elias Cup presented by Pabst Blue Ribbon semifinals.
The High Rollers will meet the three-time defending champion Portland Lumberjacks tomorrow night at 8 p.m. on FS1.
Also advancing to the semifinals were Ryan Ciminelli and the Snickers Waco Wonders, who climbed the play-in stepladder last night and continued their demolition of the bracket tonight.
The Silver Lake Atom Splitters lived up to their name in the opening quarterfinal match.
Richie Teece split twice, while Chris Via added one of his own as the Atom Splitters fell to the High Rollers in Game 1, 215-195.
The High Rollers stayed hot in Game 2, stringing together six strikes in a row to clinch the Race-to-Two victory with a 244-194 win.
The High Rollers, the only team to keep their entire 2022 roster intact, lost to the Lumberjacks in the 2020 Elias Cup Finals. While the High Rollers respect their opponent, they want revenge.
"Those guys bowl great no matter who they put on their team," Johnson said of the Lumberjacks. "They've got a great core. They've got a great manager."
"We're going to have to make sure that we stay within our team like we did tonight," Johnson continued. "If we can do what we did tonight, I really like our chances. Every single one of us believes in each other and so it makes it that much easier to throw shots especially on TV, in that moment, in that environment, when every shot matters 100%."
"You like that? You like that!"@AJ_JohnsonPBA channels his inner Kirk Cousins as the High Rollers take a 1-0 lead on the Atom Splitters.

📺: FS1 | FOX Sports app pic.twitter.com/74kTbrK11J

— PBA Tour (@PBATour) September 25, 2023
The Wonders revised their gameplan for the quarterfinals, starting at the top of the lineup. After throwing reactive equipment in the play-in round, Jason Sterner and Frank Snodgrass moved right and used urethane.
"When we watched the first match, those guys were playing in and it looked like they were way deeper than they already had to be," Parker Bohn III said. "Let's try to stay on top of it a little bit longer. And for our team — not BJ. He has got all the power in the world. — but it made sense for Jason and Frank. And lo and behold, I think both of them fell into a comfort zone."
Bohn himself added more surface to his ball, another adjustment that helped Waco sweep the No. 3 seed NYC KingPins.
The KingPins' anchor — top overall draft selection Packy Hanrahan — couldn't capitalize the opportunity afforded by Ciminelli's first imperfect 10th frame in Game 1, falling 197-187.
In Game 2, Ciminelli's clutch gene, which he calls "the x-factor," didn't come into play as the KingPins missed a second single-pin spare in as many games. Waco ran away with a 257-183 victory.
The Wonders, who ranked last in the pre-League power rankings and qualified seventh, advance to face the Go Bowling! Dallas Strikers in the semifinals.
"Our team is probably the underdog team," Bohn admitted. "(But) we're making the right things happen. That was by far our best game that we bowled all week, tonight, when it really mattered the most there at the end. So we're starting to click more and more and more."
The semifinals begin at 8 p.m. Eastern Tuesday night on FS1.
Quarterfinal Scores
Las Vegas High Rollers vs. Silver Lake Atom Splitters, 2-0
Game 1: High Rollers def. Atom Splitters, 215-159
Game 2: High Rollers def. Atom Splitters, 244-194
NYC KingPins vs. Snickers Waco Wonders, 2-0
Game 1: Wonders def. KingPins, 197-187
Game 2: Wonders def. KingPins, 257-183
PBA League Elias Cup Schedule
Semifinals | Tuesday, Sept. 26 at 8 p.m ET on FS1
Portland Lumberjacks vs. Las Vegas High Rollers
Go Bowling! Dallas Strikers vs. Snickers Waco Wonders
Finals | Wednesday, Sept. 27 at 8 p.m ET on FS1
Winner of Lumberjacks and High Rollers vs. winner of Strikers and Wonders
More information on the PBA League Elias Cup is available here.