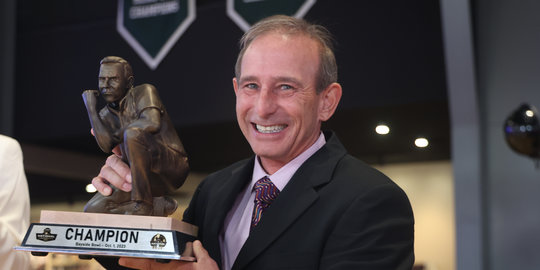 Finalists Set to Compete for The Duke at PBA LBC National Championships Clash
September 30, 2023
Nolan Hughes
Just over a year ago, Norm Duke threw the final shot of his illustrious PBA Tour career at Bayside Bowl in Portland, Maine.
Sunday, on those very same lanes, 12 players pursue a trophy in Duke's name and image at the PBA LBC National Championships Clash (6 p.m. Eastern on FS1).
"It gives me chills talking about it," said AJ Johnson, one of the finalists from the PBA Exempt division. "I followed his career so much. When I was a little kid, he stood on a stepstool to take a picture with me. I've been a huge fan of Norm my entire life.
"To take home that trophy in that place where he threw his last ball, that would give me all types of emotions."
Each of the dozen finalists earned their spot through qualifying this summer at the PBA LBC National Championships. The inaugural national tournament brought together bowlers of all ages and skill levels at Bowlero Wauwatosa in Wisconsin, the site of this season's PBA World Series of Bowling.
The top three qualifiers in the Open Classic, Women's Classic and PBA Exempt divisions punched their tickets to Sunday's televised finals, as did the champions of the Senior Classic, Men's Handicap and Women's Handicap divisions.
Players will be competing in a one-ball roll-off eliminator format with a $100,000 prize fund. The champion will earn the $60,000 top prize and The Duke.
Here's a look at each competitor in the first-ever PBA LBC National Championships Clash.
Open Classic Division: Trae Henrichsmeyer, Derek Kindig, Carleton Chambers
The youngest player in Sunday's field — 17-year-old Trae Henrichsmeyer — also tied the highest six-game set in Wauwatosa. Henrichsmeyer fired a 1,528 and a 300 game en route to leading the Open Classic division.
Derek Kindig, a St. Louis native, shot 299 in his opening game and never looked back. Carleton "C-Bo" Chambers owns a PBA Regional Tour title and is among Detroit's finest and most beloved talents.
Women's Classic Division: Liz Johnson, Verity Crawley, Danielle McEwan
The term "GOAT" is thrown around a lot these days — not in the case of Liz Johnson, who tied Henrichsmeyer with 1,528 to lead all competitors in Wauwatosa. Johnson, a 25-time PWBA Tour champion with 10 major victories, became the second woman to win a PBA Tour title in 2017.
Verity Crawley earned her second career PWBA title earlier this year and boasts an extensive collegiate and English national team résumé. Speaking of national team success, Danielle McEwan is a 12-time Team USA member and 8-time PWBA champion.
Senior Classic: Lennie Boresch Jr.
It's been a banner year for Lennie Boresch Jr. The 61-year-old was inducted into the PBA Hall of Fame back in March for his PBA50 accomplishments, then he led Senior Classic division qualifying just 45 miles from his home in Kenosha, Wis.
On Sunday, he returns to television for the first time since he competed in the 2011 Dick Weber PBA Playoffs.
Men's Handicap: Hunter Lawless
Hunter Lawless' 1,496 scratch series would've been enough to make the show if he had entered the Open Classic division. The Panama City, Fla. native hopes to carry his striking prowess nearly 1,500 miles up the Atlantic coast to Portland.
Women's Handicap: Balinda Maple
South Carolina's Balinda Maple admits she feels a little starstruck competing against the likes of Liz and AJ Johnson, but the effervescent Army veteran believes she's got a chance to win.
PBA Exempt: Jake Peters, AJ Johnson, Tom Daugherty
No player is better prepared for this event than Jake Peters, who won the All-Star Clash at Bayside Bowl just last year. He outlasted nine PBA stars in a similar one-ball roll-off eliminator format.
Fresh off winning his first career PBA Tour title at the Storm Lucky Larsen Masters, AJ Johnson is as motivated as ever. And while Tom Daugherty, who owns four PBA Tour titles including one major to his name, has the best résumé of the PBA Exempt trio, his trophy case would look even better with The Duke.
The PBA LBC National Championships Clash airs Sunday, Oct. 1 at 6 p.m. ET on FS1.