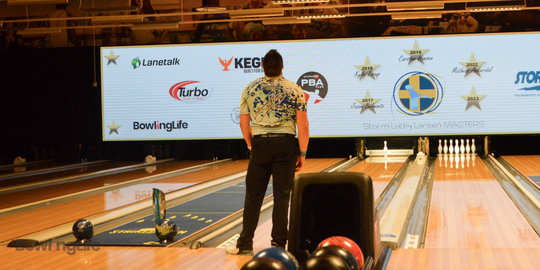 AJ Johnson Captures Elusive First Career Title at Storm Lucky Larsen Masters
September 10, 2023
Nolan Hughes
For much of his eight-year professional career, AJ Johnson has been known as the best player in the world… without a PBA Tour title.
Not anymore.
Johnson defeated Jesper Svensson, 220-174, in the title match to win the Storm Lucky Larsen Masters in Helsingborg, Sweden.
"People always say, 'If you want to be the best, you've got to beat the best,'" Johnson said. "I think I did that today."
Johnson arrived in Sweden as a 30-year-old without a PBA Tour title. He leaves as a 31-year-old champion.
After a half-dozen runner-up finishes, dating all the way back to the 2015 USBC Masters, Johnson finally captured the elusive title. He earned 150.000 SEK, about $13,500 USD, for the win.
Johnson took advantage of a few breaks in the championship match.
His opening shot against Svensson crossed over for a Brooklyn strike, while started the match by leaving a pocket 7-9 split. In the fourth frame, Johnson again threw a Brooklyn strike as Svensson left a stone-9.
However, Johnson stayed clean, including a washout conversion in the sixth frame, to prevent Svensson from fighting back into the match.
Johnson also came up clutch in the semifinal against Anthony Simonsen.
He struck on his final four shots in the semifinal against Anthony Simonsen, forcing the two-handed star to double in his own 10th frame.
Simonsen buried the first strike, but left a 10-pin on the second shot, allowing Johnson to advance to the title match with a narrow 193-191 victory.
With his third/fourth-place finish, Simonsen secured his 17th top-10 finish in 17 title events this season.
In the quarterfinals, Johnson fired 300 and 802 to defeat Kris Prather in the three-game match. Johnson defeated Ryan Barnes, the collegiate star who is the son of Chris Barnes, in the opening round.
Johnson will return to the lanes at the PBA League Elias Cup presented by Pabst Blue Ribbon, which begins Sept. 23 in Portland, Maine. He's also a finalist in the PBA LBC National Championships Clash.
Match Play Scores
Round of 16
No. 1 Kyle Troup def. No. 16 Mik Stampe, 630-518
No. 15 Jesper Svensson def. No. 2 Markus Jansson, 702-627
No. 3 Andrew Anderson def. No. 14 Kim Bolleby, 758-602
No. 13 AJ Johnson def. No. 4 Ryan Barnes, 650-627
No. 5 Kris Prather def. No. 12 Carl Eklund, 724-676
No. 11 William Berggren def. No. 6 Jesper Agerbo, 699-669
No. 7 Tom Hess def. No. 10 François Lavoie, 701-633
No. 9 Anthony Simonsen def. No. 8 Robin Persson, 702-603
Quarterfinals
Simonsen def. Troup, 739-696
Svensson def. Hess, 739-637
Anderson def. Berggren, 740-665
Johnson def. Prather, 802-681
Semifinals
Svensson def. Anderson, 232-191
Johnson def. Simonsen, 193-191
Finals
Johnson def. Svensson, 220-174
Final Standings
AJ Johnson
Jesper Svensson
Andrew Anderson
Anthony Simonsen
Kyle Troup
Kris Prather
Tom Hess
William Berggren
More information is available here.
Photo credit: Bowling Life