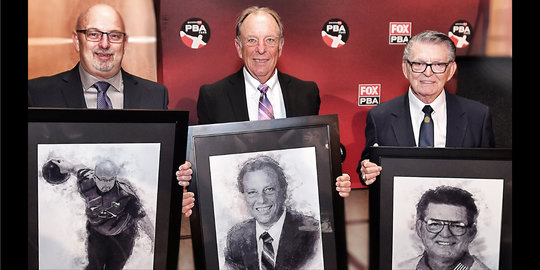 Boresch, McCordic and Borden Inducted into PBA Hall of Fame
March 13, 2023
Nolan Hughes
On Sunday evening, three bowling icons were inducted into the Professional Bowlers Association Hall of Fame. The 2023 PBA Hall of Fame class included Lennie Boresch Jr. of Kenosha, Wis., Pete McCordic of Katy, Texas, and Akron's Fred Borden.
The ceremony, held at The Hilton Akron/Fairlawn in Fairlawn, Ohio, commenced the week of the PBA Tournament of Champions.
Boresch entered the Hall of Fame in the superior performance category for his PBA50 career, while McCordic and Borden were recognized for meritorious service.
Lennie Boresch Jr.
Boresch became eligible for the PBA Hall of Fame last June when he captured the 2022 Senior U.S. Open title, marking his fifth PBA50 win and second major. The 60-year-old owns eight runner-up finishes as well as 33 PBA Regional Tour titles (25 standard and eight PBA50).
"His journey to the Hall of Fame has been unconventional to say the least," said Lennie's son Jacob, who introduced his father. "But it's been a journey filled with hard work, perseverance and resilience. His longevity is an example of a major sport so unique. It's a game you can do your whole life and continue to get better at regardless of age."
Boresch joined the PBA at 19 and spent years grinding on Tour as a part-time player without much success. He later won his first regional at 32 and made his first PBA telecast at 48.
In 2012, the PBA50 Tour presented an opportunity for Boresch.
"It was a chance to chase the dream again," he said. "To do this and compete with some of the legends of the game. It's just surreal to me. I never thought that this could happen.
"Believe in yourself, work hard, chase your dreams and never sell yourself short of what you can achieve," Boresch said in closing. "Dreams do come true. It did for me."
Pete McCordic
After a quarter-century managing the Southwest Region, McCordic hung up his clipboard last year. His 25 years at the helm followed an 18-year career competing on the PBA Tour.
"My goal was to carry on the reputation of the Southwest Region as the one with the best prize funds," said McCordic, who took over as full-time director in 1997. "I wanted to run the most efficient professional events possible and be fair to all who entered."
On the lanes, McCordic made his first PBA finals at the 1974 Painesville Open. He credited that performance, in part, to the help of an Akron-based coach he worked with prior to the event.
That coach's name was Fred Borden.
However, it would be nearly 15 more years before McCordic would win on the Tour. He captured both of his PBA Tour titles in 1998 at the Fresno Open and Miller Lite Challenge.
McCordic's bowling career remains known for a singular moment: His 300 game at the 1987 Greater Los Angeles Open. It was the fourth televised perfect game in PBA history and the first in 13 years. In 2018, McCordic's 300 was named the fourth-most memorable moment in PBA history.
"Watching so many great players compete for over 25 years in regional events, meeting so many bowlers who enter those events, getting to know the host proprietors, talking to fans at those events," McCordic said. "That was my job. Wow."
Fred Borden
To many, Fred Borden is simply the greatest bowling coach who ever lived. The 81-year-old continues to coach players who come through his hometown of Akron, Ohio.
Borden opened his speech by pointing out the ring on his right hand. He said over 40 players gifted him the ring, which was made by Johnny Petraglia's jeweler and has 68 diamonds in it.
"I wear this ring with pride," Borden said. "It meant so much to me because it's the players that we've had a chance to help. There is no bigger thrill than to help a friend that was struggling to pay the bills, and all of a sudden they have money in the bank and titles in their pocket."
For more than 60 years, Borden has educated and elevated players within the sport. The list of players Borden helped succeed mirrors the list of all-time PBA Tour champions.
To illustrate the breadth of Borden's pupils, he coached Harry Smith, who Borden called the game's first power player, and Don Johnson in the 1960s. In recent years, Borden has coached Parker Bohn III's kids.
Throughout the decades in between, he worked with Sean Rash (starting when he was 15), PWBA stars Liz Johnson, Tammy Turner, Rocio Restrepo, Diandra Asbaty and Lynda Barnes, and many more renowned players.
"It was really a mission to try to help people," Borden said.
---
Player award winners from the 2022 PBA Tour season were honored during the ceremony, including the Chris Schenkel Player of the Year, Jason Belmonte; Harry Golden Rookie of the Year, Santtu Tahvanainen; George Young High Average Award, EJ Tackett; Tony Reyes Community Service Award, Ryan Shafer and Steve Nagy Sportsmanship Award, Jake Peters.
The PBA also honored Norm Duke, who retired from PBA competition last year at the PBA League. The 58-year-old proved he could still channel his A-game when he needed, earning the top seed at the USBC Masters and helping the Dallas Strikers reach the Elias Cup Finals as player-manager.
When his Strikers fell to the Portland Lumberjacks in the Elias Cup Finals, Lumberjack anchor Wes Malott, who won two Roth-Holman Doubles titles with Duke, ceded his fill ball to the departing legend.
Duke, of course, aced what would be the final shot of his career.
The Hall of Fame ceremony begins PBA Tournament of Champions week at the historic AMF Riviera Lanes in Fairlawn, Ohio. More information on the Tournament of Champions is available here.