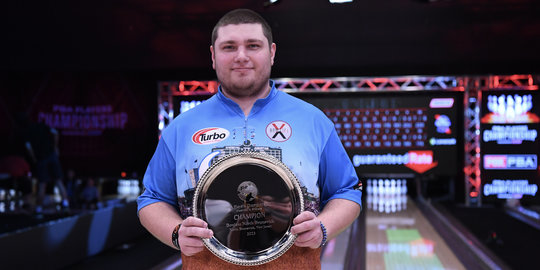 Kevin McCune Writes Own Legacy, Wins PBA Players Championship Presented by Snickers
May 14, 2023
Nolan Hughes
Sunday afternoon's title match at Bowlero North Brunswick bestowed a championship more than five decades in the making. Kevin McCune swept Jakob Butturff in three games to capture the PBA Players Championship presented by Snickers.
Notching his first career title in the season's final major, McCune etched his own chapter to his family's illustrious legacy.
Fifty years ago, his grandfather Don won six of his eight titles en route to capturing PBA Player of the Year honors. Eugene, his father, won three titles between 2002 and 2012.
With today's victory, Kevin certifies the McCunes as the first three-generation family of PBA Tour champions.
"I'm out here because I know I'm able to compete with these guys," McCune said before the match. "It's in my blood with my dad and grandpa, so I feel like I was born to be out here."
Though the elder McCunes won a combined 11 titles, Kevin became the first McCune to win a major championship.
"It sounds good because I one-upped my dad," Kevin said.
KEVIN MCCUNE IS A PBA CHAMPION!

McCune takes down Jakob Butturff to claim his first career title at the PBA Players Championship presented by Snickers! pic.twitter.com/tEQDoIZJvs

— PBA Tour (@PBATour) May 14, 2023
The opening game of the best-of-five championship match resembled the semifinals.
McCune cruised to 206, while Butturff stumbled to an open-frame infused 178. The win was emblematic of McCune's road to the championship match.
McCune eliminated the Tackett brothers, Zac and top-seeded EJ, in his first two matches, then took down Anthony Simonsen in the semifinals. Butturff earned a first-round bye as the No. 2 seed, then defeated Keven Williams in the quarterfinals and Bill O'Neill in last night's semifinals.
Despite the gargantuan talents dispatched by McCune, Butturff out-averaged McCune by nearly 25 pins per game, 235.25-210.60, through the previous televised rounds.
The 24-year-old pushed his lead to 2-0 with a 247-204 victory in Game 2, posting his highest game of the televised rounds.
Though McCune held a commanding lead, he knew he could not give Butturff an opening.
"Jakob is just like EJ and Simo. He can strike at will once he figures it out," McCune said. "All I had to do was maintain composure and make sure I hit the pocket. If I hit the pocket, I liked my chances of striking."
Kevin McCune continues his dominance, as he is now up 2-0 in the best-of-five finals at the PBA Players Championships presented by Snickers.

Game 3 coming up on @FOXTV pic.twitter.com/OvwFFfP9hl

— PBA Tour (@PBATour) May 14, 2023
However, Butturff never managed to get comfortable on either lane. Butturff said he kept his same routine during practice, but the lanes hooked way more today.
"It just didn't even play close to the same," Butturff said. "I feel like it got to me mentally toward the end of our match and that's why it ended the way it did."
McCune did not afford Butturff a chance to creep back into the match, though Butturff didn't help his cause by missing two spares in the first four frames.
With the win, McCune became the first player to win their first career title at a major championship since Chris Via at the 2021 U.S. Open. Via also defeated Butturff in that title match.
The 29-year-old Arizona native sought to become Hall of Fame eligible with a second major and ninth career title.
The stakes were even greater for Butturff competing on Mother's Day. He was very close with his mother, Bridget Miller, and wore his cherry blossom jersey to honor her Japanese heritage.
Two years ago, on the first Mother's Day since his mom passed away, Butturff won his 27th PBA Regional Tour title. He aspired to make this year's holiday even more memorable with a legacy-altering major title.
While Sunday afternoon didn't go the way Butturff envisioned, he said the day would be a win no matter what.
"A lot of people don't know, but I was born sick. It was to the point where I didn't know if I was going to survive when I was a baby," Butturff said. "That's why I'm so thankful for these opportunities, because the first two weeks of my life I didn't know if I was going to be here in this world.
"I'm so thankful that my mom brought me into this world and (she's) why a day like this is so memorable."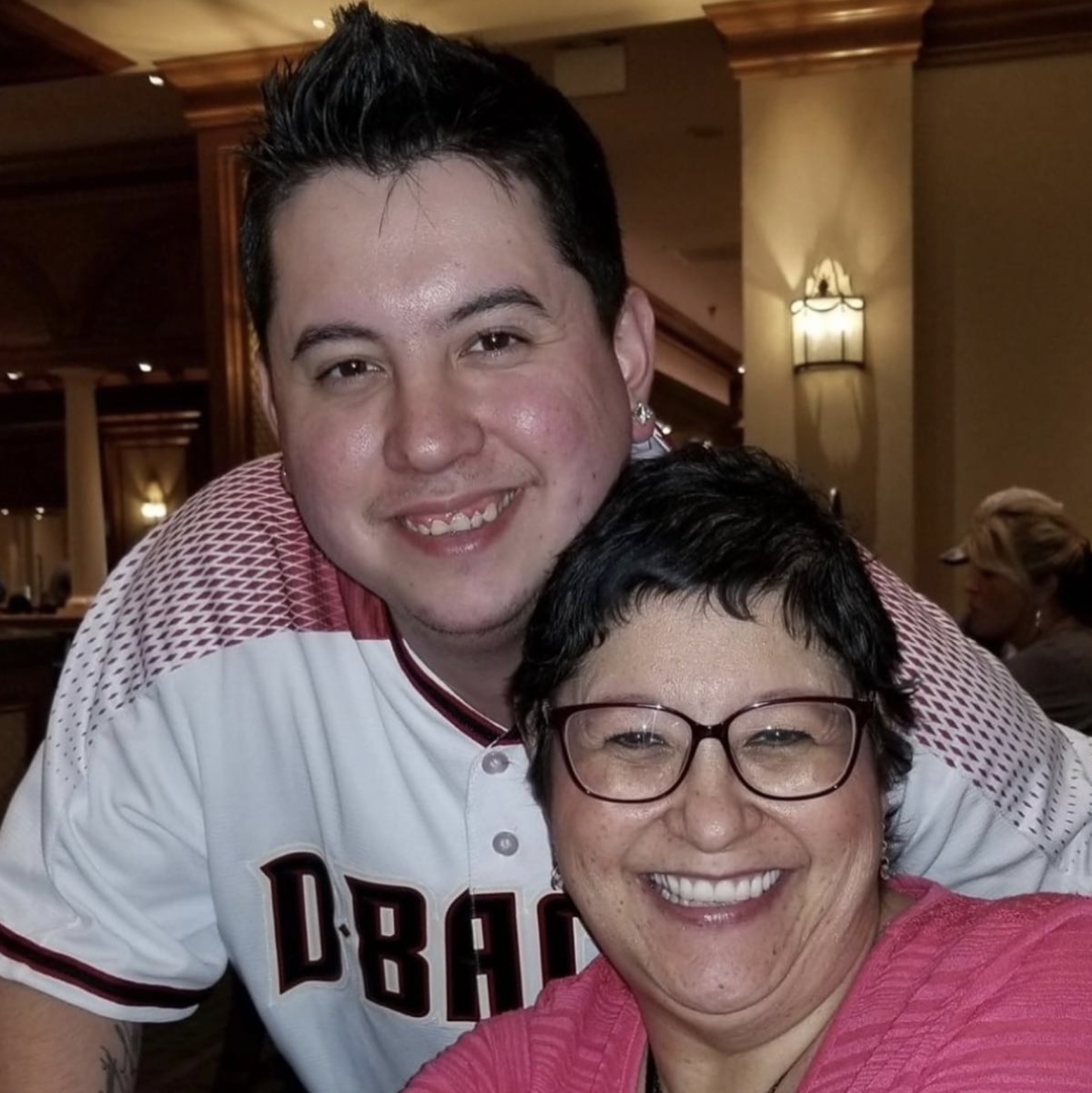 Jakob Butturff and his mom, Bridget Miller
Both McCune and Butturff will head to Jupiter, Fla. next weekend for the PBA Super Slam Cup, a non-title event. They'll join EJ Tackett, Simonsen and Jason Belmonte, who won the first four majors of the season.
Butturff clinched his spot at the PBA World Championship presented by Pabst Blue Ribbon as the highest finisher without a 2023 major championship.
The preliminary round will air at 2 p.m. ET on Saturday, May 20 on FS1. The finals, featuring a $100,000 top prize, will be held at 2 p.m. ET on Sunday, May 21 on FOX.
Championship Scores
Best-of-Five Match
No. 9 Kevin McCune def. No. 2 Jakob Butturff, 3-0
Game 1: McCune def. Butturff, 206-178
Game 2: McCune def. Butturff, 247-204
Game 3: McCune def. Butturff, 220-175
Final Standings
Kevin McCune, $100,000
Jakob Butturff, $50,000
Bill O'Neill, $25,000
Anthony Simonsen, $25,000
EJ Tackett, $13,000
Matt Russo, $13,000
Tomas Käyhkö, $13,000
Keven Williams, $13,000
Chris Via, $8,000
Jesper Svensson, $8,000
Zac Tackett, $8,000
Dom Barrett, $8,000
Full standings and more information on the PBA Players Championship presented by Snickers is available here.
Upcoming PBA Tour Schedule
PBA Super Slam Cup
May 19-21
Bowlero Jupiter | Jupiter, Fla.
PBA Tour Finals
June 23-25
Strikerz Bowling at Angel Of The Winds Casino Resort | Arlington, Wash.
PBA Skill Ball Challenge
July 22-23
Thunderbowl Lanes | Allen Park, Mich.
PBA/PWBA Striking Against Breast Cancer Mixed Doubles
July 28-30
Copperfield Bowl | Houston, Texas
Storm Lucky Larsen Masters
Sept. 1-10
Olympia Bowling | Helsingborg, Sweden
PBA Elite League Elias Cup Presented by Pabst Blue Ribbon
Sept. 23-27
Bayside Bowl | Portland, Maine
More information on the schedule is available here.