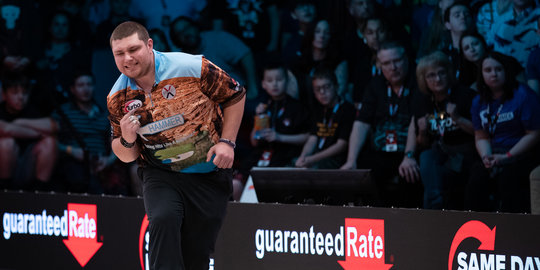 McCune, Butturff Advance To Finals of PBA Players Championship Presented by Snickers
May 13, 2023
Nolan Hughes
With dramatic victories in the semifinals of the PBA Players Championship presented by Snickers, Kevin McCune and Jakob Butturff advanced to the finals of the season's final major at Bowlero North Brunswick.
Butturff looks to become Hall of Fame eligible, while McCune, the runner-up for PBA Rookie of the Year in 2022, aims to stamp his family's name into bowling lore as the first three-generation champions.
The best-of-five games championship match will be held Sunday afternoon at 1 p.m. ET on FOX.
Last weekend, McCune began his ascent of the 12-player bracket finals with a first-round victory over Zac Tackett. In the quarterfinals, he took down the No. 1 seed and frontrunner for PBA Player of the Year, EJ Tackett.
Today, McCune swept the other POY contender, Anthony Simonsen, in the Race-to-Two match. He excelled on both patterns, the 45-foot Weber and 39-foot Carter.
It's a 56-pin win for Kevin McCune in Game 1 over Anthony Simonsen 😳

But Simo's not going down without a fight.

📺 FS1 | FOX app pic.twitter.com/0P3PiTNsyy

— PBA Tour (@PBATour) May 13, 2023
Simonsen, who achieved top-four finishes in all five majors this season with a quarterfinal win over No. 4 Tomas Käyhkö, sought to make a late push for Player of the Year with a second major title of the season.
Simonsen appeared out of sorts all afternoon. He trailed early in the first game, then fell out of contention with a gutter and open frame in the seventh.
McCune sealed the first game with a strike on the right lane, which was the lane that gave him problems last weekend. He deployed a new strategy on the 39-foot Carter pattern — the same strategy that powered his father, Eugene, to three PBA Tour titles.
But the younger McCune claimed he didn't know where the idea to throw rockets up the first arrow came from.
"I couldn't tell you, doesn't ring a bell," McCune said laughing.
‼️ KEVIN MCCUNE TAKES DOWN ANTHONY SIMONSEN ‼️

McCune advances to the finals of the PBA Players Championship presented by Snickers! That's our @SNICKERS Satisfying Moment of the Match!

📺 FS1 | FOX app pic.twitter.com/GxV9Jsn15V

— PBA Tour (@PBATour) May 13, 2023
Simonsen battled back in the second game, but a pair of open frames cost him. McCune fired strikes in the eighth through 10th frames to lock up the sweep.
Making his first PBA Tour telecasts, McCune took down Tackett and Simonsen — two players in the midst of historic seasons.
"They're having two years that anybody would ever dream of," McCune said. "I knew (Simonsen) was a little bit lost. But it's Simonsen — he could throw an eight or nine-bagger when he's lost. You can't count him out."
WHAT A COMEBACK!!!!!

Jakob Butturff strikes to force a roll-off, then doubles to eliminate Bill O'Neill!

He advances to face Kevin McCune tomorrow in the finals of the PBA Players Championship presented by Snickers!

📺 Sunday, 1 p.m. ET on FOX pic.twitter.com/eHSBBiOI3P

— PBA Tour (@PBATour) May 13, 2023
In the second match, Butturff completed an unfathomable comeback after losing the first game by 68 pins.
Bill O'Neill, competing in front of dozens of family and friends less than 35 miles from his hometown, trounced the lone lefty in the opening game, 239-171.
Butturff changed his mindset, both literally and figuratively, heading into the second game.
He said the lack of a fellow southpaw on this show caused the lanes to transition differently, but he found the same dominant ball reaction after changing to the Mindset, a reactive ball, in the second game.
After O'Neill threw four strikes in the ninth and 10th frames, Butturff struck in his final frame to force a roll-off with a 264-258 win.
In the two-frame roll-off, O'Neill began with a 3-6 spare conversion. In the tournament's highest-scoring match, that proved to be a disastrous mistake.
Butturff struck on his first three shots, tripping out the 6-7-10 on the final strike to clinch the victory.
With a victory in tomorrow's championship match, Butturff would earn his ninth career title and second major, which means he would become Hall of Fame eligible when he reaches the 20-year member threshold.
The Mother's Day match will be an emotional roller coaster for the 29-year-old, who lost his mother in November 2020.
"I think the biggest factor is that I have to put everything aside and realize that I've gotten to this point," Butturff said. "Now that everything else is on the line, it's a nerve wracking situation. The jitters can get the best of you, but at the same time you have to put them aside and be relaxed and focus on how good you did to get here."
Crack open that @PabstBlueRibbon Six Pack!

It's all Bill O'Neill here in Game 1 😤🔨

📺 FS1 | FOX app pic.twitter.com/0f34CZSCZO

— PBA Tour (@PBATour) May 13, 2023
For O'Neill, the loss in front of a raucous hometown crowd cuts his 2023 season a little bit shorter.
With the loss, McCune clinches the final berth in next weekend's PBA Super Slam Cup in Jupiter, Fla., which features a $100,000 top prize.
Today's loss also cost O'Neill a spot in the PBA Tour Finals next month in Arlington, Wash. Kyle Troup hangs onto the eighth position, joining EJ Tackett, Simonsen, Jason Belmonte, Dom Barrett, Butturff, Kris Prather and Packy Hanrahan.
"I'm disappointed," O'Neill said. "I threw two bad shots in two games and a roll-off. I bowled about as well as I can bowl. I think 250 is going to win most of those games.
"Sometimes you're on the wrong end of the breaks and that's just what it was today."
With their semifinal losses, O'Neill and Simonsen each receive $25,000.
Semifinal Scores
Match One: No. 9 Kevin McCune def. No. 12 Anthony Simonsen, 2-0
Game 1: McCune def. Simonsen, 227-171
Game 2: McCune def. Simonsen, 225-196
Match Two: No. 2 Jakob Butturff def. No. 6 Bill O'Neill, 2-1
Game 1: O'Neill def. Butturff, 239-175
Game 2: Butturff def. O'Neill, 264-256
Roll-off: Butturff def. O'Neill, 59-24
Championship Match
Sunday, May 14 | FOX
1 p.m. — No. 2 Jakob Butturff vs. No. 9 Kevin McCune (Best-of-Five match)
Sold out.
More information on the PBA Players Championship presented by Snickers is available here.
Upcoming PBA Tour Schedule
PBA Super Slam Cup
May 19-21
Bowlero Jupiter | Jupiter, Fla.
PBA Tour Finals
June 23-25
Strikerz Bowling at Angel Of The Winds Casino Resort | Arlington, Wash.
PBA Skill Ball Challenge
July 22-23
Thunderbowl Lanes | Allen Park, Mich.
PBA/PWBA Striking Against Breast Cancer Mixed Doubles
July 28-30
Copperfield Bowl | Houston, Texas
Storm Lucky Larsen Masters
Sept. 1-10
Olympia Bowling | Helsingborg, Sweden
PBA Elite League Elias Cup Presented by Pabst Blue Ribbon
Sept. 23-27
Bayside Bowl | Portland, Maine
More information on the remaining schedule is available here.