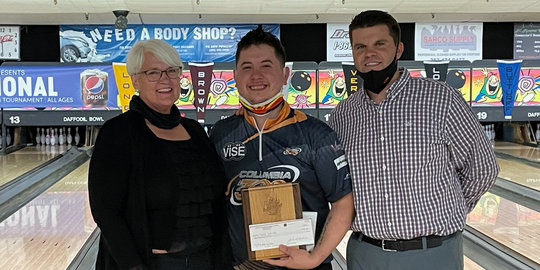 Mother's Day Memorable for Jakob Butturff
Puyallup, Wash. – Mother's Day is a special day for the PBA to celebrate the mother figures in their life, and Jakob Butturff of Tempe, Ariz., did just that by winning the PBA Fix Auto @ Daffodil Bowl Open for his 27th PBA Regional Title.
An emotional Butturff, fought hard all day and was determined to win in honor of his late mother, who lost her battle with cancer just five months ago.
In the three-player stepladder final, four-time PBA Tour champion Marshall Kent faced off against Northwest player Eddy Smith of Stanwood, Wash. in the first match. Kent took an early lead, but Smith fought back with a clutch turkey at the end of the game, forcing Kent to fill 19 in the tenth frame to win. Kent's first shot resulted in a 3-6-10 spare and couldn't convert, losing to Smith 201-189.
Smith advanced to the title match against Butturff, who started with an early six bagger to take a commanding lead. Butturff dominated Smith, winning 258-178 and a title he'll hold close to his heart.
The PBA Fix Auto @ Daffodil Bowl Open featured a field of 48 players. The Northwest Region's next event will be Memorial Day weekend in Lebanon, Oregon for a double header at Linn Lanes.
PBA Fix Auto @ Daffodil Bowl, Puyallup, Washington
Step Ladder Results
Semi Final: Smith def. Kent 201-189
Final Match: Butturff def. Smith 258-178
Final Match Play Standings (20 games, including match play bonus pins):
Jakob Butturff, Tempe, Ariz. 227.10 4,812 $2,000
Marshall Kent, Las Vegas 219.25 4,625 $1,000
Eddy Smith, Stanwood, Wash. 219.55 4,586 $1,250
Michael Fitzgerald, Phoenix, Ariz. 216.25 4,565 $900
(N) Jacob Mullen, Bellingham, Wash. 215.25 4,485 $800
Darren Tang, Las Vegas, 215.05 4,481 $750
(N) Camerson Weier, Seattle, Wash. 211.05 4,401 $725
(N) Scott Halverson, Bonney Lake, Wash 208.15 4,343 $700
Andre Eubanks, Los Angeles 211.75 4,340 $675
Michael Kennedy, Bonney Lake, Wash. 206.60 4,282 $650
Tanner Acosta, Lebanon, Ore. 203 4,180 $625
(N) AJ Brockett, Auburn, Wash. 191.65 3,953 $600
N-denotes non-PBA member