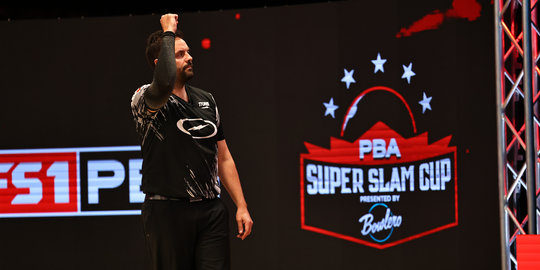 Belmonte Earns Top Seed at PBA Super Slam Cup presented by Bowlero
May 20, 2023
Nolan Hughes
During the seeding round of the PBA Super Slam Cup presented by Bowlero, featuring the preeminent players from 2023's major championships, the PBA's all-time major king ruled the day.
Jason Belmonte earned the No. 1 seed for Sunday's stepladder finals (2 p.m. ET on FOX), firing 505 during Saturday's two-game seeding round. He won the 2023 PBA Tournament of Champions, the 15th major title of his storied career, to secure his spot in this event.
Belmo shoots a two-game total of 506, as he jumps EJ Tackett and sits in 1st place as of now for tomorrow's Finals.

Jakob Butturff is up next on @FS1 pic.twitter.com/rc4Pq3cBCG

— PBA Tour (@PBATour) May 20, 2023
Belmonte struck on his final four shots to surpass EJ Tackett's 501 pinfall and, ultimately, secure the No. 1 seed.
"It all came down to striking out in the ninth and 10th frames," Belmonte said. "Knowing that could have been the difference between potentially fourth or first, those two frames, that's a huge difference in guaranteed profit."
The winner of this non-title event will earn $100,000, while second through fifth place take $40,000, $18,000, $12,000 and $10,000, respectively.
Tackett, who made PBA history by earning the No. 1 seed in four of five majors this season, seized the pole position after cruising to a 10-strike 276 in his first seeding game.
After shooting the highest first game, Tackett earned the right to select when he'd bowl his final seeding game. He chose to bowl first and set the bar for the remaining four stars.
The pins didn't fall as easily for the likely Player of the Year in the second game at Bowlero Jupiter in Florida. He converted a pair of seven-count spares on the right lane, finishing with 225 and 501 for his two games on dual patterns: 46-foot Petraglia on the left lane and 36-foot Ballard on the right lane.
Belmonte, bowling second and needing a 243 to surpass Tackett, started slow, converting spares in the second and third frames.
"The second and third frames felt ridiculously fast for me," said Belmonte, who compared the initial rhythm to a Strike Derby. "I muttered to myself, "You need to find your tempo.' Then I was able to pause, use my reracks, sit in my chair, and just slow everything down. To get the last eight out of nine, I think that change in tempo was a huge component to that."
The only active player to complete the Super Slam — winning all five major championships — packed all three in the 10th frame to surpass Tackett by four pins.
Of the three remaining players, Kevin McCune came the closest to toppling the Australian. The PBA's latest major champion needed the first strike in the 10th frame to eclipse Belmonte.
Hailing from the illustrious McCune family tree, the aptly nicknamed "Nuke" put a little too much heat on the shot. After converting the 4-8 and striking on his fill, McCune shot 257 to tie Tackett with a 501 total.
Tackett won the tiebreaker by virtue of his point total across all five major championships, to take the No. 2 seed, while McCune settled for the No. 3 seed.
Jakob Butturff, who earned his spot to the event as the highest finisher at the PBA World Championship presented by Pabst Blue Ribbon who had not already qualified, finished with a total pinfall of 436. He struggled during his second seeding game, trudging to a 190.
Anthony Simonsen, a five-time major champion, bowled in the anchor position after posting a field-low 236 in the first seeding game. He struggled during his second seeding game as well, and by knocking over just six pins on his fill ball, awarded the No. 4 seed and lane choice in the opening match to Butturff.
Though the lanes were re-oiled before each game during today's telecast, transition will return as a major variable for the stepladder finals on Sunday — and Belmonte will be prepared.
Belmonte bowled the duration of each of the practice sessions on Friday evening to see how the lanes would transition, testing different bowling balls, changing releases, and assessing lane topography.
"I didn't think I was going to see a whole lot of transition as you would on a regular TV show," Belmonte said. "I made mental notes on what I was doing for the last five minutes of each session. It was really just reconnaissance for what I might potentially have to go through, no matter what position I was in on the ladder."
The finals of the PBA Super Slam Cup presented by Bowlero begin Sunday at 2 p.m. ET on FOX.
Final Matches
No. 4 Jakob Butturff vs. No. 5 Anthony Simonsen
Winner vs. No. 3 Kevin McCune
Winner vs. No. 2 EJ Tackett
Winner vs. No. 1 Jason Belmonte
Seeding Round Scores
1. Jason Belmonte, 505 (258-248)
2. EJ Tackett, 501 (276-225)
3. Kevin McCune, 501 (244-257) — Tackett won tiebreaker via points earned during 2023 major championships
4. Jakob Butturff, 436 (246-190)
5. Anthony Simonsen, 435 (236-199)
Tournament Schedule
Sunday, May 21 | FOX
2 p.m. ET — Stepladder finals
More information on the PBA Super Slam Cup is available here.