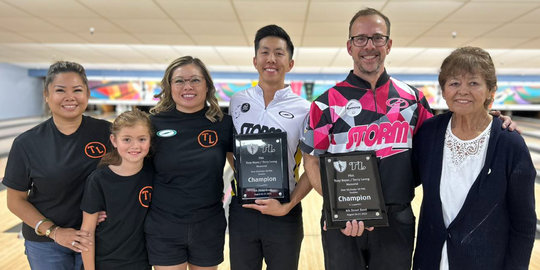 PBA Regional Recap: Tang and Kloempken Win in San Jose
August 31, 2023
Chase Kaufman
January's PBA Regional Players Invitational is approaching seemingly as quickly as it left. The best on the regional circuit will have the chance to win five-figure sums at the finale in Las Vegas.
To recap, the top seven point-getters in each PBA region will automatically advance to the RPI, while three spots will remain for each region's respective RPI-qualifier tournament to create a 70-man field.
For the PBA50, the same rules apply, except that four players will advance from the points list in each region, and just two will come from the Northwest Region's qualifier tournament, to create a 48-bowler field.
Let's run down the points leaders in each of the regions:
East: John Furey (PBA) and Troy Lint (PBA50)
Central: Graham Fach and Chris Barnes
Midwest: Nate Purches and Lyle Kuhlmann
South: Nate Garcia and Darryl Bower
Southwest: Deo Benard and Tony Franklin
West: PJ Haggerty and Rich Corwin
Northwest: Jake Peters and Michael Kennedy
These players are, as of Aug. 31, top candidates for Player of the Year honors in their respective regions/divisions.
Keep in mind that players who finished among the top 50 on the PBA Tour in points and top 10 on the PBA50 Tour will not be eligible for the RPI. Of the above players, Fach and Peters will not be RPI-eligible in the PBA division; ditto for Lint, the defending RPI champion, and Barnes in the PBA50 division.
More information on the RPI is available here.
Now, let's get dive into the latest edition of the PBA Regional Recap:
PBA Century Lanes/Gilbert's Service Company Hampton Open
Sam Cooley had the lead after Round 1 of qualifying, and by the end of the three advancers round, he claimed the one-seed for the stepladder finals. Garrett Thompson, Tom Daugherty, and Matthew Woodall earned the final three spots in the stepladder, so Thompson and Daugherty would start the action.
Thompson's first title would have to wait a little longer as Daugherty moved on, 244-214. Looking for his 22nd regional title, Daugherty would also have to wait as Woodall won the match 226-201. Woodall was looking for the second title of his season and delivered a 248, but was topped by Cooley's 270. Cooley defended his title to earn his sixth career regional title and $4,000.
PBA Century Lanes/Gilbert's Service Company Hampton Open Final Standings
Sam Cooley, 2,500 points, $4,000
Matthew Woodall, 1,500, $1,445
Tom Daugherty, 1,150, $1,275
Garrett Thompson, 950, $1,075
PBA Century Lanes/Gilbert's Service Company Hampton Open Full Results
PBA Booster Club of Hampton Roads Chesapeake Super Regional
Staying in the South, many Century Lanes competitors — with the notable exception of Cooley — moved to the Super Regional at AMF Western Branch for a chance at the $8,000 top prize. 
Anthony Neuer dominated qualifying, averaging over 251 for his eight games. Neuer continued his torrid pace, but Tim Foy Jr. joined the fray and ultimately took the one-seed in the stepladder by six pins after a 525 series in the two-game final advancers round.
The stepladder featured three players from last year's championship round plus Ryan Ciminelli, who finished just outside the steapladder cut number a year ago. In the first match between Ciminelli and Tom Daugherty, Ciminelli stepped up in the 10th frame, needing the first strike and delivered for a 214-199 win. In the battle of the lefties, Neuer shot a 265 to Ciminelli's 215.
In the finals, Neuer held an 18-pin lead through seven frames. Foy Jr. had a chance in the 10th frame, but a split downed his hopes. Neuer won 233-200 and took home $8,000 and his fourth regional title.
PBA Booster Club of Hampton Roads Chesapeake Super Regional Final Standings
Anthony Neuer, 5,000 points, $8,000
Tim Foy Jr. 3,000, $4,000
Ryan Ciminelli, 2,300, $3,000
Tom Daugherty, 1,900, $2,000
PBA Booster Club of Hampton Roads Chesapeake Super Regional Full Results
PBA Bowlero/Grove City Central Open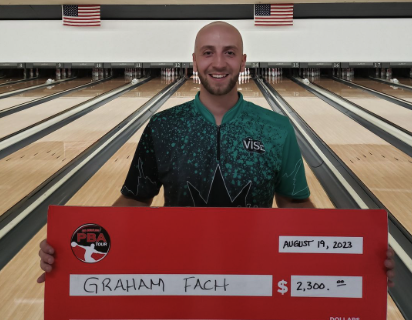 In a quick one-day event in Grove City, Ohio, at Stardust Lanes, the top 12 of 59 entries moved into bracket play after eight games of qualifying. Nolan White earned the top seed but fell in the quarterfinals after his first-round bye. He lost to Kevin Plyley, who defeated Michael Schlabach for a spot in the finals. Meanwhile, the No. 2 seed Graham Fach defeated recent champion Dean Vargo and then Ben Sobel in the semifinals.
In a one-game, winner-take-all final match, Fach won over Plyley, 234-188. Fach's 13th career regional title netted him $2,300 and 2,500 points.
PBA Bowlero/Grove City Central Open Final Standings
Graham Fach, 2,500 points, $2,300
Kevin Plyley, 1,500, $1,450
Ben Sobel, 1,150, $1,050
Michael Schlabach, 950, $1,050
PBA Bowlero/Grove City Central Open Full Results
PBA Emerald Southwest Challenge (Non-Champions)
In the Space City, Emerald Bowl would soon be home to a first-time champ at their non-champions event. The 38-foot Holman pattern played tough there, as the cut to get into the top third sat at -86 for eight games. The top eight moved on after an advancers round where that cut now sat at +107.
Craig Schneider, the eight-seed, knocked off the one-seed Brent Dowell in the first round but was then defeated by Josh Green. Meanwhile, Trey Brand defeated Jonathan Norman in the other semifinal. In the finals, Brand shot a 196 to Green's 171 to earn his first career title. 
PBA Emerald Southwest Challenge Final Standings
Trey Brand, $2,500
Joshua Green, $1,600
Jonathan Norman, $1,125
Craig Schneider, $1,125
PBA Emerald Southwest Challenge Full Results
PBA NW Dave Husted Open
At a double-points event in Milwaukie, Ore., Richie Teece delivered eight games over 200 to take the top qualifying spot on the Bear pattern. But in match play, 11 games were not enough to decide a winner, and the position round would determine the winner between Teece, Jake Peters, and the now-leader Craig Tuholski.
With a mere 11 pins between the three bowlers, both matches stayed close through eight frames. A stone-9 and a whiff from Teece took him out of contention. Peters, meanwhile, needed and smoked the first strike in the 10th to take the win. Peters picked up the eighth regional title of his career and now leads the Northwest Region in points.
PBA NW Dave Husted Open Final Standings
     1. Jake Peters, 5,000 points, $3,000
     T-2. Richie Teece, 2,650, $1,700
     T-2. Craig Tuholski, 2,650, $1,700
     4. Zack Stone, 1,900, $1,200
PBA NW Dave Husted Open Full Results
PBA50 Sussex Bowl Midwest Open, presented by H5G
Just a short drive from Milwaukee, Sussex Bowl threw out the Mike Aulby pattern and watched as the bowlers attempted to temper the brutal conditions. The cut score for the top 14 landed at -51, while the next cut to get into match play was at +4. The position round was even more brutal as the high game was 202 between the eight bowlers. Eventually, Vince Biondo III, Eugene McCune, Anthony Jovanovich, and Gary Alstott took the four stepladder spots. 
In the first match, Jovanovich split in the sixth frame and couldn't catch up, losing 204-185. McCune was up next, and after two big opens in the first three frames, he also failed to make up ground on his opponent as Alstott moved on, 218-182. The final match went back and forth, but Biondo couldn't get the 10-pin to fall in the ninth frame, and only finished with a 197. Alstott stepped up, and delivered a strike for the win and picked up his third career regional title. 
PBA50 Sussex Bowl Midwest Open, presented by H5G Final Standings
Gary Alstott, 2,500 points, $2,000
Vince Biondo III, 1,500, $1,400
Eugene McCune, 1,150, $1,000
Anthony Jovanovich, 950, $800
PBA50 Sussex Bowl Midwest Open, presented by H5G Full Results
PBA Tony Reyes/Terry Leong Memorial Jr/Sr Doubles
In one of the season's most popular events, a maxed-out field entered the Reyes/Leong memorial doubles tournament. The event honors Terry Leong, who passed in 2020, an outstanding bowler who took home many tournament wins in the West, including four regional titles. The event also honors Tony Reyes, who died in 2012. Reyes, the winner of seven PBA Regional Titles and one PBA Tour title is also the namesake of the PBA's annual community service award.
In the over/under doubles, the defending champions Rich Corwin and PJ Haggerty led qualifying at a combined +271. After match play, the duo fell to third place, but secured a spot in the opening stepladder match against Matt Zweig and David Leverage.
The battle wasn't close as Corwin/Haggerty began with the front-10 and won 289-195. Next up to try and stop the powerful West duo was Lanndyn Carnate and Mark Mazzulla, but they only got to 194 and fell to the 247 of Corwin/Haggerty.
Darren Tang and Steve Kloempken sat on top and put together a 248, while Haggerty and Corwin slowed down and only put together a 188.
Tang earned regional title No. 13, while Kloempken now has two regional titles to his name (both as a non-member). The event also raised over $2,000 for the Tony Reyes scholarship fund.
PBA Tony Reyes/Terry Leong Memorial Jr/Sr Doubles Final Standings
Darren Tang/Steve Kloempken, 2,500 points, $3,250
PJ Haggerty/Rich Corwin, 1,500, $1,800
Lanndyn Carnate/Mark Mazzulla, 1,150, $1,400
Matt Zweig/David Leverage, 950, $1,200
PBA Tony Reyes/Terry Leong Memorial Jr/Sr Doubles Full Results