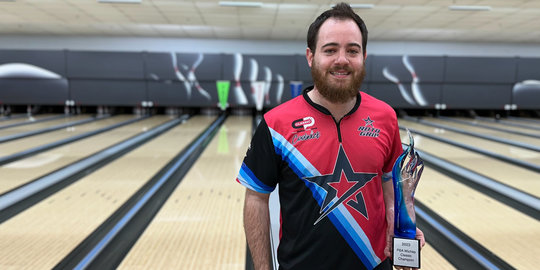 Anthony Simonsen Wins 11th Career Title at PBA Wichita Classic
February 24, 2023
Nolan Hughes
Anthony Simonsen has never been one to shy away from breaking conventional wisdom. This week at Northrock Lanes for the PBA Wichita Classic was no exception.
The 26-year-old defeated Dom Barrett, 257-213, to win his 11th career title.
Anthony Simonsen claims career title No. 11 🏆

He defeated Dom Barrett, 257-213, to win the PBA Wichita Classic! pic.twitter.com/3i5iY8uQwz

— PBA Tour (@PBATour) February 25, 2023
Just as he did during the first round of the tournament, Simonsen opted to throw urethane on the 45-foot Dragon oil pattern. He aimed directly at the 1-3 pocket, using the shape of the long pattern and the characteristics of the center to his advantage.
"I know this is one of those buildings that if you get lined up, you're able to throw a few strikes," Simonsen said.
"Mentally, I haven't been the sharpest the last couple weeks," he said. "I think that's kind of due to a lack of competing and I'm slowly trying to dial that back in. I'm looking forward to the next couple weeks because I was able to find my feet much sooner in the season."
The Player of the Year race is starting to heat up between Simonsen and EJ Tackett, who won the U.S. Open and PBA Shawnee Classic.
Simonsen achieved his fourth consecutive top-10 finish of the season and is the lone player on Tour to reach match play in all four tournaments. But he isn't concerned about the potential for a first career Player of the Year nod.
"I'm not really a guy who looks big into that," he said. "If I bowl well and that's what it gets me, then that's awesome. But ultimately, I try to look at every event as it's own individual event and try to bowl as well as I can that week."
For Barrett, this marks his second straight runner-up performance after falling to Tackett at the PBA Shawnee Classic last week. The 37-year-old, while disappointed in another second place finish, said he is satisfied with his progress this season.
"If you told me after my first two missed cuts that I'd have back-to-back seconds, I'd be really happy," he said. "I'm much happier with where my game is at now than a couple weeks back."
In the title match, a pair of 2-10 splits on the left lane put Barrett in an early deficit. He said neither shot was too bad and that he changed balls after the first split. He added the lane transition could have been affected by Simonsen's use of urethane.
"After that, it was going to be hard to beat him," Barrett said.
Barrett took down Santtu Tahvanainen, last season's Rookie of the Year, in the semifinal. Tahvanainen, who shot 280 in the opening match of the stepladder against Jakob Butturff, tallied 14 strikes in a row on the championship pair.
The semifinal matchup flipped when Tahvanainen left a pocket 7-10 split in the eighth frame. Barrett seized the opportunity, striking in the eighth and 10th frames to clinch the match.
The next PBA Tour stop will be March 6-9 in Jackson, Mich., for the PBA Jackson Classic.
Championship Round Scores
Match 1: No. 3 Santtu Tahvanainen def. No. 4 Jakob Butturff, 280-238
Match 2: No. 2 Dom Barrett def. No. 3 Santtu Tahvanainen, 238-235
Championship: No. 1 Anthony Simonsen def. No. 2 Dom Barrett, 257-213
Final Standings
Anthony Simonsen, $25,000
Dom Barrett, $16,000
Santtu Tahvanainen, $12,000
Jakob Butturff, $10,000
Kris Prather, $8,200
Bill O'Neill, $7,500
Jason Belmonte, $7,000
Tommy Jones, $6,500
Chris Barnes, $6,000
Darren Tang, $5,500
Tom Daugherty, $5,100
Anthony Lavery-Spahr, $4,800
More information on the PBA Wichita Classic is available here.