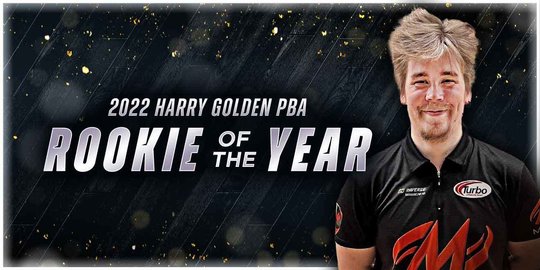 Santtu Tahvanainen Wins 2022 Harry Golden PBA Rookie Of The Year Award
November 3, 2022
Nolan Hughes
The 25-year-old Finnish star becomes the fourth international player to win Rookie of the Year.
When Santtu Tahvanainen received the call from PBA Commissioner Tom Clark and learned that he had been named the 2022 Harry Golden PBA Rookie Of The Year, he was left almost speechless.
"Well, I was not sitting in a chair, so it couldn't be the same as when I was picked to the PBA League," Tahvanainen said. "(But) I would say my reaction was pretty much the same. I couldn't say literally anything."
The 25-year-old received 51.1% of the vote from PBA members and media. Kevin McCune finished second with 28.8% of the vote and Brandon Runk finished third with 15.7%.
Tahvanainen's $31,350 in earnings and a 216.28 average topped all rookies, as did his three top-25 and two top-10 finishes. His runner-up finish at The Storm Cup: Colorado Springs Open, where he also shot 300 during qualifying, was the best finish of any rookie this season.
Tahvanainen's freshman campaign almost didn't happen. Back in July, he said he got cold feet just before leaving for the World Series of Bowling. His friend, Simon Susiluoto, set him straight.
"It's crazy to think of that moment, if not going to the PBA was my final choice," Tahvanainen said. "I don't know what my bowling would be like right now."
That conversation with Susiluoto will stick with Tahvanainen for a long time. But he said it wasn't the most memorable moment of his freshman season, nor was the 300 game and runner-up finish in Colorado.
"If there's something I'm not ever going to forget, it's Norm Duke's last shot at the PBA League," said Tahvanainen, the lone rookie drafted to the PBA League.
Tahvanainen becomes the fourth international player to win the award, succeeding Australia's Jason Belmonte, Sweden's Jesper Svensson and Canada's François Lavoie.
"It feels amazing because it's also history for Finnish bowling," Tahvanainen said. "Neither Mika (Koivuniemi) or Osku (Palermaa) were Rookie of the Year. I respect both of them a lot, especially now playing in the PBA. I was able to see how hard it is to actually compete and how good of careers they've had."
Tahvanainen said he doesn't see himself as following those names — all five are PBA major champions — but he doesn't want to be the outlier. He said he wants to prove that this season was not a flash in the pan, and joining that list of international stars only strengthens his motivation to do so.
"I don't want this to be my life's highlight," he said. "I want to go all the way and chase the Player of the Year. Not next year, but someday."
The PBA Rookie of the Year Award is named after legendary PBA Tour tournament director Harry "Goose" Golden, who was inducted into the PBA Hall of Fame in 1983.
---
Recent winners
Matt Russo, 2021
not awarded in 2020 due to the pandemic-interrupted season (2020 rookies retained eligibility through 2021)
Mykel Holliman, 2019
Kamron Doyle, 2018
Matt Sanders, 2017
François Lavoie, 2016
Jesper Svensson, 2015
Marshall Kent, 2014
EJ Tackett, 2013
Josh Blanchard, 2012