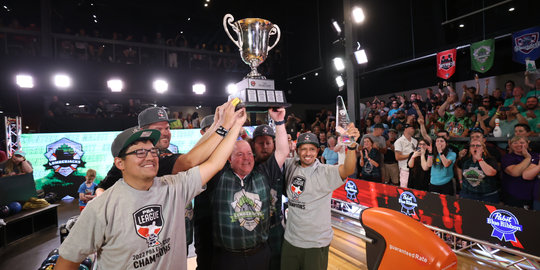 Portland Embracing Underdog Role in Pursuit of Fourth-Straight Elias Cup Title
September 22, 2023
Nolan Hughes
The Portland Lumberjacks have won three straight Elias Cup titles, including an improbable comeback from a 2-0 deficit a year ago. They have reached the championship match in four of the past five finals.
The Lumberjacks have a two-time Mark Roth MVP in Wes Malott, last year's MVP and former PBA Player of the Year in Kyle Troup, a multi-time major champion in Kris Prather, another major champion in Graham Fach — not to mention Arturo Quintero, who moved to Portland after last year's PBA League presented by Pabst Blue Ribbon.
Simply put, Portland knows how to win. And yet, the internal confidence of the Lumberjacks collides with a more skeptical external perspective.
"If you look on paper, no one thinks the Lumberjacks are going to win," said Tim Mack, the Lumberjacks' manager. "We're the underdogs. Yep, the three-time champions are the underdog."
Mack is referring to the reaction that followed his decision to keep Malott over Packy Hanrahan, who finished sixth on the 2023 PBA Tour in points and won two titles. While the Big Nasty has been Portland's franchise player, he battled through an injury-plagued season and finished 74th in points.
Mack emphatically stuck with his franchise player.
"Wes Malott's been our franchise and on our team since its inception," Mack said. "He's a two-time MVP. He's earned the right to tell me when he's done. That's what it boils down to.
"With that in mind, we love Packy. We're gutted," Mack continued. "We asked other teams about trades, but it just shows you maybe how much respect the other teams have for us that no one wanted to give us the opportunity to have our core four back again."
The Lumberjacks allowed Hanrahan to enter the draft pool, where the NYC KingPins promptly selected the left-hander first overall in July's draft. Mack and Co. pivoted to another southpaw in Fach, then brought back the now-local hero Quintero.
"It's not about getting the best players to win," Mack said. "It's about getting the right players for the right time for the right moment, and then having the best communication and the best synergy you could have."
The Lumberjacks will put their cohesion to the test as they begin their quest for an unprecedented four-peat on Saturday.
Among the top contenders for this year's Elias Cup are the EJ Tackett and Anthony Simonsen-led Motown Muscle, who topped our 2023 season stats-based power rankings.
Jason Belmonte and Jakob Butturff's L.A. X squad features four major champions, and Norm Duke's veteran-laden Dallas Strikers always seem to be a threat.
Each team will bowl 10 games of round-robin baker match play on Saturday to determine seeding. The seeding round will be livestreamed on BowlTV, beginning at 11 a.m. Eastern.
The top two teams will earn a two-round bye to the semifinals, while the third, fourth and fifth qualifiers advance to the quarterfinals.
The sixth through 10th qualifiers will compete in Sunday's play-in stepladder, airing at 5 p.m. ET on FS1.
Starting in the quarterfinals — which will air on Monday, Sept. 25 at 7 p.m. ET on FS1 — all matches will feature the Race-to-Two format.
The semifinals will air on Tuesday at 8 p.m. ET on FS1, leading up to Wednesday evening's Elias Cup Finals at 8 p.m. ET on FS1.
More information on the 2023 PBA League presented by Pabst Blue Ribbon is available here.
While supplies last, tickets are available for the televised rounds here.
2023 PBA League Elias Cup presented by Pabst Blue Ribbon Schedule
Bayside Bowl | Portland, Maine
All times listed in Eastern.
Saturday, Sept. 23 | BowlTV
11 a.m. — Seeding Round
Sunday, Sept. 24 | FS1
5 p.m. — PBA League Play-in Stepladder
Monday, Sept. 25 | FS1
7 p.m. — PBA League Quarterfinals presented by Pabst Blue Ribbon
Tuesday, Sept. 26 | FS1
8 p.m. | PBA League Semifinals presented by Pabst Blue Ribbon
Wednesday, Sept. 27 | FS1
8 p.m. | PBA League Elias Cup Finals presented by Pabst Blue Ribbon
PBA League History
2022
Champion: Portland Lumberjacks
Mark Roth MVP: Kyle Troup
2021
Not held
2020
Champion: Portland Lumberjacks
Mark Roth MVP: Wes Malott
2019
Champion: Portland Lumberjacks
Mark Roth MVP: Wes Malott
2018
Champion: Silver Lake Atom Splitters
Mark Roth MVP: Chris Barnes
2017
Champion: Dallas Strikers
Mark Roth MVP: Norm Duke
2016
Champion: Dallas Strikers
Mark Roth MVP: Tommy Jones
2015
Champion: Silver Lake Atom Splitters
Mark Roth MVP: Dick Allen
2014
Champion: Silver Lake Atom Splitters
Mark Roth MVP: Chris Barnes
2013
Champion: NYC KingPins
Mark Roth MVP: not awarded