PBA Regional Recap: Dombrowski Sets Up RPI Title Defense
October 5, 2023
Chase Kaufman
Things are heating up on the PBA Regional Tour as qualifiers for the 2023 Regional Players Invitational took place in three regions.
The reigning RPI champion Patrick Dombrowski booked a return ticket to Las Vegas with an RPI-qualifier victory this past weekend, as did Kris Koeltzow and Eugene McCune (PBA50).
Read more on their triumphs in this week's PBA Regional Recap: 
PBA Strike It Big Oviedo RPI South Open
In order to get to the top-third after qualifying, the bowlers would indeed have to 'Strike It Big.' Zachary Tackett did just that, averaging 250 during qualifying then holding onto the one-seed for the stepladder. Scott Anderson put together some big advancer rounds to climb to the two-seed, while Patrick Dombrowski and Kenny Ryan earned the three and four seeds. 
In a tight opening match, Ryan left a single-pin on a double in the 10th frame. Dombrowski marked, which was enough for him to move on. A continuation of Dombrowski's momentum slithered into match two with the front-nine. He ended up with a 279 to Anderson's 231.
Tackett stepped into the fray, where both bowlers got off to a strong start, but splits from Tackett in the eighth, ninth, and 10th frames downed his hopes for the win. Dombrowski, the 2022 Regional Players Invitational champion, picked up his 10th career title. The top three finishers — Dombrowski, Tackett, and Anderson — all clinched a spot in this year's RPI.
PBA Strike It Big Oviedo RPI South Open Final Standings
Patrick Dombrowski, 2,500 points, $3,000
Zachary Tackett, 1,500, $1,600
Scott Anderson, 1,150, $1,200
Kenneth Ryan, 950, $1,000
PBA Strike It Big Oviedo RPI South Open Full Results
PBA Oklahoma City Southwest Open
The PBA50 Southwest Region held their RPI qualifier last week. Nobody ran out in front during qualifying, but everyone at -29 or better moved into the first advancer round. Kris Koeltzow took the role of the pace car through the advancer rounds and eventually landed in the one-seed. PBA Jr. star Garrett Andrus earned the No. 2 seed, while Ildemaro Ruiz Jr. and François Lavoie took the final spots in the stepladder.
The two Las Vegas High Roller teammates opened the stepladder in a close match, but Ruiz Jr. moved on after a 242-231 win. Next up for Ruiz was Andrus, who led the initial eight games of qualifying. Unfortunately for Andrus, he couldn't revive that qualifying magic, losing in the stepladder, 220-196. But the chalk held in the finals anyways, as Koeltzow delivered a 234 to Ruiz Jr's 202 for his fourth regional title.
Koeltzow, Ruiz Jr., and Dallas Leong earned the spots to the regional final in Las Vegas. (Lavoie was ineligible as a top-50 player on the 2023 Guaranteed Rate PBA Tour points list, while Andrus is a PBA Jr. player.)
PBA Oklahoma City SW Open Final Standings
Kris Koeltzow, 2,500 points, $2,800
Ildemaro Ruiz, Jr. 1,500, $1,900
Garrett Andrus, $1,500
François Lavoie, 950, $1,200
PBA Oklahoma City SW Open Full Results
2023 PBA50 RPI Central Classic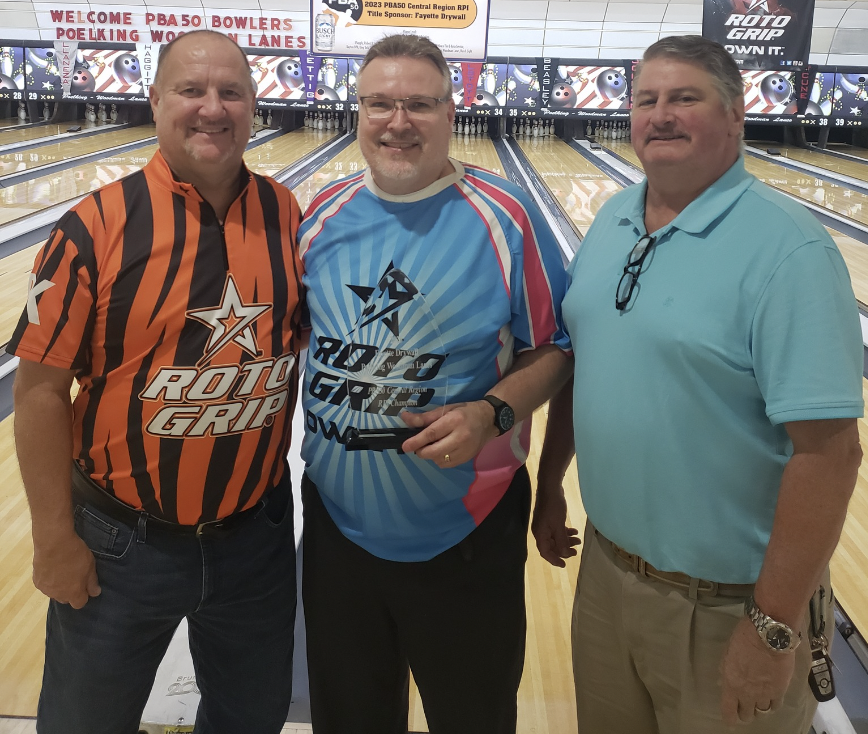 Continuing on with folks who get to pack their bags this winter and head to Las Vegas, Poelking Woodman Lanes, just outside of Dayton, Ohio, hosted the Central Region's PBA50 RPI qualifier. Charles Ferrell and Larry Verble topped the charts after eight games of qualifying at +268 and +261, respectively, but Eugene McCune rocketed to the top by 130 pins after a monstrous 1,069 advancer round. 
That gap McCune created would keep him steady at the top of the leaderboard during match play. With a 90-pin lead over Ferrell entering the position round, a 220-198 victory for McCune kept him on top for his 29th regional title. No adjustments here when it comes to the qualifiers for the RPI; McCune, Ferrell, and Marsala all got the phone call.
2023 PBA50 RPI Central Classic Final Standings
Eugene McCune, 2,500 points, $2,215
Charles Ferrell, 1,500, $1,340
John Marsala, 1,150, $1,110
Andrew Rettig, 950, $960
2023 PBA50 RPI Central Classic Full Results
PBA Glo-Bowl Fun Center MW/Central Open, presented by Trio Grille
In almost any other scenario, Tom Hess's +285 for seven games would have been enough to put him in first place, but not this one. Nate Purches compiled not one, but two 300 games and three additional games over 260 to average 261 for his seven games. Purches slowed down a bit in the advancer rounds, but still found a spot in the winner-take-all, two-game final match with Michael Schlabach. Purches accumulated a four-pin lead after the first game, but the second was all Schlabach. Schlabach put together a 278 to give him a 490-421 victory and his third career title. 
PBA Glo-Bowl Fun Center MW/Central Open, presented by Trio Grille Final Standings
Michael Schlabach, 2,500 points, $2,000
Nate Purches, 1,500, $1,350
Justin Knowles, 1,150, $1,000
Kevin McCune, 950, $900
PBA Glo-Bowl Fun Center MW/Central Open, presented by Trio Grille Full Results
PBA Bowlers Discount Pro Shop Open
Competing on the Chameleon pattern at Bowlero Normandy in Maryland, +29 was the mark to hit to advance to single-elimination bracket play. Four bowlers missed that number by single-digits. The top seed, Tom Sorce, dropped out in his first match after his double-bye to Tim Foy Jr., but Foy Jr. then lost to Eric Cornog, 237-183. In the bottom half of the bracket, Sam Cooley lost his match to another Cornog, Jason, 207-193. In the Battle of Cornog (which sounds like a real battle from the 1700s), Jason delivered a 263 to Eric's 203 for his third regional title.
PBA Bowlers Discount Pro Shop Open Final Standings
Jason Cornog, 2,500 points, $2,500
Eric Cornog, 1,500, $1,300
Sam Cooley, 1,150, $950
Tim Foy Jr., 950, $950
PBA Bowlers Discount Pro Shop Open Full Results
PBA Virtue Bowling Supply Open
Bowlero Mesa pulled double-duty in the late September weekend, hosting the PBA and PBA50 division on the Cheetah pattern. Bryan Hahlen led the PBA division in qualifying as names like Cortez Schenck, Darren Tang, and Jake Peters chased him down. Nonetheless, Hahlen maintained his composure and put together a 751 series to claim the one-seed in the stepladder. Schenck obtained the two-seed, while Andrew Guba and Darren Tang would battle in the opening match. 
In said match, Guba couldn't get lined up on the pair and Tang advanced with ease, 244-160. In the second match, a battle between two of the West Region's powerhouses, Schenck put together a five-bagger to seal the deal in a 243-200 win. Although Hahlen had been the top dog all day, he didn't find much on the championship pair. Schenck, the region's reigning Rookie of the Year, won the battle 218-180 for his third title and $2,500.
PBA Virtue Bowling Supply Open Final Standings
Cortez Schenck, 2,500 points, $2,500
Bryan Hahlen, 1,500, $1,700
Darren Tang, 1,150, $1,400
Andrew Guba, $1,100
PBA Virtue Bowling Supply Open Full Results
PBA50 Virtue Bowling Supply Classic
Right before the PBA division took off, the PBA50 division warmed up the lanes. Curtis Woods Jr. from Santa Rosa, California, started with the lead, but thanks to a booming first advancer round, Eric Adolphson took the lead to claim the one-seed in the four-player final. Woods did end up in second, while Robert Wiley and Michael Haugen Jr. were third and fourth.
Haugen kicked off the stepladder with a 229-171 over Wiley, who was looking for his first-ever title. The next match featured a little more experience as 28-time regional champion Haugen battled Woods Jr. with 17 regional victories. However, Haugen never gave Woods a chance and won 278-216. Adolphson then stepped up, looking for his first title in 34 years, but he couldn't quite get there as Haugen brought home the 224-220 win.
PBA50 Virtue Bowling Supply Classic Final Standings
Michael Haugen Jr. 2,500 points, $1,700
Eric Adolphson, 1,500, $1,350
Curtis Woods Jr. 1,150, $1,100
Robert Wiley, $950
PBA50 Virtue Bowling Supply Classic Full Results
View the points leaders in each region here.