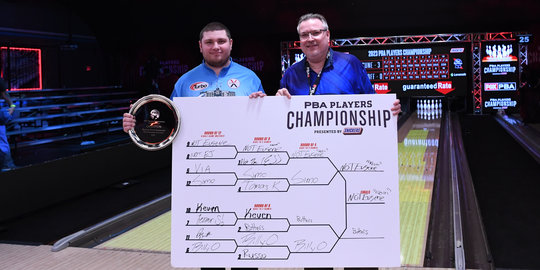 It's In Kevin McCune's Blood
May 17, 2023
Nolan Hughes
Kevin McCune is a PBA Tour champion. A PBA Tour major champion, to be specific.
But before Sunday afternoon, the 24-year-old was generally known as the son of Eugene McCune and grandson of Don McCune — one of four father-son duos to win on the PBA Tour.
With Kevin's PBA Players Championship presented by Snickers victory, the McCunes became the first family with three generations of PBA Tour champions.
"The whole reason I came out here (on Tour) was so we could be the only family," Kevin said. "We're going to be the only family for 60, 70 or 80 years, and even then — because people have to win. It's not easy to win out here."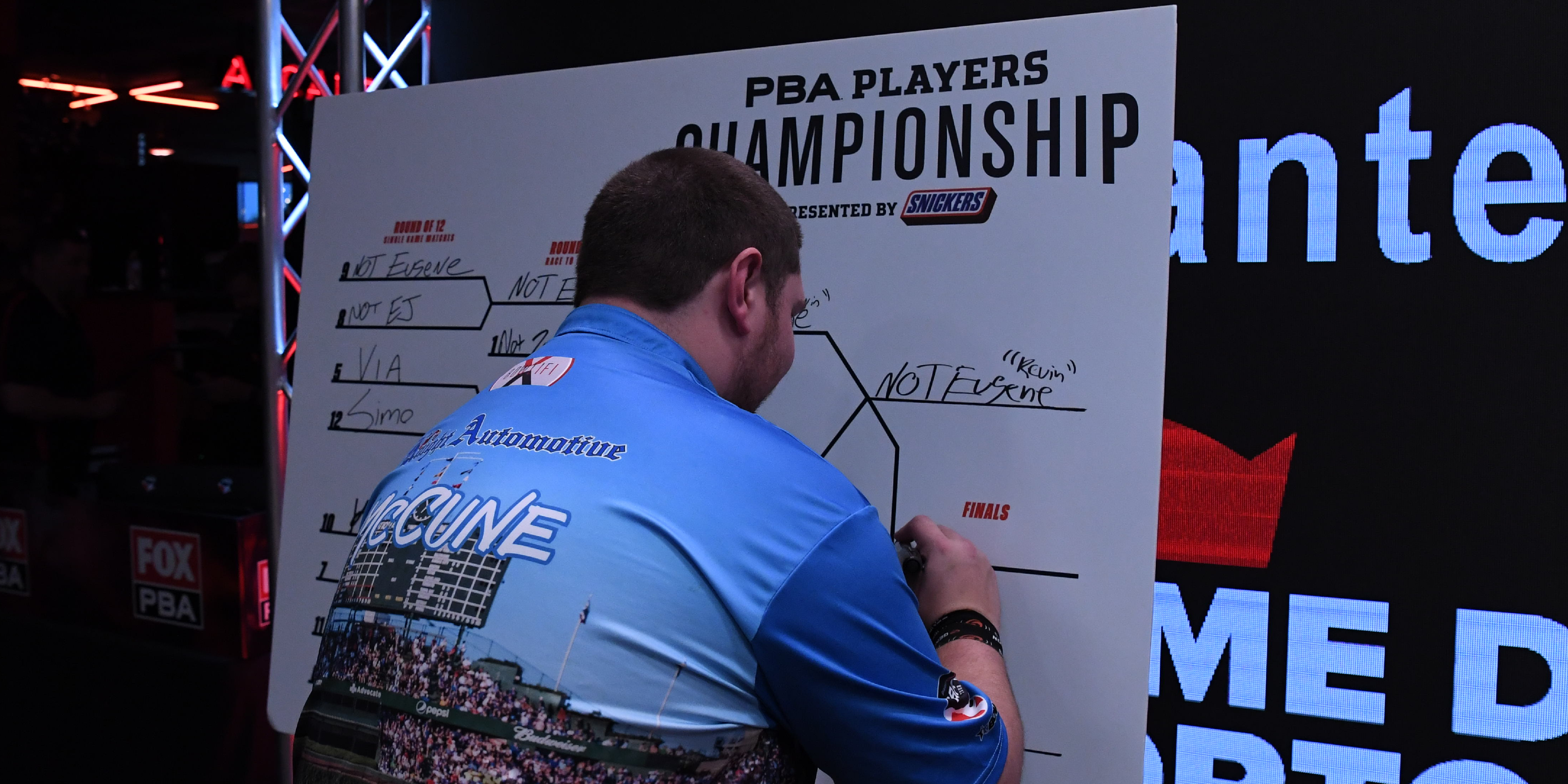 Even as he advanced through the bracket, Kevin McCune refused to write anything except "Not Eugene." 
Fresh off securing his first career PBA Tour telecast appearance, Kevin McCune sat down for his press conference on May 5.
But before he answered any questions, he asked one himself.
"Can I write Not Eugene on the bracket?" said Kevin.
Zac Tackett, sitting down next to Kevin, echoed Kevin's sentiment. 
"Can I write Not EJ?" Zac chimed in.
The first-round opponents shared more than a childhood in Indiana, spending the better part of their lives in the shadows of PBA royalty.
Growing up with an accomplished parent or sibling can be difficult.
Everyone always wonders where dad (or brother) is and how he's doing. They always have a story you have to hear about dad. They always ask when you're going to win like your old man.
Nobody knows that better than Eugene himself. His father, a PBA and USBC Hall of Famer, won eight times on the PBA Tour, including a six-title, Player of the Year campaign in 1973 known as "the year of the soaker."
Sure, the benefits of learning from such talent outweigh the drawbacks, which are often inconveniences more so than problems. But still, the weight often brings about an enormous pressure to live up to, or even exceed, your father's accomplishments.
"I felt it," Eugene said. "But I guess that pressure comes from yourself."
After 15 years on Tour, Eugene captured his first career title in 2002. He hoisted the long-awaited trophy with young Kevin in his arms. A decade later, he won a pair of titles on Cheetah, cementing his status as the PBA's premier fireballer.
As Kevin grew up and his athletic acumen began to materizle, Eugene found himself with his shoe on the other foot: The kid with the famous bowler for a dad became the famous bowler dad.
"I'm the middle child," Eugene joked. "I get How's Don doing? and How's Kevin doing? Nobody says How's Gene doing?"
Being raised by two generations of PBA champions could have placed an even larger burden on Kevin, the Bronny James of Munster, Ind. But, as Eugene said himself, Kevin is a different animal.
"I never put bowling first when I was little. It was always baseball first, so I never really thought about it," Kevin said. "I never really thought about (the pressure) until I started bowling in college. I thought, 'Well, I better not make a fool of myself because everybody knows who I am' — without knowing who I am."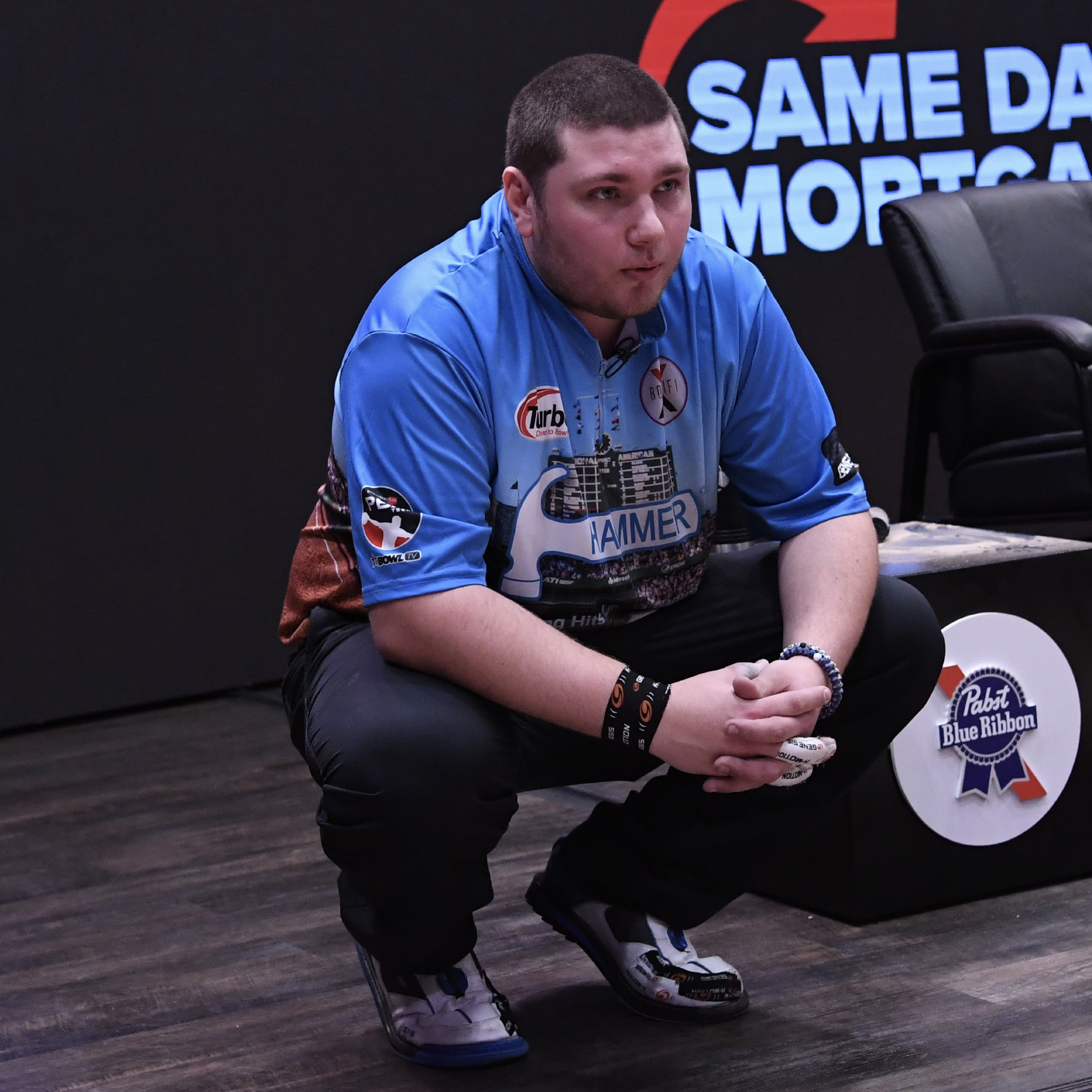 Baseball will always be a part of Kevin McCune, even moments after winning his first career PBA Tour title.
Throughout his two-year professional career, the spotlight has yet to faze Kevin. He credits his poise in pressure situations to his baseball career.
"If you don't think of it as the highest pressure situation, you're going to stay cool, calm and collected," said Kevin, wearing a Wrigley Field-inspired jersey.
"Every time the bases got loaded and they brought him in to pitch, I don't think he ever walked anybody," Eugene said. "You have to throw strikes. If you walk somebody, you lose the game. And that's pretty much like throwing strikes (in bowling)."
You're supposed to look nervous when making your first PBA telecast. Even when you're making your 100th telecast, it's okay to be anxious — just ask Walter Ray Williams Jr. 
Kevin didn't get the memo. His poise across the four telecasts was perhaps his only trait more impressive than the routine 29 mile-per-hour spare shots.
His road to the title — the first major championship won by a McCune, as Kevin will be the first to tell you — involved defeating three future Hall of Famers. His opponents resembled the stature of competition Eugene went through to win his own titles.
In his three championship match victories, Eugene defeated Walter Ray Williams Jr., Norm Duke and Pete Weber — three of the four winningest players of all time.
"I did notice the similarities," Eugene said. "You have to beat the best to win."
In the 12-player bracket at the Players Championship, Kevin took down Zac Tackett in the first round, then beat Zac's older brother and Player of the Year favorite, EJ Tackett, in the quarterfinal.
"I don't think it gives me bragging rights, but I think it gives me a little more status that I'm not going to crumble out here, no matter who I'm bowling," Kevin said after his quarterfinal win over EJ.
Following the narrow victory over the elder Tackett, McCune stepped up his game. He adjusted on the right lane, featuring the 39-foot Carter pattern, to play his A-game — the same one exemplified by his father, which earned Kevin the nickname "Nuke."
In the semifinal, Kevin vanquished Anthony Simonsen, the five-time major champion in the midst of a historic season himself. Finally, he swept Jakob Butturff 3-0 in the best-of-five championship match.
"I'm out here because I know I'm able to compete with these guys," Kevin said before the match. "It's in my blood with my dad and grandpa, so I feel like I was born to be out here."
KEVIN MCCUNE IS A PBA CHAMPION!

McCune takes down Jakob Butturff to claim his first career title at the PBA Players Championship presented by Snickers! pic.twitter.com/tEQDoIZJvs

— PBA Tour (@PBATour) May 14, 2023
Fifty years after Don's legendary Player of the Year season, his grandson carved his own place in the history books and etched the McCune name into sports royalty.
"We put our heart and soul into bowling for a century," Eugene said. "My dad started it and I just carried that over. It's a proud moment to see our family brought to light more."
Don and Eugene were late bloomers at the professional level, but not Kevin. The 24-year-old is still in the learning phase of his pro career — and he knows it.
"It's only Year 2," Kevin said. "I have a lot left to learn. It's definitely a transition period out here. I found something this week, stuck with it and it worked."
This weekend, he's set to take on Tackett, Simonsen, Butturff and Jason Belmonte — arguably the four greatest talents of the modern era — in the PBA Super Slam Cup.
McCune arrives in Florida on Friday morning. He said he wanted to get there earlier, but flights were $200 cheaper on Friday.
"I don't have the $100,000 yet!" Kevin said.