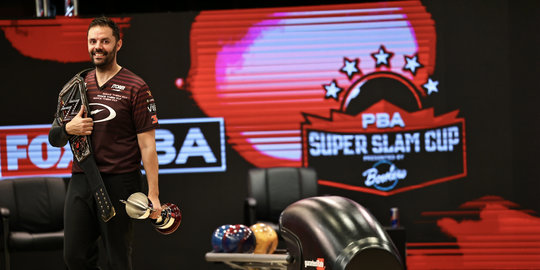 Belmonte Wins Electric PBA Super Slam Cup presented by Bowlero
May 21, 2023
Nolan Hughes
The strikes came in bunches on Sunday afternoon at the PBA Super Slam Cup presented by Bowlero, but Jason Belmonte left Bowlero Jupiter with the championship cup, WWE belt and $100,000 first-place check.
The top-seeded Belmonte prevailed in the finals, defeating EJ Tackett 286-246 in their 2023 rubber match.
"Anytime you're on television, in front of hundreds and hundreds of thousands of people, you want to put on a good performance," Belmonte said. "Whilst it isn't for a title, walking into this match, I wanted to win this."
"I want the ability to finish my career looking at all the events that we've had and say that I've won every one of them that I possibly can."
Jason Belmonte almost shoots 300 himself, but he'll take a 286-246 win, $100k, and the PBA Super Slam Cup presented by Bowlero belt.

Enjoy that @SNICKERS Satisfying Moment of the Match, @JBelmo! pic.twitter.com/i9ItR4SRRb

— PBA Tour (@PBATour) May 21, 2023
The Australian defeated Tackett at the PBA Tournament of Champions in March, then Tackett took down Belmonte at the PBA World Championship presented by Pabst Blue Ribbon last month.
"It definitely feels like between Anthony, EJ and myself, one of us is always there. And then it's a flip of the coin on who the other guy is," Belmonte said.
"It's always a lot of fun. You know that nothing's going to be given. You're gonna have to earn every bit of it," Tackett said of bowling against Belmonte. "It's obviously not a title at the end of the day, but I think this one felt a little bit different than maybe any other events like this. To me, it felt more like a major championship because all the best players from this year are here."
In order to take down Tackett, the prohibitive favorite for Player of the Year, Belmonte needed to bring his A-game. Before earning the No. 1 seed during Saturday's seeding round, Belmonte practiced extensively on Friday to prepare for the transition on Sunday afternoon.
Competing on dual patterns — 46-foot Petraglia on the left lane and 36-foot Ballard on the right lane — Belmonte saw something he liked in practice and decided to finish on the right lane.
"I feel like the right lane was exactly how it was transitioning for me (during previous rounds), but the ball choice was different," Belmonte said. "I threw (the Phaze II) one time in practice, and it looked unbelievable."
To raise the stakes, Tackett fired the first televised 300 of his career in his semifinal win over Kevin McCune.
"I felt so comfortable on that right lane and my ball reaction on those (shorter) patterns this year has been really, really good," Tackett said. "It's cool to finally have that on my résumé. I feel like every great player in history has that on their resume, so it was cool to finally check that box."
🚨 EJ TACKETT SHOOTS 300 🚨

His semifinal win over Kevin McCune sets up the 2023 rubber match between Tackett and top seed Jason Belmonte.

📺 FOX | FOX Sports app pic.twitter.com/xd0rNxx5qk

— PBA Tour (@PBATour) May 21, 2023
But Belmonte, who boasts two televised perfections, wasn't fazed.
"I've had some experience bowling 300 and then needing to back it up," Belmonte said. "The one thing that I know for certain is if you keep being too accurate, well, you will have to make an adjustment. When you see that transition happen for him, then you've got to jump on it.
"(Tackett) caught a fortuitous break in the third, which was the crossover, and then he rung-10 and I felt like, 'Alright, well that's my moment.' Then my next six shots were dead-set pure."
Belmonte earns $100,000 for his win and Tackett nets $40,000. While the one-hander also brings home over $10,000 for his 300 game, it will be difficult for Tackett to catch Kyle Troup's single-season earning's record of $496,900 set in 2021.
With the win over McCune, Tackett earned some revenge after falling to McCune at the PBA Players Championship presented by Snickers. In fact, McCune also beat Tackett's younger brother, Zac, in the televised bracket.
"I don't know if I'd say (it was personal), but I definitely wanted to beat him because of that," Tackett said with a laugh.
Though McCune defeated three of today's other four finalists during last week's Players Championship victory, this marked his first time competing in a televised stepladder finals. He said his inexperience facing the unique transition cost him against Tackett.
"I moved 10 boards left on the left lane and it looked the same," McCune said. "I didn't move deep enough quick enough."
McCune handled Anthony Simonsen in the second match, firing 279 to Simonsen's 268. Simonsen also shot 268 in his opening match win over Jakob Butturff.
After a few weeks off, the PBA Tour returns next month on the opposite side of the country. Belmonte, Tackett, Simonsen and Butturff will be joined by Kyle Troup, Dom Barrett, Packy Hanrahan and Kris Prather for the PBA Tour Finals in Arlington, Wash.
Final Round Scores
Match 1: No. 5 Anthony Simonsen def. No. 4 Jakob Butturff, 268-258
Match 2: No. 3 Kevin McCune def. No. 5 Anthony Simonsen, 279-268
Match 3: No. 2 EJ Tackett def. No. 3 Kevin McCune, 300-212
Championship: No. 1 Jason Belmonte def. No. 2 EJ Tackett, 286-246
Final Standings
Jason Belmonte, $100,000
EJ Tackett, $40,000
Kevin McCune, $18,000
Anthony Simonsen, $12,000
Jakob Butturff, $10,000
More information on the PBA Super Slam Cup is available here.
Upcoming PBA Tour Schedule
PBA Tour Finals
June 23-25
Strikerz Bowling at Angel Of The Winds Casino Resort | Arlington, Wash.
PBA Skill Ball Challenge
July 22-23
Thunderbowl Lanes | Allen Park, Mich.
PBA/PWBA Striking Against Breast Cancer Mixed Doubles
July 28-30
Copperfield Bowl | Houston, Texas
Storm Lucky Larsen Masters
Sept. 1-10
Olympia Bowling | Helsingborg, Sweden
PBA Elite League Elias Cup Presented by Pabst Blue Ribbon
Sept. 23-27
Bayside Bowl | Portland, Maine
More information on the schedule is available here.