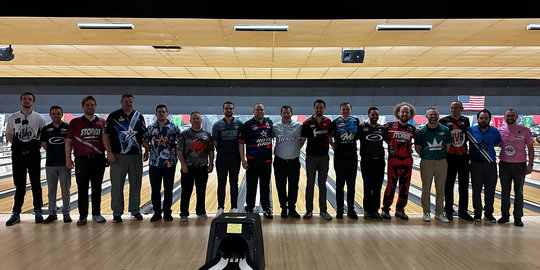 Tackett Secures Top Seed, 17 Players Advance to TOC Stepladder Finals
March 16, 2023
Nolan Hughes
The Tournament of Champions is the second major of the 2023 Guaranteed Rate PBA Tour. And for the second time this season, EJ Tackett earned the No. 1 seed.
At the historic AMF Riviera Lanes in Fairlawn, Ohio, Tackett led the TOC wire-to-wire. He averaged more than 225 for 48 games on the 40-foot Don Johnson oil pattern.
The Indiana native makes his fourth title match of the young season, owning a 3-0 record thus far. Tackett's win at the U.S. Open served as a major catalyst for his incredible start to the season.
"Knowing that I got up and threw the shot when I needed to, and things worked out, that gives you a lot of confidence going forward," Tackett said. "I think that's shown itself each time that I've been in the same position.
"Confidence goes a long way, man," he continued. "We see it in sports all the time. It's clear the people that have the confidence in themselves and what they're doing. (Anthony Simonsen) is one that's never, ever wavered from that."
Simonsen, who secured the No. 2 seed, sits one game away from a rematch. He lost to Tackett one week ago at the PBA Jackson Classic.
Tackett and Simonsen will be joined by Matt Ogle and Jason Sterner — who surged from seventh to fourth in the position round — in Sunday's championship round.
The fifth competitor in the championship round will be the advancer from Rounds 1-3 of the 17-player stepladder finals.
Kyle Troup, Jason Belmonte, Andrew Anderson and Marshall Kent secured the fifth through eighth seeds.
Troup made a massive leap in the final round of match play. He won his first five matches while averaging 248 to climb from 12th to third. He slipped to fourth prior to the position round, where Sterner surpassed him by 10 pins.
Belmonte sat in 51st place after the second round of qualifying before firing a massive 1,446 series to sneak inside the match play cut. After another slow start, the 14-time major champion won 13 of his final 14 matches to climb from 22nd to sixth.
The ninth through 12th seeds — Jake Peters, Stu Williams, Chris Via and Tom Smallwood — earned one day off for their efforts. They will bowl on Saturday night, awaiting the advancer of Friday's show.
Last year's No. 1 seed and 2020 TOC champion Kris Prather headlines the stepladder's opening round. Wes Malott, Tim Gruendler, François Lavoie and Packy Hanrahan round out the field for the 17-player finals.
Lavoie sat outside of the cut heading into the position round, also against Hanrahan. After shooting 164, 187 and 183 in the three previous games, the former TOC champion came into the final game on a sour note.
"I was pretty upset," Lavoie said. "I just couldn't find any good ball motion. It was unraveling."
For the position round, the fellow Shockers moved to Lanes 1-2, which Lavoie said hooked less than the other pairs. He changed up his strategy during the three minutes of practice, a move that paid immediate dividends.
Lavoie fired the front-nine and 279 to circumvent Hanrahan.
Despite the 182 on his scoresheet, Hanrahan felt he did all he could aside from a missed 7-pin. The two-handed southpaw managed to stave off Dick Allen for the final spot by seven pins.
"I missed the pocket on the first shot of the game," Hanrahan said. "The rest of them slammed the pocket and ended up with like three strikes. I gave 'em what I think is all I had. That's all you can really do."
Hanrahan said he feels like the luckiest person in the world, in part because he did not think 182 would be enough to stay inside the cut — but also because he missed the cut at the pre-tournament qualifier.
"I am literally not supposed to be here," said Hanrahan, who got a spot in the main field as the first alternate after a late withdrawal.
And yet, Hanrahan will kick off the 17-player stepladder finals on Friday night against Lavoie, who looks to replicate his 2021 performance.
"When I won the TOC, I did run the ladder," Lavoie said with a grin. "It's a bit of a tougher task ahead of me, but I have done it before… with five people."
Tournament Schedule
All times are listed in Eastern time
Friday, March 17 | 10 p.m. on FS1
No. 16 François Lavoie vs. No. 17 Packy Hanrahan
Winner vs. No. 15 Tim Gruendler
Winner vs. No. 14 Wes Malott
Winner vs. No. 13 Kris Prather
Tickets for the 6 p.m. taping are available here.
Saturday, March 18 | 7:30 p.m. on FS1
Advancer vs. No. 12 Tom Smallwood
Winner vs. No. 11 Chris Via
Winner vs. No. 10 Stu Williams
Winner vs. No. 9 Jake Peters
Saturday, March 18 | 9:30 p.m. on FS1
Advancer vs. No. 8 Marshall Kent
Winner vs. No. 7 Andrew Anderson
Winner vs. No. 6 Jason Belmonte
Winner vs. No. 5 Kyle Troup
Tickets are available for Saturday's shows here.
Sunday, March 19 | 12 p.m. on FOX
Advancer vs. No. 4 Jason Sterner
Winner vs. No. 3 Matt Ogle
Winner vs. No. 2 Anthony Simonsen
Winner vs. No. 1 EJ Tackett
Sold out.
More information on the tournament is available here.