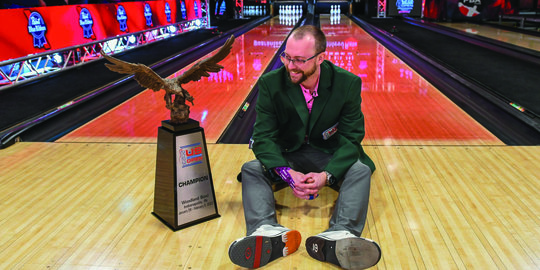 EJ Tackett Fulfills Childhood Destiny, Wins PBA's Triple Crown in Home State
February 6, 2023
Nolan Hughes
EJ Tackett dreamed of this moment ever since he was a kid.
On Sunday afternoon, he stepped up onto the approach of lanes 59-60 at Indianapolis' Royal Pin Woodland, the very lanes where dozens of legends have won major titles and etched their names into PBA lore. After 48 games and nine frames, the 2023 U.S. Open presented by Go Bowling! would be decided by his next two shots.
Tackett needed a strike and eight pins to win the U.S. Open title. To finally win a PBA Tour title in his home state of Indiana. To complete the Triple Crown. To avenge last year's loss. To fulfill a childhood dream.
"It's what we live for," Tackett said. "I can't tell you how many times when I was a kid that I'd go practice, get into the 10th frame and say that I needed to throw a double to beat Norm Duke at the U.S. Open."
But this time, the stakes were real.
If he didn't strike, he would have to watch a competitor celebrate his dream on his home turf; if he didn't strike, he would walk away empty-handed after leading the U.S. Open for the second consecutive year.
There was one more difference between this scene and the one a young Tackett imagined, something he kept to himself: Norm Duke wasn't in the opposing corner — he was in Tackett's.
"Norm texted me this morning," said Tackett, while unsuccessfully holding back tears an hour after the show. "Outside of my family, that man means a lot to me. Norm and I have had so many conversations over the years. For him to text me this morning, that meant a lot."
Post your shot. Post your score. Everything else is just fishing stories. I love you. Go get 'em.
Those words served as the perfect reminder: Nothing else — not his recent struggles on TV, not the annoying interview questions about last year's failure, not the abundance of history at stake — mattered.
This moment was no different than the one he imagined as a kid. Just an Indiana boy, a bowling ball, a lane and a dream.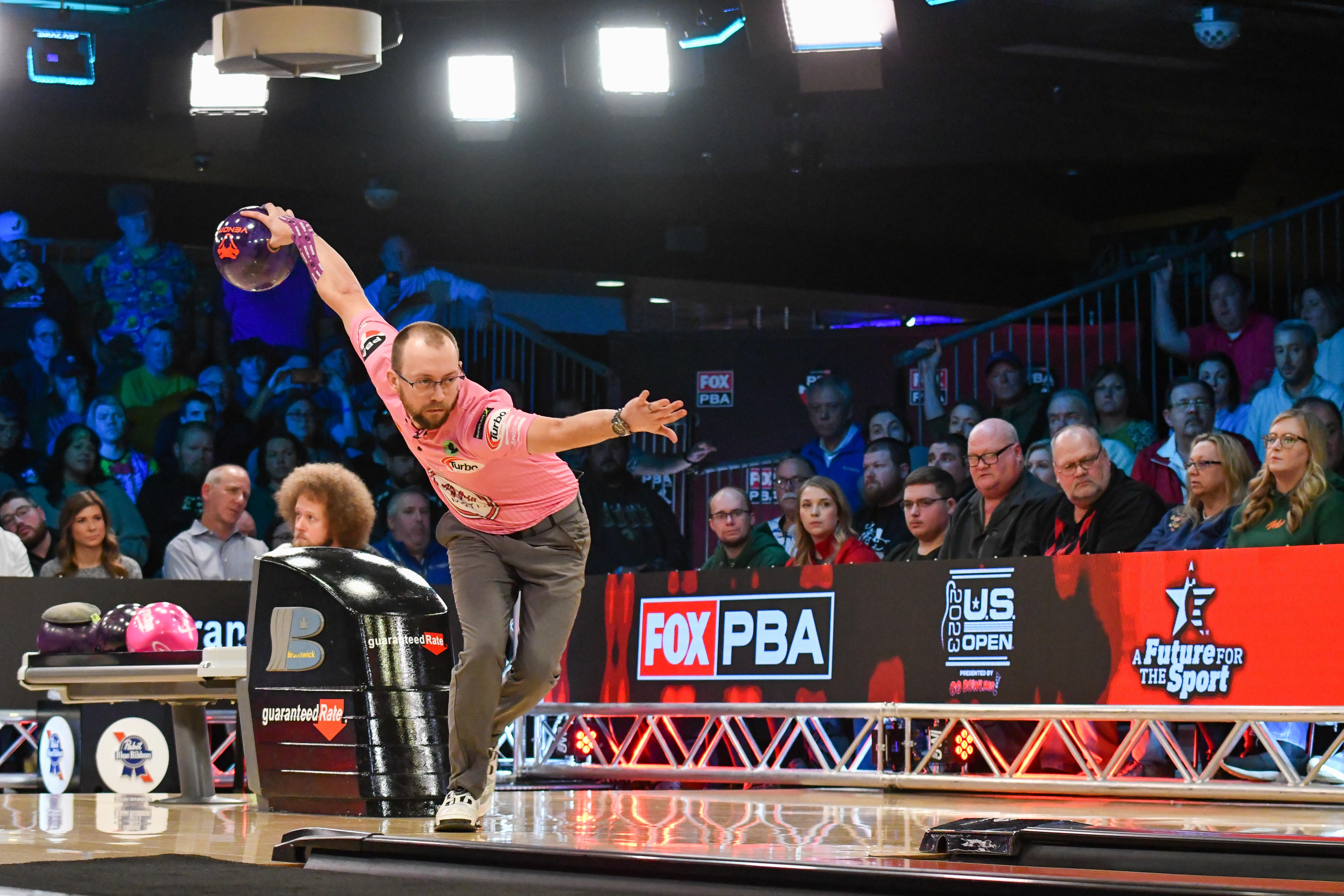 Tackett painted his intended line like Pablo Picasso, delivering the all-important first strike. The 10-pin nearly withstood a tap from the 6-pin, but no corner pin could deny the most powerful one-handed player on the planet.
Some had doubts if Tackett would get the job done under the enormous pressure. The man wearing a black and red argyle shirt in the front row did not.
"I knew it," said Ed Tackett, EJ's father. "I just knew he was gonna do it because he's been so calm and relaxed this whole week."
"When he got the first one, you just take this sigh of relief," said Natalie Tackett, EJ's wife. "I was sitting next to my mother-in-law and we instantly grabbed each other's hands, because this was it. We just had a good feeling about it."
After the first strike, just eight pins stood between Tackett and the green jacket. He knocked them all over for good measure, then unleashed the victory screech of a prepubescent child.
EJ Tackett becomes the 9th Triple Crown winner in PBA Tour history, as he wins the 2023 U.S. Open presented by Go Bowling. pic.twitter.com/OxXLZ3nknw

— PBA Tour (@PBATour) February 5, 2023
Those voice cracks were emblematic of his inner child, the one who had waited more than 20 years to come through on this exact stage.
"It's those moments that make you a fan of EJ," Natalie said. "You see the real him in those situations, and he's most vulnerable there."
Tackett soaked in the roar of the crowd, where more than 20 family and friends and dozens more fellow Hoosiers cheered him on. He finally reached his father — his lifelong coach who had dreams of competing professionally, but instead lived his dreams through his son — hugged him, and crumbled to the floor. The emotion had finally overtaken him.
"That's a dad-son moment that will live forever. It can't go away," Ed said. "Those two (shots) were a lifetime of hard work that he's deserved since he was eight years old. With all the hard work and everything that he's put into it, there's nobody that deserved it more."
"That emotion was kept inside all week, because of how much this actually does mean to me," Tackett said. "I'm not bowling for just me. So many people live and die on every shot that I make. So many people want me to be successful. They've done everything that they can for me, given up so much for me to even be here."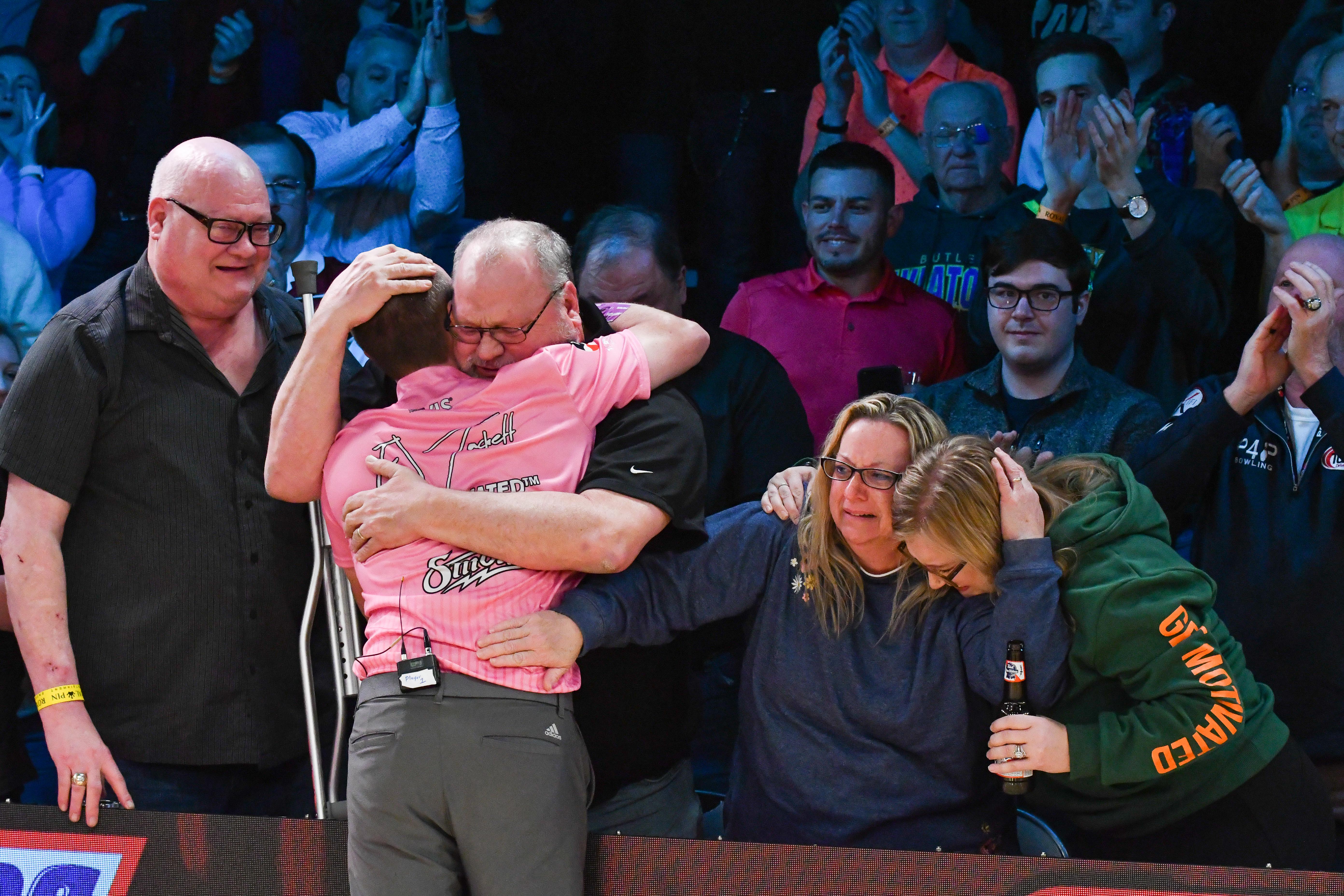 While Tackett exuded a quiet confidence throughout the week, the road to another No. 1 seed bore no resemblance to 2022.
"Last year, nobody challenged him all week," said Brett Spangler, Motiv's PBA Tour staff manager and Tackett's close friend. "This year, with two games and two frames left of match play, he still had to show up. Over and over through match play, EJ had to show up and he did it every time."
As showtime neared, anxiety crept in. The weight of a state rooting him on, of wanting to prove himself, of rewriting last year's disappointment began to set it. Tackett said he hadn't been that nervous before a show in a long time.
"There was a lot of talk and interview questions that really brought back the sting, but I think that probably motivated him more to come out and prove himself," Natalie said. "We've seen this pair before — what are you going to do differently?"
Tackett and Spangler devised a detailed plan to how they would use the dozen practice shots on the TV pair.
"There was no guesswork in how we were using those 12 shots," Spangler said. "I don't know if you asked me a year ago if I'd have said there was no guesswork, but there was a blueprint this year."
The preparation paid dividends. They were able to notice the differences between the lanes — the left lane hooked about three boards less than the right — and calculate exactly how to attack the beaten-up pattern.
Tackett's natural tendency, especially on shows, is to get too far left and try to force the ball to hook, instead of letting it naturally come off of the friction, Spangler said.
Tackett made that mistake last year. He would not make again.
"Everything happens for a reason, my dad always said that," Tackett said. "He always told me to just go bowl and let your bowling speak for itself. I did that this week. I did that on the show. I just bowled the best that I could, made the best shots that I could. There's been plenty of times where the pins haven't fallen my way, the breaks haven't gone my way.
"Today, they did."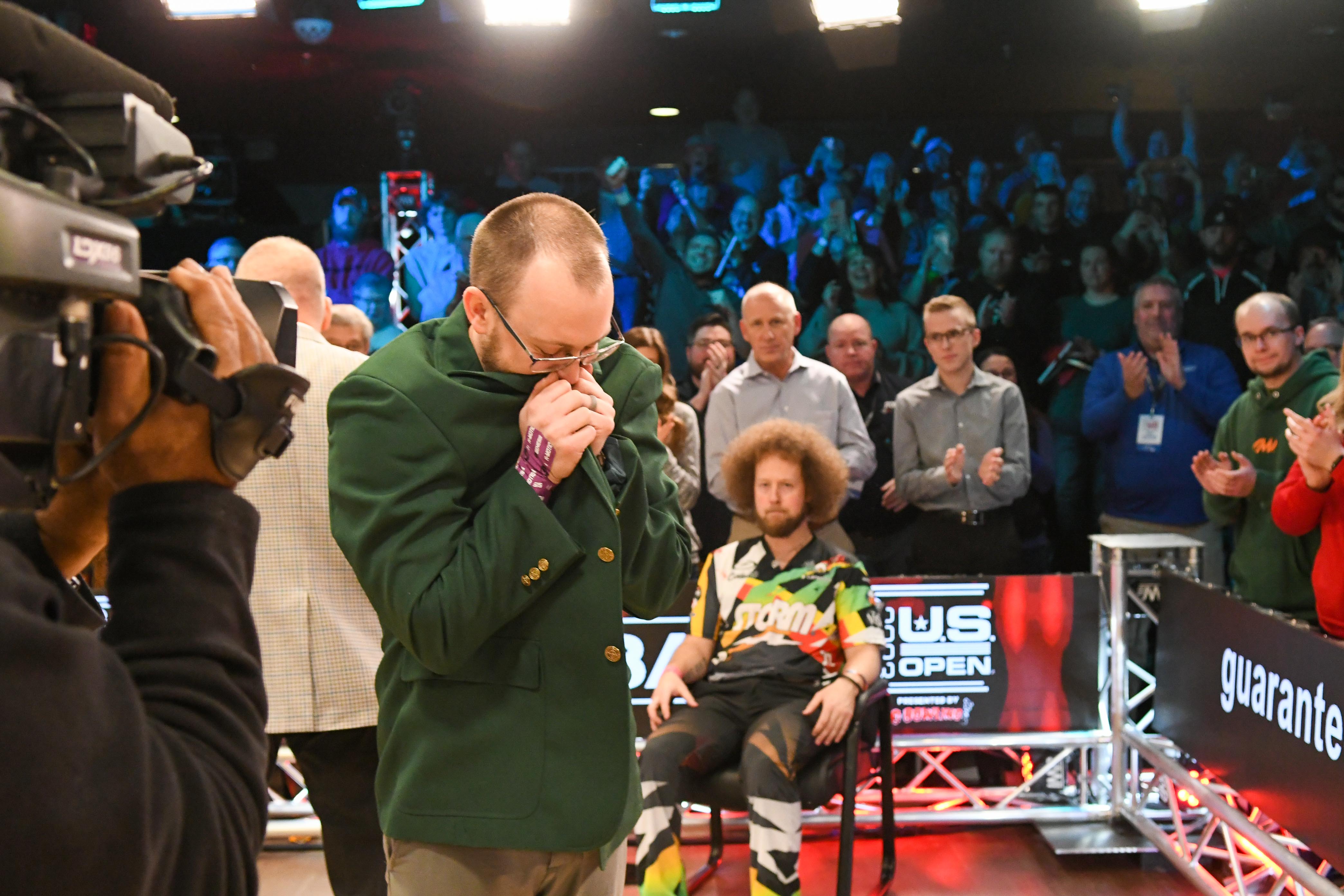 The $100,000 top prize is the largest single check of Tackett's career. It's a footnote.
"It had nothing to do with money, not a darn thing," Ed said.
"Winning in Indiana has been at the top," Natalie said, "I don't know if I want to say more than winning the Triple Crown, but like, this is in Indiana, his home state. He's wanted nothing more than to win here."
EJ Tackett is just a kid from Huntington, the same part of Indiana that bred Chris Schenkel, the iconic sportscaster who the PBA Player of the Year award is named after. He's one of five players to be named PBA Rookie of the Year and PBA Player of the Year and future first-ballot Hall of Famer.
With this 2023 U.S. Open, his magnum opus, he is now one of nine players to win the PBA's Triple Crown. And he did it 90 minutes from his hometown.
"I tried to play it off, but… this is it, man. This is it," he said. "To get up and do it, throw a double for the U.S. Open like I'd practiced so many times when I was 12 years old, to finally come through, is just unbelievable."
"I'm living in a fairytale. You can't draw it up any better."