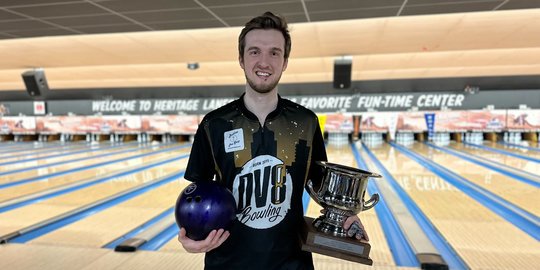 Packy Hanrahan Claims First Career Title at PBA Kokomo Classic
March 24, 2023
Nolan Hughes
In a title match emblematic of his entire tournament, Patrick "Packy" Hanrahan claimed his first career PBA Tour title at the PBA Kokomo Classic. Hanrahan started with a spare, took the lead with a strike in the second frame and never relinquished it.
Hanrahan, a 27-year-old native of Greenwich, Conn., defeated Matt Ogle 268-214 in the championship match at Heritage Lanes in Kokomo, Ind.
"It's what you always dream of," Hanrahan said. "You worked all those years and you finally did it."
Packy Hanrahan fires an eight-bagger to claim his first career PBA Tour title at the PBA Kokomo Classic 🏆

Hanrahan defeats Matt Ogle, 268-214. pic.twitter.com/tqKsMzHOLD

— PBA Tour (@PBATour) March 24, 2023
The two-handed lefty seized the tournament lead during the second round of qualifying on Wednesday evening. He maintained that lead all the way to earning the No. 1 seed for Friday night's stepladder finals.
Hanrahan averaged nearly 233 across 31 games with the dual-pattern format, featuring the 41-foot Harry Smith pattern on the left lane and 37-foot Viper pattern on the right lane.
In the title match, Hanrahan stopped Ogle's climb of the stepladder.
"Last week's show (at the PBA Tournament of Champions), the PBA League, all of our shows with me and Sean Rash, all that compounds into tonight," Ogle said. "After the first match was over, I was free-rolling. I finally feel like I belong out here."
Ogle defeated Graham Fach in the opening match, 212-206. After missing a 10-pin in the ninth frame, Ogle doubled in the 10th and forced Fach to match with a double of his own. However, Fach left a 10-pin to end his bid for a second career title.
EJ Tackett awaited in the next match. The Indiana native, making his fifth championship round appearance this season, aimed to make his third consecutive (and fifth overall) title match and win his fourth title of the season.
Ogle said he knew he needed 12 great shots to take down the hottest player on the planet. Eleven proved to be enough, throwing one Brooklyn strike en route to the front-nine.
Tackett, after a spare in the first frame, matched him strike-for-strike through six frames. However, a gutter-spare in the seventh frame put Tackett in a deficit too large to overcome.
The title match pitted two players who sought their first singles title. (Ogle won the 2019 Roth-Holman PBA Doubles Championship with Rash.)
Hanrahan converted a 3-9 spare in the opening frame, while Ogle spared a 9-pin in the second. After Hanrahan took the lead with a double in his second and third frames, he never gave Ogle an opportunity to get back into the match.
His strike in the ninth frame secured the title, one more than a decade in the making.
"When I went to college, I wasn't the best player on the team — I didn't make the team," said the Wichita State alum. "I was on the developmental team. I practiced four hours a day for two or three straight years, and then practiced three hours a day for the next six years until this happened. If you put the work in, anything can happen."
Before he graduated from Wichita State, Hanrahan wasn't sure what he wanted to do. He planned on becoming a gym teacher, but he had ambitions to compete on the PBA Tour as well. A long conversation with his mom encouraged him to pursue his dream.
"(My family) always believed in me, even when I thought I wasn't good enough," Hanrahan said. "I thought 'those guys on Tour are way better than me' and they were. And now I can say there was a time where it was me. Nobody was better than me."
With the win, Hanrahan secured a spot in July's PBA Skill Ball Challenge. The top eight point earners across the five-event PBA Classic Series earned berths in the field.
Hanrahan will be joined July 22-23 in Detroit by Tackett, Anthony Simonsen, Sam Cooley, Dom Barrett, Tommy Jones, Jakob Butturff and Sean Lavery-Spahr.
If the lanky lefty could go back in time and tell his college-self he would win a PBA Tour title, he wouldn't have believed himself.
"I would've thought it would be a fun 1.5-2 years and then I'll go be a P.E. teacher," Hanrahan said. "I would not have believed myself that I would be a PBA Tour champion one day."
Championship Round Scores
Match 1: No. 4 Matt Ogle defeated No. 3 Graham Fach, 212-206
Match 2: No. 4 Matt Ogle defeated No. 2 EJ Tackett, 267-229
Championship: No. 1 Packy Hanrahan defeated No. 4 Matt Ogle, 268-214
Final Standings
Packy Hanrahan, $25,000
Matt Ogle, $15,000
EJ Tackett, $10,000
Graham Fach, $7,500
Anthony Simonsen, $6,000
Sean Lavery-Spahr, $5,300
Tommy Jones, $4,900
Stu Williams, $4,650
Jason Sterner, $4,400
Matt Russo, $4,200
Tomas Käyhkö, $4,000
AJ Johnson, $3,800
Full standings and more information on the PBA Kokomo Classic are available here.