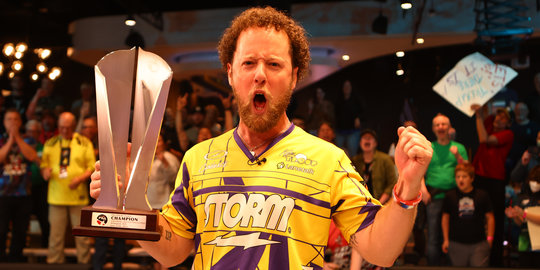 Kyle Troup Wins 10th Career Title at PBA Tour Finals
June 25, 2023
Nolan Hughes
At 16 years old, Kyle Troup followed in his father Guppy's footsteps and joined the PBA Tour. Sixteen years later, the two-handed North Carolinian celebrated the very moment he always dreamed of.
Troup swept Kris Prather in the championship match to win the PBA Tour Finals at Strikerz Bowling in Angel of the Winds in Arlington, Wash.
With the win, the 10th of his career, Troup becomes eligible to be voted into the PBA Hall of Fame when he crosses the 20-year service threshold.
"I had to not think about the Hall of Fame the last few frames," said an emotional Troup. "With the season that I've had, making the switch to grips… that's number 10. It's special, man."
Kyle Troup wins the PBA Tour Finals!!!@KyleTroupPBA claims his 10th career title with a 2-0 victory over Kris Prather 🏆 pic.twitter.com/6BpfiaoobM

— PBA Tour (@PBATour) June 25, 2023
Though Troup achieved both of his preseason goals — winning title No. 10 and making match play at the U.S. Open — his season was filled with struggles. Following his U.S. Open runner-up performance, he earned just two more top-10 finishes before the Tour Finals.
In many ways, he replicated his 2022 season when he won the PBA Playoff following a disappointing regular season.
"It goes to show the fight that I have, sticking to the process during the tough times," Troup said.
"We normally always have the ball reps, and to get this win done without one… obviously I want to have my team here at all times, but that just gives me all the confidence in the world moving forward for the next month," Troup said. "A lot of the hard work has really paid off. I've got to credit Eric Krauss and his buddy Andy. They gave me a tip to think about — and that was it."
The Group 1 positioning round on Saturday featured a heavyweight battle between Troup and EJ Tackett, one the latter earned a narrow victory to secure the top seed today. However, Troup flipped the script on Sunday afternoon as competition shifted to dual patterns (38-foot Webb on the left lane and 43-foot Anthony on the right lane).
Tackett, who sought to become the first player to win six titles in a season since 1993, won the opening game in the Race-to-Two match. However, Tackett squandered his opportunity to clinch the match by whiffing a 10-pin in the 10th frame.
"I did remember once yesterday he left a 10-pin that he kind of stuck (on the approach) a little bit, so maybe there was a chance. But I still didn't expect him to do it," Troup said.
Troup answered with a game-stealing triple in the 10th and forced a two-frame roll-off.
Another 10-pin leave from Tackett in the roll-off opened the door again for Troup, who slammed it shut with a match-clinching strike.
"I've always said I'm a fan of those ninth and 10th frame roll-offs," Troup said. "I started talking to Mr. K — a stuffed animal from Aubrey, his girlfriend Breanna's daughter — and just told him I was gonna make some good shots."
"I bowled really well last year and felt like I should have won my match and got to go further in the tournament," Troup added. "My ball reads the lanes well here so I'm just fueling off a lot of confidence."
Never. Give. Up.@KyleTroupPBA snatches victory from the jaws of defeat against EJ Tackett 😤 Troup advances to the PBA Tour Finals championship match.

📺 CBS Sports Network pic.twitter.com/KncnjNkeSh

— PBA Tour (@PBATour) June 25, 2023
Following the Group 1 finals, Prather climbed Group 2's stepladder to reach the championship. He defeated Anthony Simonsen, Packy Hanrahan and defending champion Jason Belmonte.
Belmonte missed two makeable spares in the first game of the Race-to-Two match, which afforded Prather all the room he needed.
But Belmonte said he envisioned this year's Tour Finals going exactly the way last year's did. In Game 2, he did all he could to ensure that would be the case.
Belmonte fired 300 to stave off elimination, becoming the first player in PBA history to throw three televised perfect games.
‼️ BELMO DOES IT AGAIN ‼️

Jason Belmonte becomes the first player to record THREE televised 300 games!

📺 CBS Sports Network pic.twitter.com/jqFmz4kAmx

— PBA Tour (@PBATour) June 25, 2023
Prather didn't flinch. He took advantage of Belmonte's 10-pin leave in the two-frame roll-off, doubling in his final frame to advance to the championship.
With the win over Belmonte, Prather moved to 4-0 on television against the 31-time champion and 15-time major champion.
In the championship match, not even a literal shark could have stopped Troup.
The two-handed superstar fired games of 268 and 266 to sweep Prather and clinch the title he so desperately coveted.
"Guppy better start working on his speech," a beaming Troup said.
Group 1 Stepladder Scores
Match 1: No. 3 Dom Barrett def. No. 4 Jakob Butturff, 254-202
Match 2: No. 2 Kyle Troup def. No. 3 Dom Barrett, 278-215
Match 3: No. 2 Kyle Troup def. No. 1 EJ Tackett, 2-1
Game 1: Tackett def. Troup, 257-247
Game 2: Troup def. Tackett, 205-196
Roll-off: Troup def. Tackett, 48-40
Group 2 Stepladder Scores
Match 1: No. 4 Kris Prather def. No. 3 Anthony Simonsen, 233-226
Match 2: No. 4 Kris Prather def. No. 2 Packy Hanrahan, 268-217
Match 3: No. 4 Kris Prather def. No. 1 Jason Belmonte, 2-1
Game 1: Prather def. Belmonte, 228-215
Game 2: Belmonte def. Prather, 300-202
Roll-off: Prather def. Belmonte, 47-40
Championship Match
Kyle Troup def. Kris Prather, 2-0
Game 1: Troup def. Prather, 268-225
Game 2: Troup def. Prather, 266-236
Final Standings
Kyle Troup, $30,000
Kris Prather, $15,000
Jason Belmonte, $8,000
EJ Tackett, $8,000
Packy Hanrahan, $6,000
Dom Barrett, $6,000
Anthony Simonsen, $5,000
Jakob Butturff, $5,000