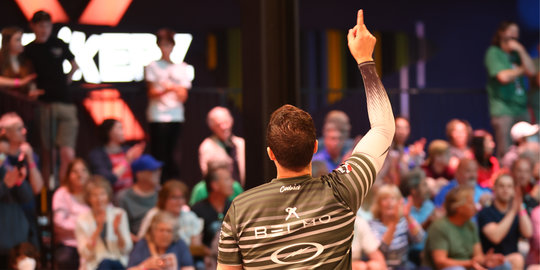 Tackett, Belmonte Lead PBA Tour Finals Positioning Rounds
June 24, 2023
Nolan Hughes
No players have achieved more success at the PBA Tour Finals than EJ Tackett and Jason Belmonte, the only two-time champions of the event.
On Saturday, the two continued their brilliance. Tackett and Belmonte each led their group's four-game positioning round at Strikerz Bowling at Angel of the Winds in Arlington, Wash.
Players bowled two games on the 38-foot Webb pattern, then two games on the 43-foot Anthony pattern to determine seeding for tomorrow's group stepladder finals. The competitors earned their spots in this event as the top eight point earners across the 2022 and 2023 seasons.
Tackett bested Kyle Troup, Dom Barrett and Jakob Butturff to lead Group 1, while Belmonte eclipsed Packy Hanrahan, Anthony Simonsen and Kris Prather in Group 2.
Group 1 featured what turned into a two-horse race between Troup and Tackett. Troup excelled the first game on each pattern, but Tackett responded to take the second each time.
Troup's Greek Church leave in the ninth frame of Game 4 opened the door for Tackett, who doubled in his final frame to lock up the No. 1 seed.
"I knew all I had to do was get up there one strike pretty much and then get good count after that," Tackett said. "I was very lucky to be in the position that I was. I threw several shots that weren't good that struck. I was fortunate to be in that position and it was nice to be able to take advantage of it."
"It was a pretty good shot, I just over hit it," Troup said of his ninth frame. "Switching to grips a month and a half ago, that tends to happen a few shots. But I feel really sharp. My ball reaction is solid and I didn't miss a spare. EJ used his breaks today so hopefully I get some tomorrow."
"I bowled really good here last year," Troup added. "I shot 300, then left like five 9-pins to lose to Belmo. I've got a lot of confidence in this building. The crowds are great and I just vibe off of them as early as I can."
Troup earned the No. 2 seed with a 900 total pinfall, followed by Dom Barrett (866) and Jakob Butturff (806).
Butturff, who shot the lowest series of any player on Saturday, struggled to string strikes and missed a pair of single pins.
"There were a couple of games where I would start off strong and then kind of just lose my ball reaction," Butturff said. "I think I just didn't stay ahead of the move. With how dry the lanes are, I've gotta be quicker with my adjustments and find a way to get comfortable, especially with these approaches because it's so tacky."
EJ Tackett doubles in the 10th to clinch Group 1's top seed 💪

📺 CBS Sports Network pic.twitter.com/0y75D3xemM

— PBA Tour (@PBATour) June 24, 2023
Group 2 offered a more contested battle as all four players remained in contention for the top seed heading into the final game. Belmonte held a 24-pin lead, but fourth-placed Simonsen sat just 33 pins back.
However, the defending Tour Finals champ would not be denied. While Hanrahan and Simonsen fired the front-five, Belmonte fired six in a row to maintain his position. Belmonte never shot below 230 en route to a 969 series, the highest of the day.
Belmonte said his experience from last season's event at Strikerz Bowling played into his success today.
"I knew based of how well this building can carry, if I can get to the pocket a little easier, a little more consistently, my ball will continue to strike really well," said Belmonte, who used urethane for much of the afternoon. "It's the most simplest, controlled way to get to the pocket now.
"In saying that, there's nothing to say that reactive won't strike," Belmonte continued. "Our patterns aren't easy. When you miss by one or two boards with a reactive ball, that's the difference between getting light in the pocket with urethane or getting behind the head-pin and leaving a 2-8-10."
Hanrahan staved off Simonsen's late charge to earn the second seed with a 941 total pinfall. Simonsen (933) finished third.
Prather crushed the Webb pattern with games of 238 and 239, but the longer Anthony pattern left him puzzled him as he tallied games of 209 and 201 to finish fourth.
"My rev rate is not around 500 and I really struggled with the urethane on the longer pattern," Prather said. "I tried to make reactive work, obviously that wasn't a good idea. Moving forward to tomorrow, I do think that the urethane balls are just going to be what wins the early matches, so I've got to figure out how to make that work tomorrow."
Group 1's stepladder finals begins Sunday afternoon at 2:30 p.m. ET on CBS Sports Network, kicking off five hours of live coverage.
The championship match (6:30 p.m. ET) will award the 15th title of the 2023 Guaranteed Rate PBA Tour.
Belmonte said he anticipates another high-scoring finals day similar to last year. In fact, he hopes goes it exactly the same as last year.
"I'm hoping the semifinalist shoots 300 (just like Troup last year) and then when I come out to play, their reaction changes just a little bit," Belmonte said. "Just repeat everything the same as last year."
Jason Belmonte locks up the top seed in Group 2 😤 pic.twitter.com/yNcuhZp9dV

— PBA Tour (@PBATour) June 24, 2023
Group 1 Scores
EJ Tackett 916 (213, 255, 234, 214)
Kyle Troup 900 (229, 224, 245, 202)
Dom Barrett 866 (195, 216, 221, 234)
Jakob Butturff 806 (190, 204, 215, 197)
Group 1 Stepladder
No. 3 Dom Barrett vs. No. 4 Jakob Butturff
winner vs. No. 2 Kyle Troup
winner vs. No. 1 EJ Tackett (Best-of-2)
Group 2 Scores
Jason Belmonte 969 (234, 246, 230, 259)
Packy Hanrahan 941 (212, 246, 226, 257)
Anthony Simonsen 933 (215, 224, 238, 256)
Kris Prather 887 (238, 239, 209, 201)
Group 2 Stepladder
No. 3 Anthony Simonsen vs. No. 4 Kris Prather
winner vs. No. 2 Packy Hanrahan
winner vs. No. 1 Jason Belmonte (Best-of-2)
Championship Match
Group 1 winner vs. Group 2 winner (Best-of-2)
Sunday's TV Schedule
All times are listed in Eastern.
Sunday, June 24 | CBS Sports Network
2:30-4:30 p.m. — Group 1 Stepladder finals
4:30-6:30 p.m. — Group 2 Stepladder finals
6:30-7:30 p.m. — Championship