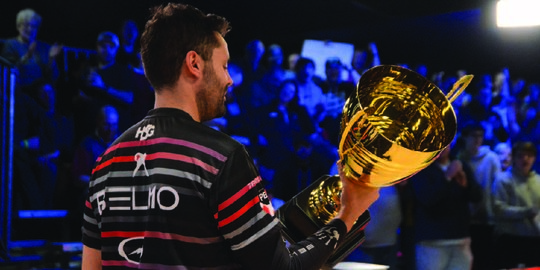 Previewing the 2023 PBA Player of the Year Race
January 18, 2023
Nolan Hughes
From the first shot of the 2023 Guaranteed Rate PBA Tour to its last, consistency will be imperative in the race for the Chris Schenkel PBA Player of the Year award.
Jason Belmonte won the first and last televised tournaments of 2022, and three more in between, en route to winning his seventh career Player of the Year honor last season. He has captured all seven in the last 10 years, tying Walter Ray Williams Jr.'s record for the most POY awards in PBA history.
EJ Tackett (2016), Andrew Anderson (2018) and Kyle Troup (2021) have also earned the prestigious award over the past decade.
When discussing Player of the Year candidates heading into the 2023 season, there's only one place to start.
The Favorite: Jason Belmonte
Belmonte's 2022 campaign served as a reminder to any doubters following a down season in 2021. He tallied eight top-five and 13 top-10 finishes in 15 tournaments, winning a career-high five times last season.
But entering his age-39 season, the future Hall of Famer isn't feeling complacent about matching Williams's record of seven POYs.
"To equal him is a huge accomplishment and something I'm very, very proud of," Belmonte said, "but it also motivates me to get one more, just one more and and have that title all to myself."
Until proven otherwise, Belmonte is the top dog. His quest for an eighth POY trophy begins with an opportunity to complete a second career Super Slam at the U.S. Open.
Top Contenders: Anthony Simonsen, EJ Tackett
Many players have pushed Belmonte in spurts over the last decade, but these two players have consistently nipped at his heels.
Tackett earned Player of the Year honors in 2016 and led the Tour in average last season; Simonsen, who just turned 26, is coming off a season in which he won two of his four career majors.
Since Simonsen began competing full-time in 2015, the trio leads the Tour in major championship round appearances; Belmonte has made 22 major telecasts, compared to 13 for Simonsen and 11 for Tackett. No other player has more than seven.
But that's not the crazy part: It's more likely that at least two of the three reach a major telecast (12 of 38 majors) than none of them (eight). A combination of the trio have met in six major title matches over that stretch.
Simonsen and Tackett each won two titles and lost a title match to Belmonte last season. A few shots resulting differently could have flipped the script, and both will be tenacious to make sure that's the case in 2023.
In The Running: Kris Prather, Kyle Troup, Dom Barrett, Tommy Jones, Jakob Butturff, Jesper Svensson
Outside of the top three, Prather and Barrett pose as great a threat as any walking into a major championship. But a lack of consistency has hampered their Player of the Year candidacy in recent seasons.
Troup, of course, took home this award just two seasons ago. After a midseason lull, he won his second consecutive PBA Playoffs to close 2022.
Jones regained his all-world form in 2022. He finished fifth, sixth, fifth, third and 13th in each major; his average finish of 6.4 was the second best on Tour. He struggled on each of those telecasts, but appeared to solve any TV woes with runner-up finish at the PBA Playoffs.
The left-handed threats Butturff and Svensson have to factor into any preseason Player of the Year consideration. When those two are dialed in, there isn't a player on the planet who can keep up.
---
Recent history indicates the 2023 PBA Player of the Year is likely one of the aforementioned players. But this is professional sports — things rarely play out as expected and historical trends are meant to be broken.
Perhaps someone like AJ Johnson or Kyle Sherman flourishes this season, or a grizzled veteran like Sean Rash or Bill O'Neill finds the fountain of youth. Maybe a former POY candidate like François Lavoie or Chris Via reaches a new peak, or a young talent like Wesley Low or Michael Tang ascends to elite status.
As Norm Duke wrote recently, everyone is currently tied in the 2023 Player of the Year race. It's anybody's game heading into the U.S. Open.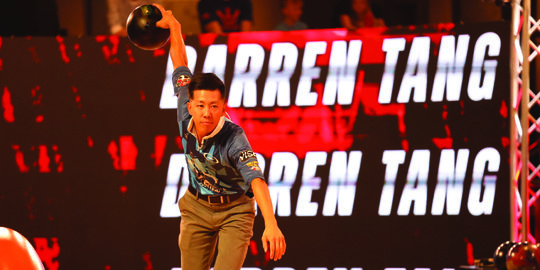 Six Potential Breakout Players in 2023