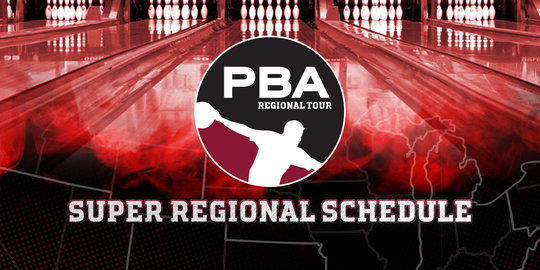 Ohio to Host Two PBA Super Regionals This Week
August 9, 2023
Nolan Hughes
This week on the PBA Regional Tour, Ohio is the place to be. Two PBA Super Regionals have drawn an abundance of the game's top talents to the Buckeye State.
The first in Minster will pay $4,000 to its victor, while the second in Coldwater will award a $10,000 first-place prize. Fourteen 2023 PBA League players are scheduled to compete in at least one of the two events.
Starting on Thursday, all rounds of each super regional will be livestreamed on BowlTV.
When these western Ohio towns hosted PBA Regional Tour stops at these centers last August, Sam Cooley and Graham Fach met in both title matches: Cooley prevailed in Minster, while Fach took the rematch in Coldwater.
Cooley and Fach are back to defend their titles, though Andrew Anderson, Shawn Maldonado, Jake Peters, Frank Snodgrass and Richie Teece will provide stiff competition.
The worthiest of adversaries, however, will be EJ Tackett. The freshly minted 31-year-old headlines the field for both events.
For the PBA Kremer Roofing Central Classic in Minster, players will bowl eight games of qualifying on Wednesday before cutting to the top third of the field. Four games on Thursday morning will determine the top-12 field for four additional games in the afternoon. After all 16 games, the top four players will advance to the stepladder finals.
Most of the Minster field will then make the 25-minute trek up to Coldwater on Friday for the PBA Bowlerstore.com Classic presented by Moxy's Xtra Pair.
Kyle Troup, Chris Via, Kevin McCune, AJ Johnson and Dick Allen are scheduled to join the party in pursuit of the five-figure payday.
The format in Coldwater will be similar to Minster: Eight games of qualifying on Saturday with the top third of the field advancing to Sunday's competition. Three advancer rounds will determine the four-player stepladder finals field in the evening.
Coldwater has hosted PBA Tour stops in the past — most recently in 2021 where Darren Tang captured his first career title, and is known (even revered) — for its difficult lane conditions.
Following the Ohio double-header, four more super regionals remain on the 2023 schedule, including back-to-back events next week in southeast Virginia.
---
PBA Kremer Roofing Central Classic
Community Lanes (Minster, OH)
August 8-10
First place - $4,000
PBA Bowlerstore.com Classic presented by Moxy's Xtra Pair
Pla Mor Lanes (Coldwater, OH)
August 11-13
First place - $10,000
PBA Century Lanes/PBA Booster Club of Hampton Roads Open
Century Lanes (Hampton, VA)
August 15-17
First Place - $4,000
PBA Booster Club of Hampton Roads Open
AMF Western Branch Lanes (Chesapeake, VA)
August 18-20
First place - $8,000
PBA Tony Reyes/Terry Leong Memorial Doubles
4th St Bowl (San Jose, CA)
August 25-27
First place - projected $6,000 ($8,000 added to prize fund)
PBA50 Jonesboro Southwest Super Open
Hijinx Family Entertainment Center (Jonesboro, AR)
September 15-17
First place - $10,000