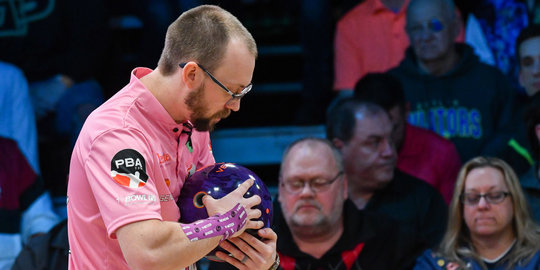 EJ Tackett Knows Who He Is
April 29, 2023
Nolan Hughes
In many ways, EJ Tackett's brilliance this season is nothing new.
This marks his third career season winning at least four titles and a major (2016, 2017). Even last season, Tackett led the Tour with a 225.27 average, 15 cashes and 15 top-25 finishes (in 16 events). His 12 top-10 finishes ranked second, one behind Player of the Year Jason Belmonte.
But the Tackett of today is not the Tackett of yesterday. The steady confidence behind each shot. The unflinching conviction behind each decision.
He could match his 2016-17 accomplishments (eight titles and two majors) in 2023 alone. Through 12 events in 2023, he's again leading the Tour in average (227.17) to go along with five titles and a pair of major championships.
When asked about what spurred this torrid season, Tackett doesn't elaborate much beyond "I'm bowling really well."
To him, this is what he's worked his entire life for. This is what he's always believed he's been capable of.
Although, the green jacket in his closet and Triple Crown on his résumé helped fortify his confidence tremendously.
After last season's gut-wrenching loss in the title match, prevailing this year in the season-opening U.S. Open presented by Go Bowling! — the title he coveted more than any other — erased any apprehension that may have built last season as he went 0-7 in televised singles matches.
Brett Spangler, Motiv's ball rep and Tackett's friend, said that Tackett's galvanized self-belief is also a product of how well has been reading the lane.
"It's a lot easier to have confidence in the shot you're going to make because for this entire season, 99% of the time, you've made the right call," Spangler said. "The confidence is not manufactured. It's based on what he's seeing every time he shows up.
"That's how you lead a tournament across 72 games. That's how you lead more than half of the events for a season."
But the evolution of Tackett runs deeper than conquering the U.S. Open. It's how he did it — doubling in the 10th frame and silencing any doubters once and for all.
"I've done it in the past, winning regular events, but I'd never done it in a major championship," Tackett said. "There was a lot of emotion that went along with finally doing that on such a huge stage."
EJ Tackett becomes the 9th Triple Crown winner in PBA Tour history, as he wins the 2023 U.S. Open presented by Go Bowling. pic.twitter.com/OxXLZ3nknw

— PBA Tour (@PBATour) February 5, 2023
Two months later, the Indiana native did it again.
On Sunday afternoon, he threw two strikes in the final frame to defeat Jason Belmonte and win the 2023 PBA World Championship presented by Pabst Blue Ribbon.
"I think (the U.S. Open) impacted that a lot," Tackett said. "I've been in this situation and performed, reflecting back on that saying I did it then, I can do it again."
"It's not 'Oh man, I have to strike here,'" Spangler said. "It's 'I get to strike for the win.' That's a massively different perspective. And it's a perspective that's valid to have when you've done it before."
At the World Championship, Tackett rose to the No. 1 seed in match play despite posting a 4-8 match play record. While he said it felt "impossible" at times, he added that great champions never give up.
"You've got to remind yourself that all those little moments add up to a bigger picture," Tackett said.
That mindset has powered Tackett to the top seed in three of four major championships this season.
Since 2014, no player has been the No. 1 seed at majors more often than Tackett. He's earned the coveted spot atop the stepladder nine times — one more than Belmonte over that span.
He's been the top seed in 60% of his major championship final appearances, compared to Belmonte's career mark of 35.3% (12 of 34) and Anthony Simonsen's 23.5% (four of 17).
Whether Tackett needs to press on the gas pedal during qualifying or deliver a win-or-go-home strike on TV, enhanced self-assurance has taken the 30-year-old to new heights.
"He knows who he is, and what that gets him," Spangler said.
Perhaps no one has witnessed Tackett's career more closely than Spangler. He said this version of Tackett is the best he's ever seen.
"This is a more skilled EJ than the years he won four titles," Spangler said. "He's not just doing what he likes to do when he wins. He's being creative. He's using tools that he's had, but probably hadn't developed to a point that he could win a tournament using them."
IT'S HIS TIME! THE YEAR OF EJ CONTINUES!@ejt300 claims his 2nd major title, and 5th overall title, of the 2023 PBA season winning the 2023 PBA World Championship Finals presented by @PabstBlueRibbon pic.twitter.com/wgXl6TnNn8

— PBA Tour (@PBATour) April 23, 2023
In 2016, the first of his consecutive four-title seasons, Tackett earned Chris Schenkel PBA Player of the Year honors. The following season, he did not; Belmonte also won four times, three of which were majors, and set the single-season average record of 229.39.
While Tackett said the Player of the Year race is always on his mind when he throws the first shot of the season and that a second major and fifth title propels him forward in the race, he insists there is more work to do.
"We still have one more major to bowl," Tackett said. "Simo has won one. Belmo has won one. If they win another one and win a couple more times, I could get passed very easily."
Simonsen trails Tackett in titles 5-2, but the 26-year-old's consistency surpasses even Tackett's; Simonsen has finished no lower than 10th at any event this season.
Belmonte, who defeated Tackett for the PBA Tournament of Champions title in March, nearly completed another inconveciable-for-anyone-else comeback at the World Championship.
With five more PBA titles to be awarded and three non-title events to go this season, Tackett has more at stake than a second career Player of the Year award.
Tackett could tie or eclipse Mark Roth's single-season record of eight titles, run down Kyle Troup's single-season earnings record of $496,900, and even catch Belmonte's average record of 229.39.
When asked about the possibility of surpassing Roth and Troup's record, Tackett responded with a question of his own — three short words that spoke volumes about his psyche and the superfluous confidence coursing through his veins.
Why not both?