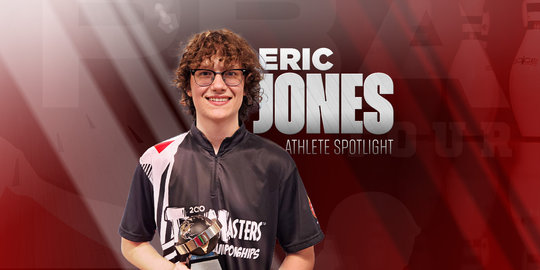 The Future is Now for Eric Jones
September 9, 2022
Nolan Hughes
On the surface, Eric Jones resembles a typical high schooler. His messy hair looks like it hasn't seen a comb in years and he responds almost exclusively with witty sarcasm.
There's one thing about Jones that separates him from his peers: he enjoys reading books. 
No, really. The 17-year-old said he's been addicted since last summer. Jones doesn't read for fun; he wants to gain an edge over his competitors. 
Those foes, however, aren't teenagers vying for Scholastic Book Fair prizes. (Do they still have those?) They're professional bowlers, the best ones on the planet. Although, his classmates haven't grasped the fact that Jones is one of the PBA's numerous rising stars.
"I just tell them I'm professional, and they don't really ask me more questions," he said.
The two-handed lefty said he practices almost every day — two hours if he's not fried, nine games if he is — and doesn't do drills, instead focusing on feel. He said he doesn't believe there is anything special about his physical game, though specified his ball roll helps increase his miss room.
When he can't make it to the lanes, he makes his own. Inspired by Wesley Low, the Edmond, Okla. native and his father built a bowling lane in their backyard during the early days of the COVID-19 pandemic.
The father-son DIY project, complete with a functioning pin setter, drew national media attention that spring. But Jones doesn't want to be remembered as a 15-minute viral sensation; he wants to build a legacy that will stand the test of time.
"The goal is to be the best to ever do it," he said. "I put so much of myself into it that it'd be stupid for me to say, 'I want to be one of the best.' I want to be the best. I don't want anyone to hold a candle to it.
"Why not go for as much as you can? I'm 17. I've got time to do it."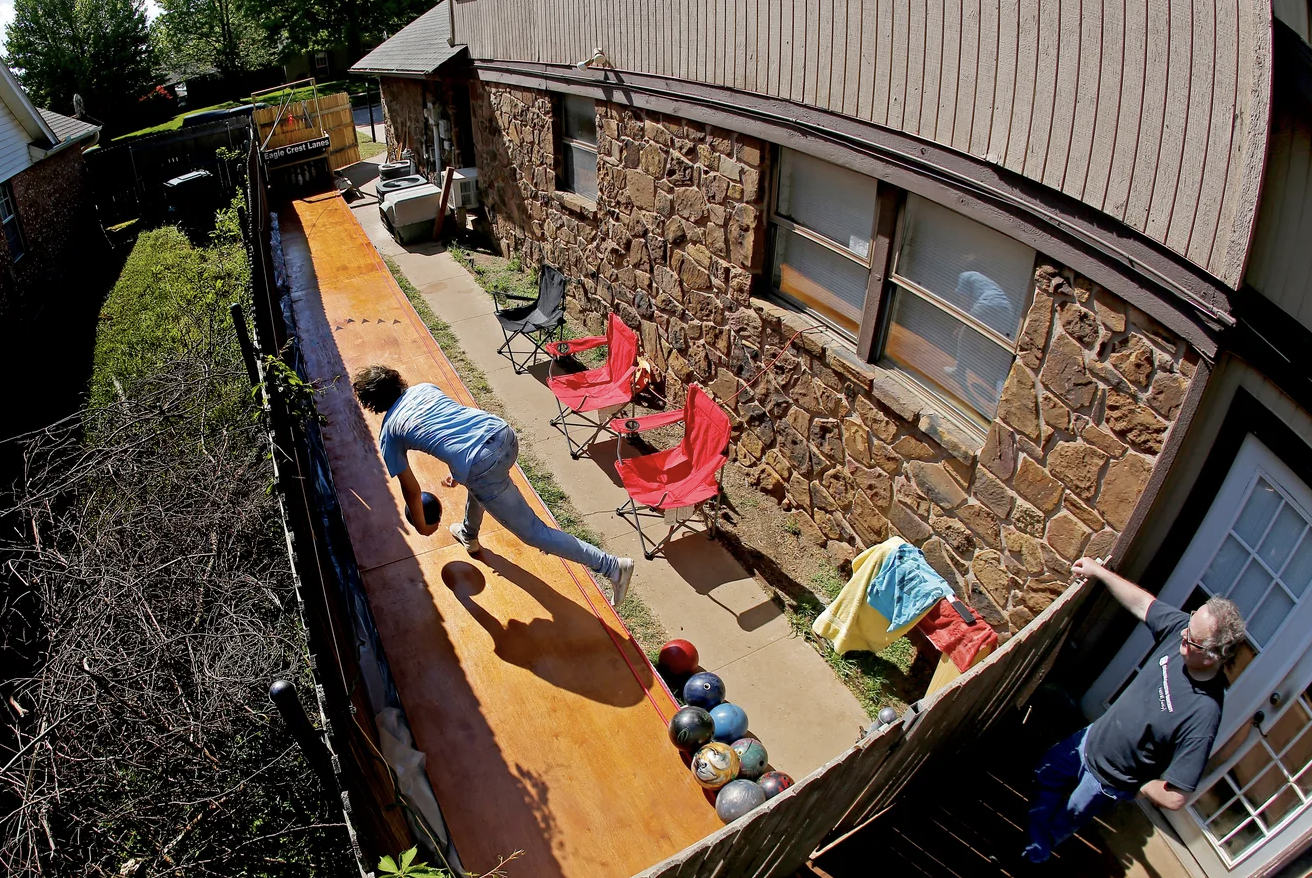 Eric Jones stayed sharp during the pandemic practicing on this lane he built this lane with his father, Heath. [Bryan Terry/The Oklahoman]
Jones burst onto the bowling scene two years ago when he won a PBA regional at 15 years old, becoming the youngest to accomplish that feat.
With the tournament taking place in Oklahoma City, located half an hour south of Edmond, his father asked Eric if he'd be interested in bowling the Pro-Am. But Eric wanted to bowl in the real thing.
He felt he could learn more by competing against the pros than watching them. What he learned that weekend, however, had little to do with ball motion, lane play or the mental game — he learned he could compete against anyone, even the best in the southwest region. 
The high school sophomore won the PBA Oklahoma City Southwest Open, besting runner-up Shawn Maldonado by more than 300 pins. However, since Jones competed as an amateur he was not credited with an official title.
The next summer, Jones nearly captured a PBA National Tour title, again as an amateur. In the 117-player field loaded with dozens of national tour stars, Jones took fourth place at the 2021 PBA Jonesboro Open.
The then-16-year-old made the stepladder finals alongside three other southpaws, falling to Jakob Butturff in the opening match. His sensational performance took a backseat as eventual Rookie of the Year Matt Russo secured his first career title, but it wouldn't take long for Jones to reappear in the spotlight.
Five months later, Jones earned the top seed at the PBA Jr. National Championship. He opened his national television debut with five consecutive strikes. After converting spares in the 6th and 8th frames, he missed the 2-4-7 in the 10th.
"Man, that's not what you're supposed to do there," Jones said after missing the spare.
The miss proved costly in the high scoring match. Landin Jordan, another uber-promising young talent, stormed through the open door to seize the title.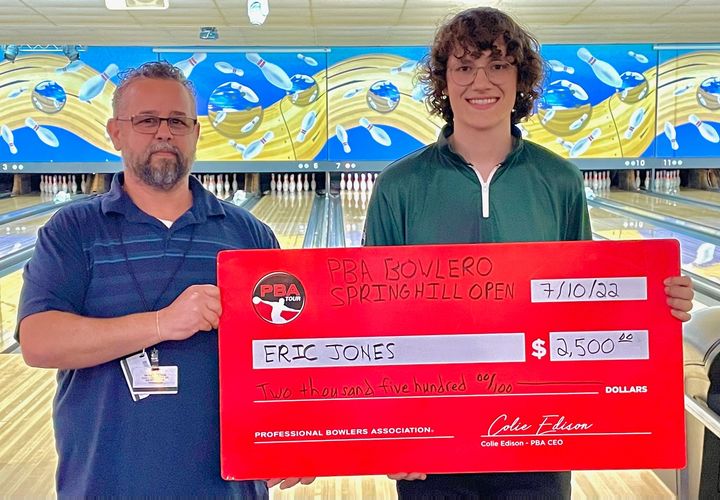 Jones picked up his second official regional title in early July at the PBA Bowlero Spring Hill Open.
Elevating beyond the youth bowling circuit, Jones acquired his PBA card earlier this year and quickly added two official PBA titles to his résumé. As of publication, he sits second on the South Region's points list, earning one title, two runner-ups and a 10th place finish in his four events.
In 2023, he said he will take his talents across the nation. After he turns 18 in January, he'll be eligible to bowl the USBC Masters and US Open. He also intends to bowl the remaining majors and World Series of Bowling.
"I like to compete against the good guys," he said. "Even when I'm bowling bad, I get to see what they're doing."
You may be thinking: Isn't this kid in high school? How does he have time to bowl all these tournaments? 
"Luckily, the school board allows me to miss extra days," Jones said. "There's like a limit for most people, but they said I can miss as many as I want as long as I turn in stuff."
While he's missing out on vital lessons about the quadratic formula and ancient Mesopotamia, he's receiving a world-class education on ball motion.
"When I was in youth bowling, I threw it 18-19 miles per hour. I put everything into it," he said. "Now I come out here and that just doesn't work. My ball speed has gone down three miles an hour, I'd estimate."
Between the ears is where Jones said he separates himself from players his age. That's where his eccentric reading habit comes into play.
He reread "The Inner Game of Tennis" before the August super regional in Virginia and the words of W. Timothy Gallwey paid dividends. Jones posted a blistering 1,924 eight-game block to qualify second. After two advancer rounds, he earned the No. 2 seed for the stepladder and averaged over 235.
Jones defeated Anthony Neuer, another flourishing young southpaw who made the 2021 U.S. Open telecast as a teenager, in his first match. However, he fell to top seed Tim Foy Jr. in another strike fest 266-232.
"I don't get in my own head and I don't think. I just bowl," Jones said. "If I just focus on my breaths, it's really hard to get in my own head."
Every so often, a teenager joins the tour and establishes themselves as a consistent title contender. EJ Tackett, Anthony Simonsen and Jesper Svensson rose to prominence last decade, perhaps sooner than expected.
That is not to say Jones will reach to the level of those future Hall of Famers. But he has demonstrated the physical tools and mental makeup necessary to follow a similar path, one that he believes begins with a deep breath and ends with a Hall of Fame plaque.
"I mean, titles will come in between," he said.