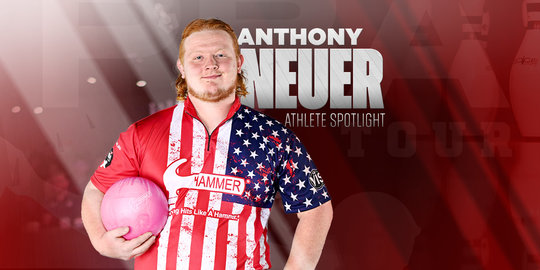 Anthony Neuer Isn't Done Making PBA History
September 16, 2022
Nolan Hughes
It was the shot heard 'round the world: The ball annihilated the 10-pin at the National Bowling Stadium, sending it flying across the deck and onto its final destination atop the 7-pin.
Anthony Neuer made bowling history at the 2021 U.S. Open, becoming the fourth player to convert bowling's most infamous spare on TV and the first in 30 years.
Sporting a red mullet and wielding as much raw power as any player on tour, Neuer became the apple of FOX announcer Rob Stone's eye. "The Ginger Assassin" was born.
The landmark moment transcended into mainstream sports media. Yet for the last 18 months, Neuer has been trying to conceal that spare from his record.
Making the 7-10 involves a tremendous amount of luck; finishing third in the U.S. Open at 18 years old does not.
"I want to be known as something else," he said. "It's really driving me to want to win because I want people to be like, 'Oh, you made the 7-10, but you also have a title.' "
He does not want to be remembered as "the guy who made the 7-10." He wants to be remembered as a champion and ultimately, a Hall of Famer.
While Neuer made his PBA TV debut in the 2021 U.S. Open, that was not his first time bowling under the bright lights. Back in 2014, he won the inaugural U12 Junior Gold Championships title, kicking off a remarkable Junior Gold career.
In 2017, he returned to TV and finished as the U15 division runner-up. Solomon Salama's 299 game and 553 two-game set proved insurmountable.
Six months later, Neuer secured his first career berth on Junior Team USA. He has earned a spot on the national team in each of past five years and hopes to make a sixth consecutive appearance at Team USA Trials in January.
Neuer turned 16 before Junior Gold in 2018, but the stiffer competition posed little threat. He won the U20 title and became the first boy to win titles in different age divisions.
The next year, he led U20 qualifying by 138 pins and finished tied for ninth.
Neuer began to crave a higher level of competition, feeling like a big fish in a small bowl. After Junior Gold was canceled in 2020 due to the pandemic and a brief stint in college that fall, Neuer opted to make the leap to the pro ranks.
"I decided that there was no point in me wasting years not doing what I want," he said. "The tour is what I've been looking forward to my whole life."
Anthony and Alexis Neuer celebrate making Junior Team USA in 2018.
Like many pro athletes, Neuer grew up inundated by the sport. His family runs Imperial Lanes in central Pennsylvania. 
"I started bowling as soon as I was old enough," he said. "Standing around watching everybody else do it when you're too young to bowl makes you want to do it."
By virtue of being four years older, his sister Alexis received a head start in the family pastime. It wasn't long before the brother-sister rivalry was off to the races.
"You never want your sibling to be better than you," he said with a sincerity that every brother or sister knows well.
Before long, Anthony moved his sights toward beating his father, Andy.
Andy competed on the PBA Tour during the 1980s and 90s. The journeyman bowled in 176 PBA tournaments before finding the winner's circle.
As the top seed, he won the 1994 PBA Bud Light Hall Of Fame Championship, taking down a prime Walter Ray Williams Jr. to his lone PBA title.
It doesn't take a genius to figure out where Anthony learned to bowl. His game is the modern equivalent of his dad's — less finesse, more power — and their fist pumps are frighteningly similar.
"He was my main coach for a long time, still kind of is," Anthony said. "He was really big on teaching me versatility with my release. I can trick my hand a little bit to make the ball do what it needs to do. That allows me to stay where I'm more comfortable."
Anthony said his dad helped prepare him for life on tour more than anything else. When he joined the tour at 18, he had knew to shift his mindset.
"The first two years are a learning experience," he said. "You don't go out there and just expect to win."
Anthony said he caught lightning in a bottle with his U.S. Open performance, capitalizing on matching up with the patterns. He said learning remains the primary focus on a week in, week out basis.
During his PBA education, he said Jakob Butturff and Ryan Ciminelli have have taken him under their wing. Neuer said Butturff has become one of his best friends on tour, which made the 7-10 conversion more special because it was against him.
Neuer said he's learned how to read the lanes front-to-back, slow his ball speed down and loft over the fronts more often. The next step of his evolution is applying those skills to combat the early friction left-handers often face. 
He saw that early friction at the Chesapeake super regional against fellow southpaw Eric Jones. Neuer's solution that day was switching from urethane to reactive. While the move did not pay off that day, he said it's all part of the learning process.
That match between 18- and 20-year-olds perhaps offered a glimpse at a future PBA telecast.
In his second season on tour, Neuer showed steady improvement and more consistency.
He didn't reach any championship rounds, though he came just 31 pins shy PBA David Small's Best of the Best Championship with a fifth place finish. He later added three more top-25 finishes.
Overall, Neuer finished 59th in points, not far behind PBA major titleists Graham Fach, Thomas Larsen and Parker Bohn III, who has been another mentor throughout Neuer's career.
Now that he's gotten his feet wet on tour, he's ready to dive in. 
"I'm hoping to use the knowledge I've learned going into my third year," he said. "Now that I've got a year or two under my belt, I'm thinking I've figured it out pretty good now. Expectations have gone back up."
Only four father-son duos have won PBA titles: Dick and Pete Weber; Don and Jimmy Johnson; Don and Eugene McCune; and Guppy and Kyle Troup.
"That's a pretty narrow list," Anthony said. "It'd be pretty cool to join that list."
"It would be great," Andy said. "This sport is something I've loved my whole life and I just feel very fortunate and thankful that both my kids love the sport as much."
Andy pointed out that Alexis finished sixth in a PWBA tournament last year, and wants to see both of his kids win professional titles. 
In 2023, Anthony aims to return to TV. Down the road, he wants to reach the Hall of Fame.
"10 titles or five with two majors," he said. "That's the long term goal."