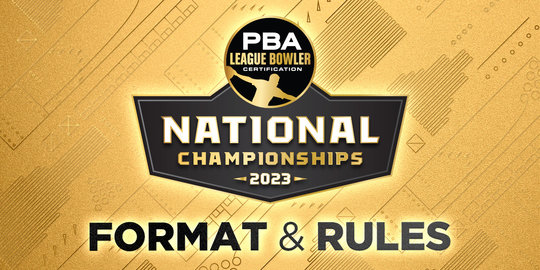 Format and Rules: The 2023 PBA LBC National Championships
November 22, 2022
Nolan Hughes
An overview of the format and rules for next summer's inaugural National Championships
The inaugural 2023 PBA LBC National Championships will head to the greater Milwaukee area next summer. The new singles event will take place at Bowlero Wauwatosa on Saturdays and Sundays from June 3 to July 16, 2023.
Players will bowl six games and do not need a team to compete. Pick a weekend and come out to bowl!
"I'm a fan of this new approach to a national tournament," said PBA Hall of Famer Chris Barnes. "It has elements that will be new to some of the tournament players, but opens up a lot of new possibilities and makes coordinating squads, dates, and times a non-factor."
All players will bowl six games of competition. Each six-game total (plus handicap, if applicable) will represent a player's score in the Singles event. However, bowlers will be able to sign up for optional Doubles and Team events onsite, where they can enter and cash an unlimited number of times.
"I have bowled in quite a few events with 'crossover doubles,' but this is like that on steroids!" Barnes said. "I have not bowled one with multiple teams and that is really intriguing. This is going to be like playing fantasy football except we get to play in the game. A new way for people to have a connection with their favorite players, or still be able to be a part of the same doubles or team even if they can't make a specific weekend work."
The top 50 PBA players from the 2022 PBA National Tour will compete on July 17, 2023 in the PBA Exempt division. Any bowler competing in the PBA LBC National Championships will be able to sign up for the Doubles and Team events with the pros.
"It's the first time I can remember being able to partner up with any pro I want," Barnes said. "The ability to have that connection and win money while holding up my favorite pro is a really great story that will get told I'm sure!"
Discounted priority registration of just $100 is now open to PBA and PBA LBC members here.
With discounted priority registration now open for all PBA and PBA LBC members, here is an overview of the tournament's format and notable rules.
Format
Singles
All players will bowl six games across 12 lanes. Players may enter the singles event once. The prize fund will award a guaranteed first place prize of $25,000 for the Open Classic division and a $5,000 top prize in the other divisions. Subsequent finishers will be paid based on a 1:8 ratio, awarding one prize for every eight bowlers who enter.
The top three players in the Open Classic, Women's Classic and PBA Exempt divisions, along with the leader from the Men's Handicap, Women's Handicap and Senior Classic divisions will qualify for the PBA LBC National Championships Clash. The FS1 televised event from legendary Bayside Bowl in Portland, Maine will feature a $100,000 prize fund.
Doubles and Team (optional)
Bowlers can sign up to compete in Doubles and four-person Team events on site. Doubles and Team entries cost $50 and bowlers can enter unlimited times in each event. Bowlers can also cash an unlimited number of times in Doubles and Team events, while each division will award participants at the same 1:8 ratio.
Doubles scores will consist of each player's scores from games 1-3 of singles qualifying. Team scores will consist of each player's scores from games 4-6 of singles qualifying.
Bowlers may only select Doubles partners or Team members who have not yet bowled. Youth participants are also not eligible for the Doubles and Team events.
There will be two divisions for Doubles and Team: Classic (scratch) and Handicap. If both partners or all team members are bowling scratch, they will compete in the scratch division.
If there are partners or team members competing in the Men's or Women's Handicap division, they will have handicap added to their scores and be placed in the Handicap division. Scratch bowlers may compete with partners or teammates using handicap, but they will still bowl scratch.
General
There will be four bowlers to a pair of lanes. Each pair will receive five minutes of practice prior to the start of competition and move one pair (or more) to the right after each game.
Any ties for a TV-finalist position or first place will be broken by highest overall game (with handicap, if applicable) among their six qualifying scores. Ties beyond first place and TV finalists will not be broken; prize money will be added together and divided equally.
Rules
Equipment
There will be a limit of six (6) bowling balls per participant. All bowling balls are required to satisfy the specifications of the PBA (which can be found under the Appendix of the Universal Playing Rules) and may be inspected at any time prior to, during or after competition. Bowlers must document any ball used during competition on the provided "Ball Registration Card." Surface adjustments are not allowed once each squad begins.
Dress Code
Participants are expected to wear attire suitable for participation in a national championship event. Examples of prohibited attire include, but are not limited to, tank tops, halter tops, bare midriffs, spaghetti strap tops, headphones/earbuds (permitted for medical reasons only), sleeveless shirts or tops and workout attire (athletic shorts, sweats, yoga pants, leggings, etc.). Profanity or inappropriate wording is not allowed. Jeans (no holes) and hats are acceptable. Skirts, dress shorts, culottes or skorts are permitted provided the length is beyond the fingertips when your arms are at rest along your sides.
Bowlers will be required to change if attire is deemed inappropriate by Tournament Sponsor's management. Tournament Sponsor's management decision will be final. Any bowler requesting a dress code exception for a medical, religious or other reason must do so in writing to Tournament Sponsor's management 30 days prior to the event.
A complete breakdown of rules for the 2023 PBA LBC National Championships can be found here.
Register Now!
Discounted priority registration for the 2023 PBA LBC National Championships is open. PBA and PBA LBC members can register here.
More information on the tournament is available here.