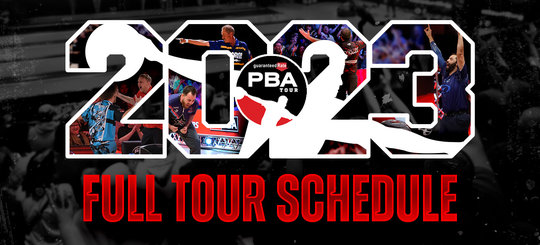 Breaking Down the Full 2023 PBA Tour Schedule
December 1, 2022
Nolan Hughes
The 2023 Guaranteed Rate PBA Tour season features 16 title events, including five majors on FOX, and over 50 hours of coverage on FOX and FS1. Additional coverage of all qualifying rounds and select championship rounds will be provided by BowlTV.
Beginning in Indianapolis with the U.S. Open presented by Go Bowling!, the PBA will travel to 15 cities across 13 states in 2023. A first-time host and the return of one of the sport's most iconic venues highlight the schedule.
2023 Guaranteed Rate PBA Tour Schedule
2023 U.S. Open presented by Go Bowling!
Jan. 29, 2023 – Feb. 5, 2023
Royal Pin Woodland | Indianapolis
Qualifying and match play: BowlTV | Additional Match Play: Feb. 4, 4 p.m. ET on FS1 | Finals: Feb. 5, 2 p.m. ET on FOX
Royal Pin Woodland is the only bowling center that has hosted every PBA major, so it's fitting the Indianapolis venue will host the season-opening U.S. Open where plenty of bowling history is at stake.
Anthony Simonsen claimed the green jacket one year ago to become the youngest player to win three majors, later extending that record with his fourth career major title at the USBC Masters. He'll look for back-to-back titles and expand his impressive résumé once again.
EJ Tackett, who led last year's tournament by 502 pins before falling to Simonsen in the title match, seeks to complete the Triple Crown.
All the while, Jason Belmonte pursues an unfathomable second Super Slam.
PBA Springfield Classic
Feb. 7. 2023 – Feb. 11, 2023
Enterprise Park Lanes | Springfield, Mo.
All rounds streaming on BowlTV
Following the U.S. Open, the PBA will debut in Missouri's southwest corridor as Springfield hosts the first of the season's five Classic events. The PBA National Tour last visited the Show Me State in 2004 for the PBA BowlersParadise.com Open near St. Louis.
A pair of prominent PBA athletes call Springfield home, including Keven Williams and Spencer Robarge, a former PBA Jr. national champion and 2021 USBC Masters finalist.
PBA Shawnee Classic
Feb. 13, 2023 – Feb. 17, 2023
FireLake Bowling Center | Shawnee, Okla.
All rounds streaming on BowlTV
The Classic series continues into nearby Oklahoma for the third event of the season. Perhaps no player is more excited about Shawnee's return to the PBA schedule than Sean Rash. The 40-year-old has won three titles in Shawnee, including each of the last two: the 2020 PBA Oklahoma Open and 2019 Roth/Holman Doubles Championship with Matt Ogle.
PBA Wichita Classic
Feb. 20, 2023 – Feb. 24, 2023
Northrock Lanes | Wichita, Kan.
All rounds streaming on BowlTV
The fourth stop of 2023 will also be a welcome return for Rash, one of the PBA's ever-growing collection of collegiate bowling powerhouse Wichita State University alumni. Nine former Shockers finished among the top 50 in points last season, all of whom are quite familiar with Bowlero Northrock.
Dom Barrett won the city's last professional event at the 2018 U.S. Open.
PBA Jackson Classic
March 6, 2023 – March 9, 2023
JAX60 | Jackson, Mich.
All rounds streaming on BowlTV
JAX60, located about an hour west of Detroit, will return as the host of the PBA Jackson Classic in early March. Jesper Svensson engineered a wire-to-wire victory in the south-central Michigan town last season.
PBA Tournament of Champions
March 12, 2023 – March 19, 2023
AMF Riviera Lanes | Fairlawn, Ohio
Qualifying: BowlTV | Match Play: March 17-18 on FS1 | Finals: March 19, 12 p.m. ET on FOX
Historic AMF Riviera near Akron, Ohio will once again host the Tournament of Champions and Hall of Fame induction ceremonies in March 2023. Kris Prather finished first and second in the ToC's last two appearances at AMF Riviera.
This year's format blends the classic format, 18 games of qualifying and 24 games of round robin match play, with an innovative 17-player stepladder finals, taking place across four telecasts.
The week will begin with the induction of Lennie Boresch Jr., Pete McCordic and Fred Borden into the PBA Hall of Fame.
PBA Kokomo Classic
March 21, 2023 – March 24, 2023
Heritage Lanes | Kokomo, Ind.
All rounds streaming on BowlTV
For the second straight season, the PBA National Tour heads to Kokomo, the birthplace of 26-time titleist and PBA Hall of Famer, Don Johnson.
Nick Pate almost pulled off a stepladder climb for the ages in 2022, defeating Simonsen and Tackett before falling to Belmonte in the title match.
USBC Masters
March 26, 2023 – April 2, 2023
Thunderbowl Lanes | Allen Park, Mich.
Qualifying and match play: BowlTV | Match Play: March 31, 7 p.m. ET on FS1 | Finals: April 2, 1 p.m. ET on FOX
Simonsen, who will turn 26 before the start of the season, will look to defend two crowns in the Detroit suburb: His 2022 USBC Masters title and his 2021 PBA Tour Finals title, which was the last PBA Tour title awarded at Thunderbowl Lanes.
Guaranteed Rate PBA World Series of Bowling XIV
April 7, 2023 – April 23, 2023
Bowlero Wauwatosa | Wauwatosa, Wis.
Qualifying: BowlTV | Championship Rounds: April 15-19 on FS1 | World Championship Finals: April 23, 12 p.m. ET on FOX
The Cheetah, Scorpion and Shark Championships all return for the World Series of Bowling XIV, once again at Bowlero Wauwatosa.
But the World Series will have a revamped look in 2023, featuring longer qualifying formats and the return of the USA vs. The World event after a three-year hiatus. Four American and international players will compete for each team. (Note: A previous version of this story said there would be five players per team, but that has been changed to four.)
The World Championship moves to the end of the World Series as the major caps off two weeks of international bowling at the highest level. François Lavoie and Tommy Jones could achieve Triple Crown status with a World Championship win.
PBA Players Championship
April 30 – May 7, 2023; May 13-14, 2023
Bowlero North Brunswick | North Brunswick, N.J.
Qualifying: BowlTV | Match Play and Semifinals: May 6, 7, 13 on FS1 | Finals: May 14, 1 p.m. on FOX
The PBA Players Championship may just be the most anticipated event of the year — for the athletes and fans — as it marks the PBA's long-awaited homecoming to Bowlero North Brunswick. The final major champion of 2023 will have to emerge from the 12-player bracket finals, airing in entirety on FS1 and FOX.
Roth/Holman PBA Doubles Championship
May 8, 2023 – May 11, 2023
Mid County Lanes | Middletown, Del.
All rounds streaming on BowlTV
The doubles event moves from the World Series to its own event, separating the qualifying and championship rounds of the Players Championship. Tackett and Marshall Kent will look for back-to-back titles and a sixth telecast in seven years when the Roth-Holman Doubles Championship heads to Delaware. This marks the first PBA National Tour tournament in Delaware since 2019 when Ryan Ciminelli captured his eighth career title at the PBA Gene Carter's Pro Shop Classic.
PBA Super Slam
May 19, 2023 – May 21, 2023
Bowlero Jupiter | Jupiter, Fla.
Prelims: May 20, 2 p.m. ET on FS1 | Finals: May 21, 3 p.m. ET on FOX
The five major champions from 2023 will reconvene in Florida to determine the champion of champions. This non-title event was last held in 2021, when three-time major champion Lavoie took down a quartet of first-time major titleists.
If there is a repeat major winner, the runner-up in the repeat champion's most recent major will compete in the Super Slam. For example, Norm Duke would have qualified in 2022 after finishing second at the USBC Masters, where Simonsen won his second major title of the year.
PBA Tour Finals
June 23, 2023 – June 25, 2023
Strikerz Bowling in Angel of the Winds Casino | Arlington, Wash.
All rounds broadcast live on CBS Sports Network
The top eight points earners from the 2022 season through the 2023 Players Championship will return to the Pacific Northwest for the Tour Finals.
Strikerz Bowling in Angel of the Winds Casino produced the third-highest scores among all telecasts in 2022, including a PBA-record two 300 games during the Group 1 stepladder finals show.
PBA League Bowler Certification National Championships
July 17, 2023
Bowlero Wauwatosa | Wauwatosa, Wis.
Clash: Oct. 1, 7 p.m. ET on FS1
The top 50 PBA players from 2022 will return to Bowlero Wauwatosa on July 17 to compete in the PBA Exempt division of the PBA LBC National Championships.
Each pro will bowl six games of singles qualifying; their first three games will count toward the Doubles event and the final three games will count toward the Team event. Any player competing in the PBA LBC National Championships can sign up to compete in the Doubles and Team events with the PBA stars.
The top three PBA players will advance to the telecast to be contested at Bayside Bowl. They'll join finalists from the other five divisions, including the top three players in the Open Classic and Women's Classic divisions and the leaders from the Men's Handicap, Women's Handicap and Senior Classic divisions.
PBA Skill Ball Challenge
July 22, 2023 – July 23, 2023
Thunderbowl Lanes | Allen Park, Mich.
The top eight players in points accumulated at the five Classic events (Springfield, Shawnee, Wichita, Jackson, Kokomo) return to Thunderbowl Lanes for this non-title event. Players will be issued identical PBA Skill 3.02 Balls — the same balls used by Teen Masters competitors — and compete on the Teen Masters' signature dual, low-volume patterns.
PBA/PWBA Striking Against Breast Cancer Mixed Doubles
July 27, 2023 – July 30, 2023
Copperfield Bowl | Houston, Texas
The annual crossover event with the PWBA in Houston has been dominated by Tackett in recent years. He has won three of the last four titles, all with different partners.
The special event, more commonly known as the Luci, has raised over $1 million to help in the fight against breast cancer since launching in 2000.
PBA League Elias Cup Playoffs presented by Pabst Blue Ribbon
Sept. 23, 2023 – Sept. 27, 2023
Bayside Bowl | Portland, Maine
Quarterfinals, Semifinals and Finals: Sept. 24-27 on FS1
The frenetic atmosphere at Bayside Bowl provides the perfect setting to close out the season. In 2022, the Portland Lumberjacks completed an improbable comeback to capture an Elias Cup three-peat while Norm Duke rode off into the sunset in dramatic fashion.
What will 2023 have in store?
---
Find more information on each tournament here.
Learn more about the 2023 PBA on FOX schedule here.
Subscribe to BowlTV to watch the PBA all season long here.