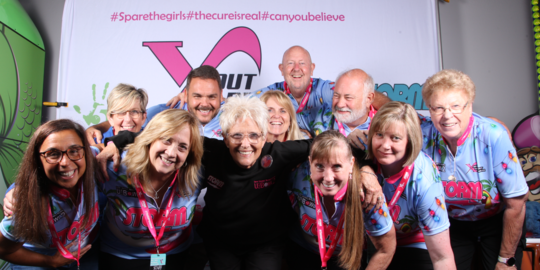 The Luci is More than a Bowling Tournament
August 2, 2022
Nolan Hughes
The annual Storm PBA/PWBA Striking Against Breast Cancer Mixed Doubles Tournament, better known as "The Luci," is always a special event.
It's the only tournament that brings the world's top male and female bowlers together to compete for a PBA and PWBA title. It also draws some of the sports' most compassionate fans.
"This tournament is much bigger than all of us," said Donna Conners, who founded the tournament in 2000. "I think that's what makes it so personal and special."
The event raises money to fund the fight against breast cancer. Conners founded the tournament in honor of her late friend, a long-time PWBA athlete Luci Bonneau.
"The first year we raised $1,500 in a Folgers coffee can," Conners said. "My mom would go around and collect money, and then each year it kept growing and growing."
The foundation works year-round to promote the tournament, add sponsors and fundraise. To handle the influx of donations, the foundation's team now includes a CPA.
Over two decades worth of tireless effort is evident. Conners said the foundation crossed the million-dollar threshold a few years ago.
"The great thing is people come together in this event," Conners said. "It's like a four day party. And everybody looks forward to it. Everybody comes together and helps each other."
Conners said their goal is to keep growing the tournament for the players.
"If we don't have the players, we don't have a Pro-Am. If we don't have Pro-Am, we don't have the charity," she said.
Kyle Sherman challenged various pros during this year's Pro-Am, donating a total of $550 for their strikes.
Conners said Shannon O'Keefe and Stefanie Johnson raffled off a #SpareTheGirls spare ball and raised over $3,000. She said EJ and Natalie Tackett donated $1,000 as well. Those are just a few examples of the pros' generosity.
"It's incredible just to be here," said EJ Tackett. "The cause that we're here for is way bigger than any of us. We're all just glad to be a part of it."
Proceeds from donated artwork, hand-made crafts and baskets are given back to the foundation. Larger prizes are raffled off during the Pro-Am, including this year's grand prize: a week-long stay at a North Carolina beach house.
SABC is still counting this year's total donations, but they've already surpassed their previous year's total of just under $100,000.
"The most important thing right now is we need human kindness," Conners said. "And it's here. It's in this building."