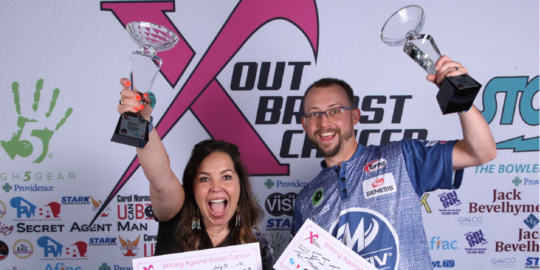 EJ Tackett and Diandra Asbaty win 2022 PBA/PWBA SABC Mixed Doubles Tournament
July 31, 2022
Nolan Hughes
At Team USA Trials in 2011, a high schooler asked Diandra Asbaty for a picture and an autograph. Asbaty noticed the teenager's dad wearing the logo of an Indiana tournament series that she bowled as a kid, but didn't catch the kid's name.
After the day's qualifying, Asbaty looked at the standings. She didn't recognize the men's leader and asked a friend to point them out. They pointed to the same teenager who she had just taken a photo with.
"Wait, should I be asking you for your autograph?" Asbaty said to the high schooler.
This time, she made sure to learn his name. It was EJ Tackett.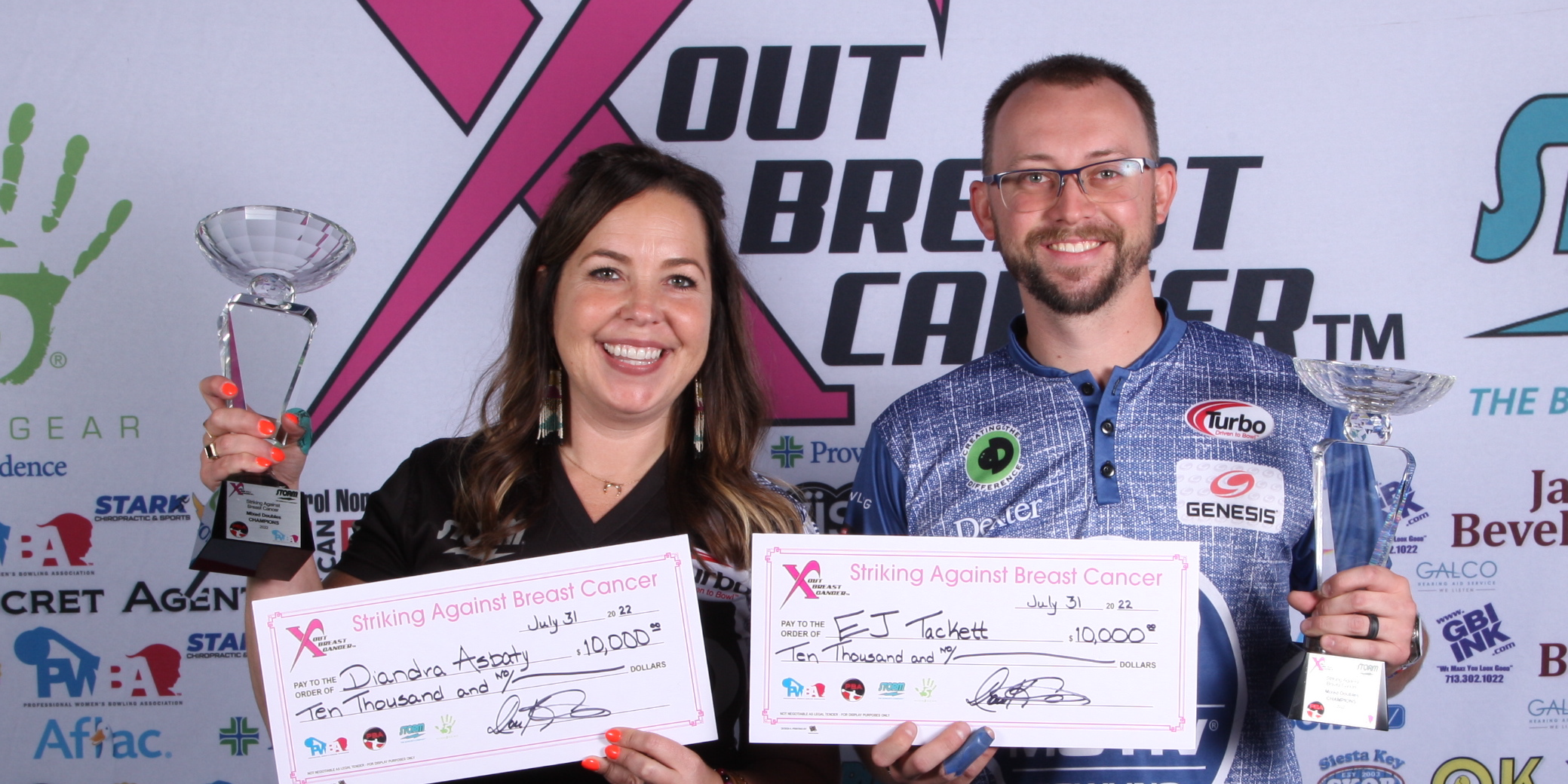 As the final ball of the 2022 Storm PBA/PWBA Striking Against Breast Cancer Mixed Doubles Tournament rolled down the lane, Asbaty made sense of the surrounding madness.
"We won?!" Asbaty exclaimed while looking towards her teammate.
"I think we did," said Tackett, grinning from ear to ear while triple-checking the math in his head.
Amid a chaotic finish, Tackett and Asbaty prevailed with a final score of 9,287 (+1,287). Four teams finished within 50 pins of first place.
Entering the position round, each of those teams had an opportunity to win the title. And entering the final frame, three teams still had a chance — none of whom were the preceding leaders.
The win notched back-to-back SABC Mixed Doubles titles for Tackett, who won in 2021 with Danielle McEwan, and three wins in the last four events.
The COVID-19 pandemic and the concurrent Devil's Lair Tasmania tournament in Australia have resulted in a revolving door of teammates for Tackett in recent years. He bowled with Liz Johnson for the 2018 title.
"Who knows what's in store for next year," he said laughing.
Tackett also won the PBA Roth/Holman Doubles title with Marshall Kent earlier this season, marking three consecutive PBA doubles titles for the 29-year-old.
While Tackett has grown accustomed to winning this event, Asbaty broke a pair of title droughts.
The win ended a 20-year hiatus since her last SABC Mixed Doubles title. She also closed the door on a 10-year dry spell between PWBA titles, last winning the 2012 USBC Queens.
"I can die knowing that (my kids) were there for at least one title," she said.
Asbaty said she has come close to winning this tournament several times over the years, finishing as the runner-up three times with Jason Belmonte. She nearly experienced the same heartbreak this year.
Ryan Ciminelli and Dasha Kovalova had the chance to leap from third to first in the position round. Their match against Jakob Butturff and Stefanie Johnson, who ultimately finished in second place, came down to the wire.
Butturff missed a 7-pin in his 10th frame, which gave Ciminelli an opportunity to steal the match with a double. Two strikes would have also forced Tackett, who was bowling against Chris Via and Bryanna Coté, to throw at least two of his own.
Instead, Ciminelli went light and left a 3-5-6. Though he converted the spare, the squandered pin count cost their team the match by a single pin.
Based on his internal calculations, Tackett knew he just needed a clean 10th frame to stave off Butturff and Johnson.
Via and Coté entered the position round with the lead, just as they ended the first half of qualifying and semifinals. The two briefly yielded the lead early in match play, but they vaulted back in front after shooting 504 in Game 5.
Game 6 on lanes 7-8 proved frustrating for Via, who couldn't find any consistent ball motion and shot 151. He returned to form after moving to lanes 5-6 — just in time for Coté to lose her look.
For the position round, the two remained on lanes 5-6. Coté would have been happier if they had been lower in the standings because they would have returned to lanes 7-8, where she just shot 245. Via had zero interest in returning to that pair.
"We almost needed to fall to fifth," he joked.
"I feel like if it was an execution issue, I'd be mad," said Coté, who tried six different balls during the last two games. "But I feel like I executed to the best of my ability with what I was trying to accomplish. The lanes just weren't allowing it for me at the time."
After finishing sixth in 2021, Via and Coté will look to emerge with the win in 2023.
To do so, they'll have to get past Tackett, the PBA's doubles king.
2022 SABC Mixed Doubles Tournament Final Standings
EJ Tackett and Diandra Asbaty, 9,287, $20,000
Jakob Butturff and Stefanie Johnson, 9,271, $10,000
Chris Via and Bryanna Coté, 9,260, $6,250
Ryan Ciminelli and Dasha Kovalova, 9,252, $5,250
Wes Malott and Shannon Sellens, 9,238, $4,250
Bill O'Neill and Shannon O'Keefe, 9,027, $3,750
AJ Johnson and Erin McCarthy, 9,003, $3,500
Andrew Anderson and Jordan Richard, 8,949, $3,250
Complete standings are available here. The SABC Tournament Facebook page has provided additional photos and coverage as well.