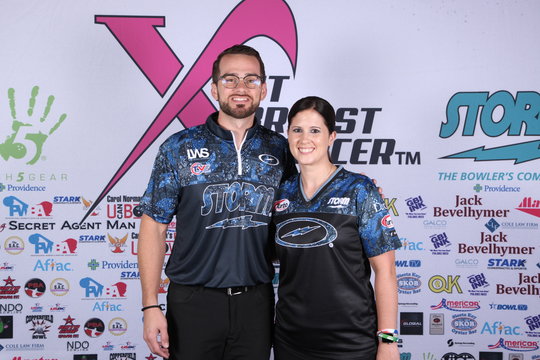 Chris Via, Bryanna Coté lead Day 1 of PBA/PWBA SABC Mixed Doubles Tournament
July 29, 2022
Nolan Hughes
Chris Via and Bryanna Coté led Day 1 of the Storm PBA/PWBA Striking Against Breast Cancer Mix Doubles Tournament, shooting 3,245 (+445) for their 14 combined games. 
The teammates led A-squad squad by nearly 100 pins. Coté's 1,543 and Via's 1,702 ranked second among women and men in A-squad, respectively.
The key to their success, aside from their matching jerseys, was simple: "striking," Via said.
"She made a lot of spares and when she had the ball reaction to strike, she struck," Via said. "I did the same. I just had a few more games where my ball struck."
Coté said she decided to look for a new partner in 2019. She scanned the 2019 standings for a potential new teammate and reached out to Via. 
After both had sensational 2021 campaigns — Coté earned the PWBA Player of the Year award; Via finished third in PBA Player of the Year voting and won the U.S. Open — the two came into this year's event beaming with confidence.
"Whether we bowl good or not, we're gonna be good teammates, really supportive and still be friends at the end," Coté said.
The pairing of Angelica Anthony and Cam Crowe came together just weeks before the event, but instantly clicked to finish second on A-squad with a 3,153 series.
Rounding out the top-five on A-squad were Taylor Bulthuis and Timothy Pfeifer (3,145), Jordan Richard and Andrew Anderson (3,138), and Anggie Ramirez Perea and Arturo Quintero (3,108).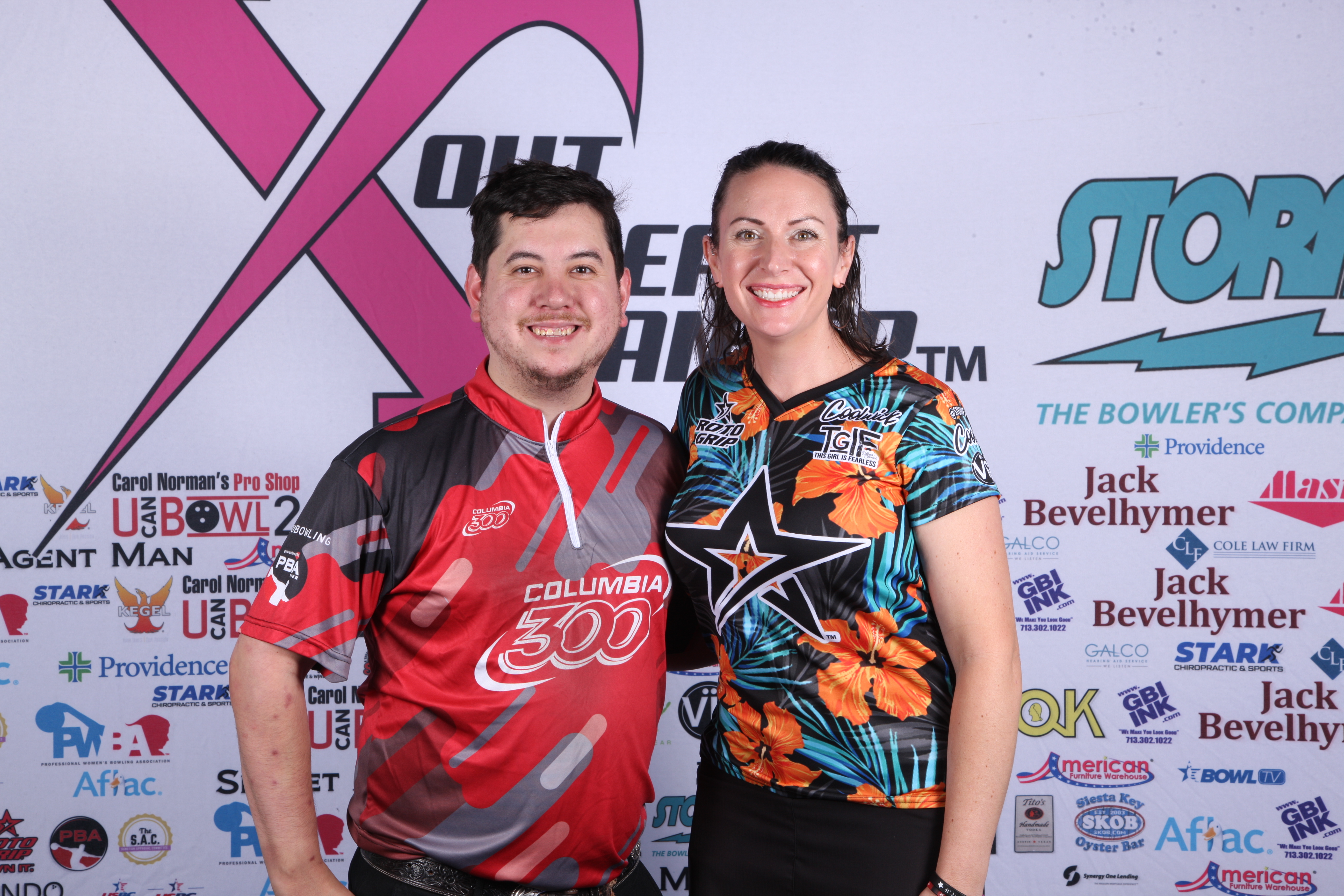 Another second-year duo dominated in the afternoon. Jakob Butturff and Stefanie Johnson paced B-squad with a 3,215 series (+415). Butturff averaged 246 to lead all players on Day 1 with a 1,722 block, while Johnson's 1,493 ranked second among women on the squad.
The Team USA teammates' plan to bowl together materialized during the 2019 Pan American Games. Johnson joked she had to convince Butturff, but with both players' illustrious résumés, it likely didn't take much convincing.
Johnson said they each have an easy going nature and rarely talk about bowling while competing, which relieves pressure and bolters their shot-making. On the lanes, Butturff said keeping the ball in play and finding the balls that matched up were crucial with the higher scoring pace.
"We came here to win," Johnson said. "We're going to bring that type of attitude into the semifinals. I know what we're capable of doing. We just need to hunker down and do it."
Ashly Galante and Matthew Kuba closed strong with a 3,158 series, but Johnson and Butturff staved them off with a 481 seventh game.
Heather D'Errico and Jason Sterner (3,134), Addie Herzberg and Ryan Barnes (3,085), and Chelsey Merklinger and Andy Neuer (3,052) rounded out B-squad's top five.
In the overall standings, Rocio Restrepo and Joe Hostetler sit 20th with a 2,986 series (+186). With two more squads competing on Saturday, +186 could be the number to watch as the cut to the top-40 nears.
Complete standings are available here.
2022 SABC Mixed Doubles Tournament Schedule
Saturday, July 30
9 a.m. ET | 8 a.m. local — C-squad qualifying (7 games)
3 p.m. ET | 2 p.m. local — D-squad qualifying (7 games)
Sunday, July 31
9:30 a.m. ET | 8:30 a.m. local — Semifinals for advancers (5 games)
1:30 p.m. ET | 12:30 p.m. local — Finals (8 games, round robin match play)
Watch all rounds of the 2022 SABC Mixed Doubles Tournament on BowlTV.