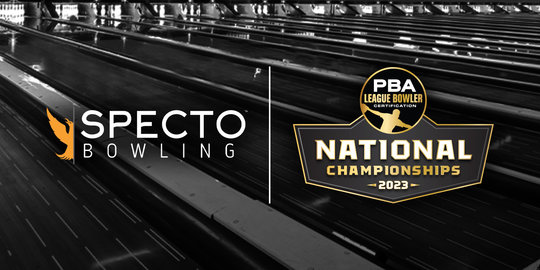 Specto installed at 2023 PBA LBC National Championships site
December 22, 2022
Nolan Hughes
In anticipation of the 2023 PBA LBC National Championships, Specto, the lane-tracking technology from Kegel, has been installed at Bowlero Wauwatosa.
PBA LBC National Championships competitors will be able to access the world-class training tool and sharpen their game while on-site for the tournament.
"If you've watched the PBA on TV and you see the ball data on the screen, that's Specto data and that's the data we will be able to give you," said Neil Stremmel, the PBA's director of rules and equipment.
Specto measures a ball's speed, location at the arrows and breakpoint board, among dozens more tracking statistics. It has been installed in over 250 locations around the world, aiding bowlers of all skills to take their game to the next level.
During the PBA LBC National Championships, which runs on Saturdays and Sundays from June 3 through July 16, 2023, players will be able to use Specto and practice on the oil pattern that will be used during the tournament.
Stremmel said Specto will be available to tournament participants for individual use as well. Bowlers can download the Specto app, which offers three features (Worlds, Challenges and Performance) designed for players of all skill levels.
The man behind the Specto tracking on FOX telecasts is Kegel's Brent Sims. He said elite tournament players would benefit from using Specto to test their versatility.
One feature offered is the Wheel of Targets, which challenges players to hit within a certain range of a randomized target board. Targets range from outside of the first arrow to inside of the fourth arrow.
Jason Belmonte said he wants to be able to play every board on the lane. With Specto, players can measure their ability to do exactly that.
Less experienced players may want to begin using Specto to check their consistency, Sims said.
Specto tracks the location of the ball from the foul line to the pins and measures a player's ability to repeat shots. Using this information, players can learn their precision and coaches can better instruct how to improve their accuracy.
Of course, spare shooting is critical to winning in bowling. Sims said the Master of Corner Pins challenge is their most popular feature.
More information on how bowlers will be able to access Specto and sign up for coaching will be available soon.
---
Priority registration for PBA and PBA LBC members runs through Dec. 31, 2023. Registration for the inaugural national championships is available here.
Players who sign up before the end of the new year can enter the tournament for $100 in one of five divisions: Open Classic, Women's Classic, Men and Women's Handicap, and Senior Classic.
Registration for the optional Doubles and Team events will be available on site, where players can compete with anyone who has not yet bowled, including PBA stars bowling in the PBA Exempt division.
Players in the PBA LBC National Championships will be competing for shares of a prize fund (based on 3,360 entries). First place in the Open Classic division is guaranteed $25,000, while all other divisions will pay a guaranteed $5,000 to first place finishers. Additional prizes will be awarded at a 1:8 ratio.
Beginning on Jan. 1, 2023, registration for the PBA LBC National Championships will open to bowlers of all skill levels for $200.
More information on the 2023 PBA LBC National Championships is available here.